Length: 10 miles (round-trip)
Duration: 6 hours
Difficulty: Moderate to difficult (very difficult in snow and mud) 
Elevation Gain: 3,400 feet 
Activities: Hiking, backpacking 
Crowds: Moderate traffic

About
Pine Creek Lake is set in a huge glacial cirque below the north slope of Black Mountain. The trail to the lake is well-defined and meanders through forest en route to the base of Pine Creek Falls. Past the falls, the trail becomes steep and strenuous, continuing past a series of smaller waterfalls and two small lakes before reaching Pine Creek Lake, where great views and a well-earned rest await. If you're feeling frisky, head on up another two miles and 1,800 vertical feet to Black Mountain for incredible views of Paradise Valley and the Beartooth Plateau.
Seasonal Conditions
This can be an arduous hike during the best conditions, but the trail is very difficult in snow and mud. The trail is open year-round, though it's best for hikers from July through September.
Directions
From Livingston, drive south on Hwy. 89. Turn left on Pine Creek Rd., then turn right on East River Rd. After a few miles, turn left on Luccock Park Rd. at the posted sign for the Pine Creek Campground.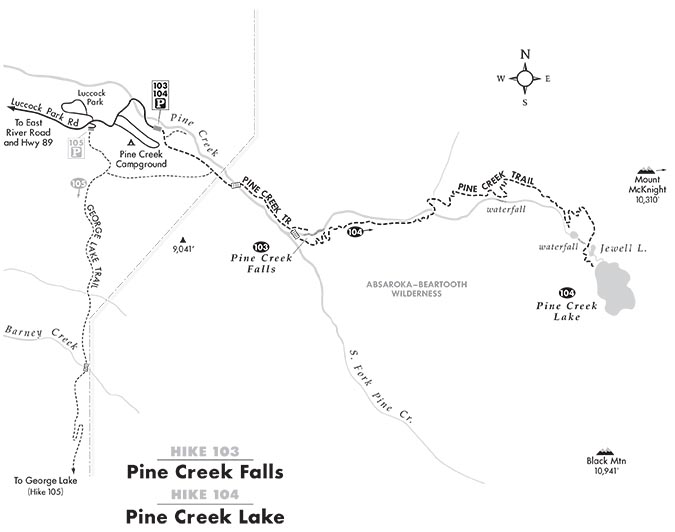 Map courtesy of Robert Stone's Day Hikes Around Bozeman, Montana.