Length: 5 miles (round-trip)
Duration: 3 hours
Difficulty: Moderate to difficult
Elevation Gain: 2,300 feet
Activities: Hiking, trail-running
Crowds: Moderate to heavy traffic
About
Storm Castle (aka, Castle Rock) is a pronounced rock feature sitting atop the east wall of Gallatin Canyon. The steady uphill hike begins at Storm Castle Creek and climbs the mountain's south-facing slope to a dramatic, multi-tiered summit, where there are sweeping 360-degree views of the adjacent mountains and drainages. 
Seasonal Conditions
The gate to the trailhead is locked until mid-spring for cross-country skiers and snowmobilers, so anyone who gets bitten by the hiking bug early will have to park down the road, just behind the Shenango helipad. While the south-facing slopes are snowless in spring (but probably muddy), the shaded spots can hide a little snow and ice, so snow spikes—or at least hiking boots with big lugs—are a good idea. One last word of caution: this area is notorious for ticks in the spring, so double-check pets, kids, and your own nooks and crannies when you get back home. 

Directions
From Four Corners, take Hwy. 191 south toward Big Sky. Drive about 16 miles to Storm Castle Rd., between mile-markers 66 and 65. Turn left, cross the bridge over the Gallatin River, and curve to the right. Continue 2 miles to the posted parking area on the left.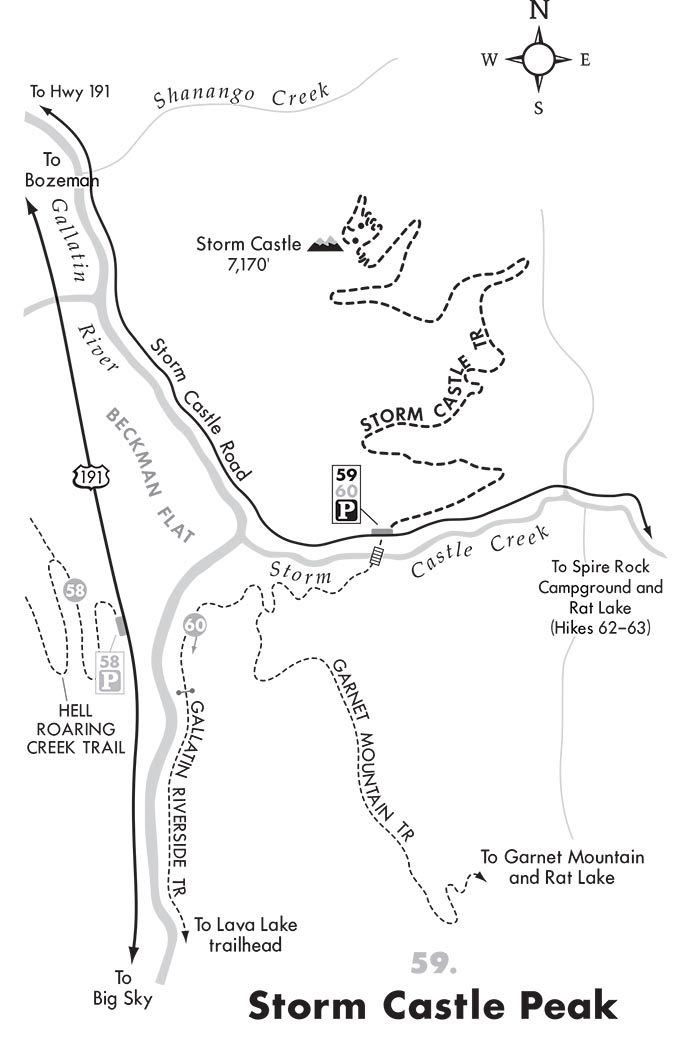 Map courtesy of Robert Stone's Day Hikes Around Bozeman, Montana.