Length: 10 miles (round-trip to the ridge)
Duration: 3 to 8 hours
Difficulty: Moderate to difficult
Elevation Gain: 2,200 to 2,400 feet 
Activities: Hiking, mountain biking, running
Crowds: Moderate traffic

About
This trail—part of which is private property, protected since 1991 by the GVLT's first conservation easement—passes the spectacular Frog Rock pinnacles to the ridge of Chestnut Mountain. The trail sidehills various timbered slopes, switching from single- to doubletrack and back again, all the way up to Chesnut Mountain, a long, nondescript summit ridge with beautiful views of the surrounding peaks and canyons. Climbers use this trail to access Frog Rock, taking a short westward traverse a couple miles from the trailhead. Views of the limestone outcroppings surrounding Frog Rock can be seen from the main trail, making for a scenic ascent.
Seasonal Conditions
The trail is closed to bikers until June 15, but hikers and runners are welcome year-round. Skiers frequent the trail in the winter, as it connects to both Bear Canyon and Goose Creek; but Nordic skiers beware: the descent back to the trailhead can get icy and dangerous. Fall trail-users, keep in mind that this area has good hunting and you may run into a grouse- or elk-hunter on any given day.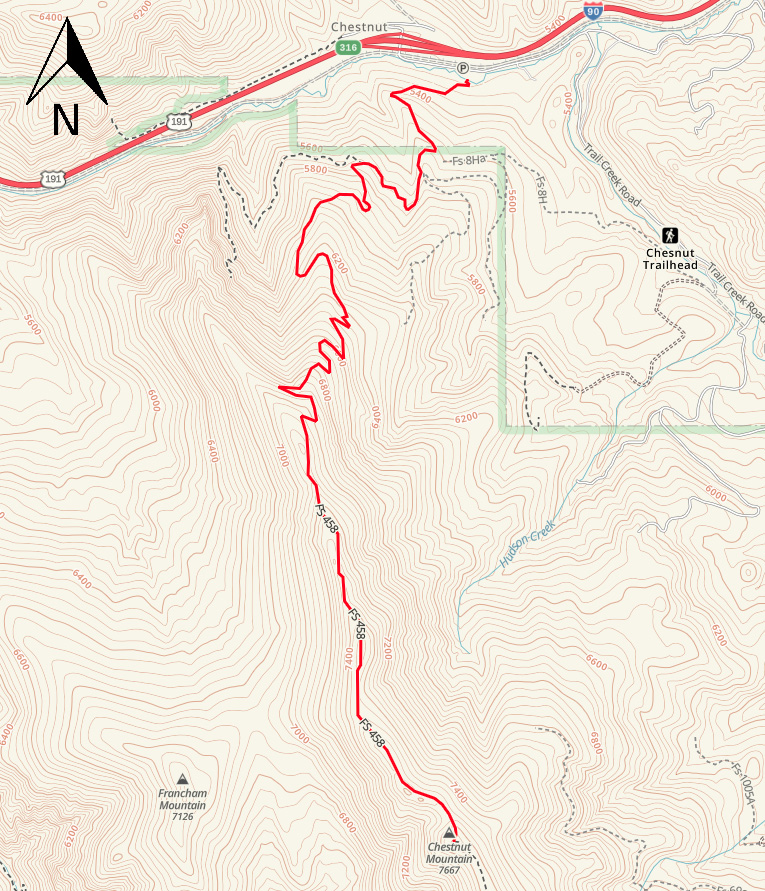 Directions
From Bozeman, drive east on I-90 into the Bozeman Pass. At the first exit (Trail Creek, exit 316), turn right and immediately bend left (east) on Trail Creek Rd. Trailhead parking is on the right side of the road, roughly 200 yards from the Trail Creek exit. Gaia route here.