Length: 4 miles (round-trip to the first lookout) or 6.2 miles (round-trip to Foothills Trail)
Duration: 1 to 4 hours
Difficulty: Moderate
Elevation Gain: 1,627 feet
Activities: Hiking, mountain biking, trail running, cross-country skiing (experts only)
Crowds: Heavy traffic
About
This is a popular trail just north of Bozeman, near the southern end of the Bridger Range. The hike leads through a shaded forest following a creek-fed canyon (the stream is seasonal and usually dries up by mid-July). There's an overlook at 2 miles with a great view of the expansive Gallatin Valley; the trail continues up a long ridge and intersects with the Bridger Foothills Trail at 3.1 miles, providing further hiking, running, or biking options. Many hikers continue on to Mount Baldy, the prominent 8,914-foot summit visible from Bozeman. 
Seasonal Conditions
Sypes Canyon is most popular in late spring and summer, though it's usable year-round. Hike, run, or mountain bike during the spring, summer, and fall. Wear snowboots with grip action during winter. We only recommend cross-country skiing to experts, because there are steep climbs scattered throughout the trail. 
Directions
From downtown Bozeman, head north on N. 7th, which turns into Frontage Rd. When you reach Springhill Rd., turn right. Follow Springhill Rd. for about 1.5 miles and then turn right at Sypes Canyon Rd. Follow Sypes Canyon Rd. for about 3 miles. At the Y at the end of the road, bear right onto Churn Rd. and park at the signed trailhead. Overflow parking is available on Sypes Canyon Rd., just below the Y.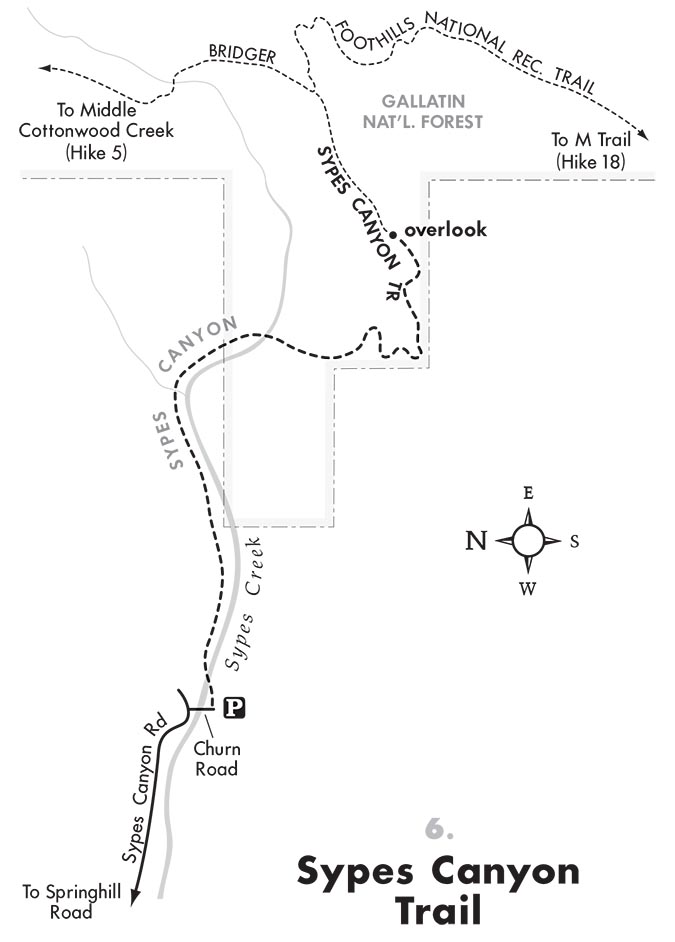 Map courtesy of Robert Stone's Day Hikes Around Bozeman, Montana.