Length: 8 miles (round-trip)
Duration: 4-7 hours 
Difficulty: Hard
Elevation Gain: 4,300 feet 
Activities: Hiking, trail running
Crowds: Moderate traffic
About
Mt. Baldy has several approaches; this is the steepest trail with about 4,300 feet of elevation gain in 4 miles. From the M trailhead, hike the M to the ridge. Stop and take a breather, then traverse up along the ridge on a reasonably flat portion until the trail starts climbing again through the trees to a rocky outcropping. Enjoy another leisurely stroll along the ridge until you come to the final ascent: a steep climb up a scree-covered slope. As expected, the views on top are incredible. 
Seasonal Conditions
This steep trail gets very windy, so weight down your dog (and your hat) appropriately. Snow lingers on the trail into early summer, drying up through the fall. Be sure to bring plenty of water on warm summer days as this trail is very dry and has little shade. You can hike the trail during winter, too; just make sure you have all the right gear for slick, snow, and bitter cold. 
Directions
Go north on Rouse Ave., which becomes Bridger Canyon Rd. After a few miles, turn left into the signed parking area, just before a narrow constriction between the Bridgers and the Story Hills.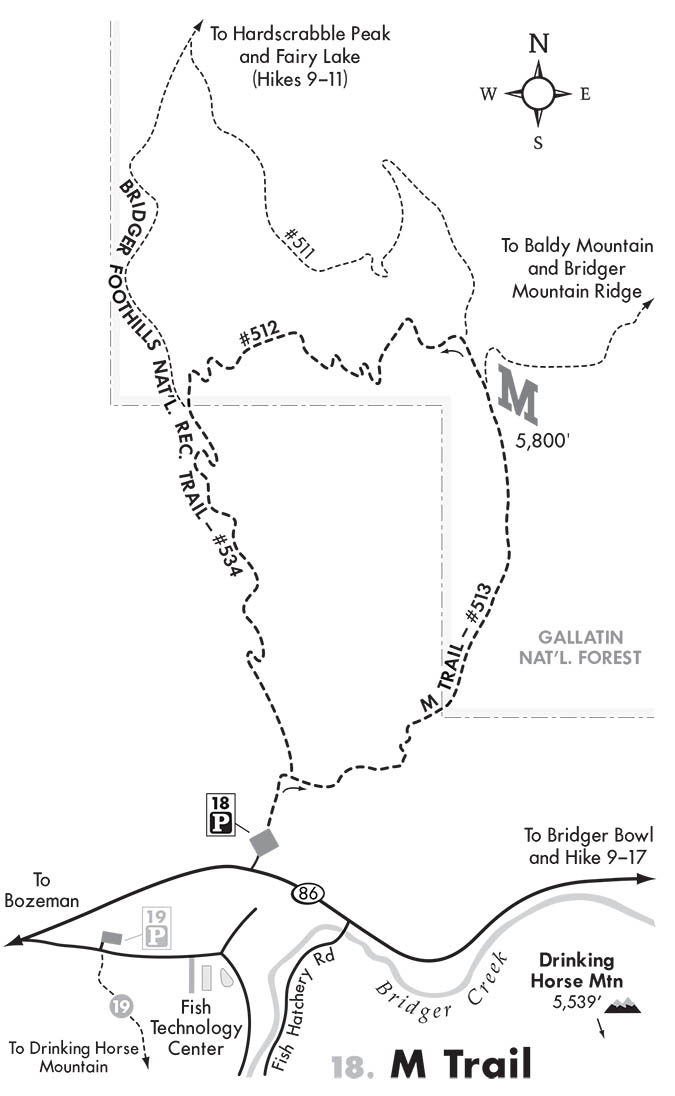 Map courtesy of Robert Stone's Day Hikes Around Bozeman, Montana.