Length: 4.2 miles (round-trip to the falls) 
Duration: 2.5 hours
Difficulty: Easy 
Elevation Gain: 480 feet
Activities: Hiking, trail running, cross-country skiing
Crowds: Moderate traffic
About
Passage Falls is the commonly-used name for Wallace Creek Trail in Gallatin National Forest, as well as a continuing trail system in Paradise Valley. The trail parallells Passage Creek and ends at the massive Passage waterfall. Upon reaching the trailhead, head south across a bridge over Mill Creek, then another over Passage Creek. The lightly-forested trail (due to burning) follows the creek for 2 miles, at which point you'll encounter a fork. Take the right fork and ascend a hill overlooking meadows and private land; be careful not to trespass. Take a sharp left and wind your way down to Passage Falls; this is the most popular out-and-back turnaround point.
Other Routes
Bring a map if you plan to go past the falls. If you take the left fork (just before ascending the hill overlooking meadows), cross a bridge and continue past the falls to yet another fork, this one at the confluence of Wallace and Passage Creeks. At this point, you've entered into Absaroka-Beartooth Wilderness. The left fork, Wallace Creek Trail, continues to Mt. Wallace; the right fork, Passage Creek Trail, continues to Horse Creek and Charlie White Lake. 
Seasonal Conditions
Six miles before the trailhead, at the USFS Snowbank Campground on Mill Creek Rd., the road to the trailhead is closed to vehicles during winter and early spring. You can continue on foot, however; from there, it's a popular cross-country skiing destination.
Directions 
From downtown Bozeman, head east on I-90 toward Livingston; from Livingston, take Hwy. 89 south for 16 miles. Between mile markers 37 and 38, turn left onto Mill Creek Rd., and continue 14 miles to the trailhead on your right.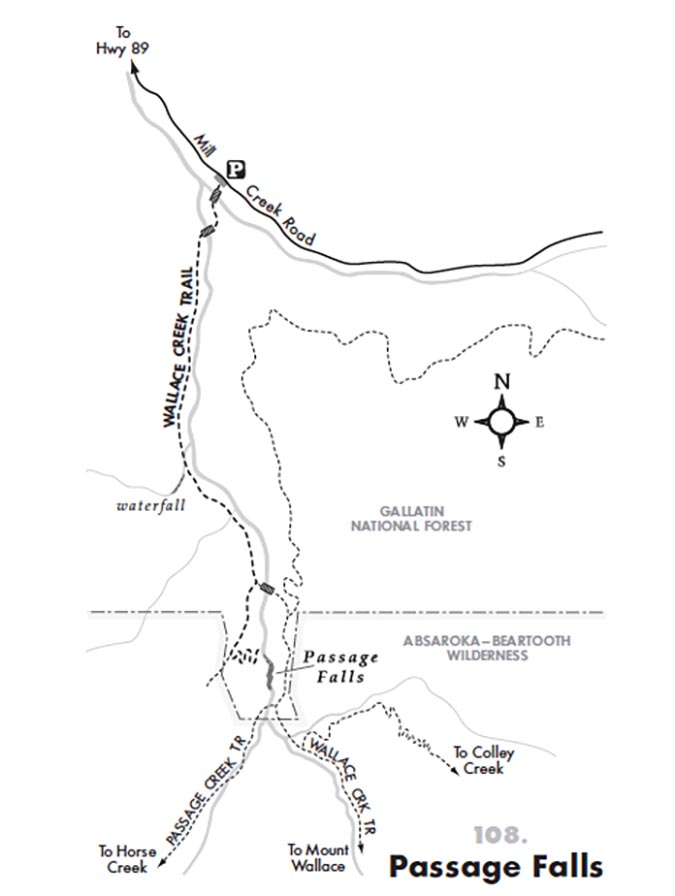 Map courtesy of Robert Stone's Day Hikes Around Bozeman, Montana.