Length: 8 miles round-trip to the meadow below Hardscrabble Peak, or 8 miles through-hike (shuttle required) to Fairy Lake
Duration: 4 Hours  
Difficulty: Moderate-Difficult
Elevation Gain: 2,000 feet
Activities: Hiking, trail-running, backpacking, skiing
Crowds: Moderate to heavy
About
North Cottonwood Creek flows west out of the Bridgers before connecting with two other tributaries and ultimately joining the Gallatin River north of Belgrade. The North Cottonwood Trail follows its namesake creek toward its headwaters near Hardscrabble Peak. Start the hike through flat, grassy meadows until the first creek crossing. After this, take on the switchbacks that march straight up the foothills before wrapping back into the North Cottonwood drainage to the creek. You'll arrive at a junction where you can head north towards Johnson Canyon on a trail strewn with rock debris, or continue east on a meandering path along the stream that climbs into the alpine, ultimately connecting to the Bridger Foothills National Recreation Trail at Bridger Divide. 
Seasonal Conditions
Prime time is May-October, unless you are skiing. As soon as the snow starts to fly in the fall it can hold through the winter. In early spring expect muddy conditions increasing as you climb higher.
Directions
From Bozeman, head north on Springhill Rd for 11 miles where the road turns into Rocky Mountain road. Continue for 3.5 more miles and look for an obvious trailhead on the east side of the road.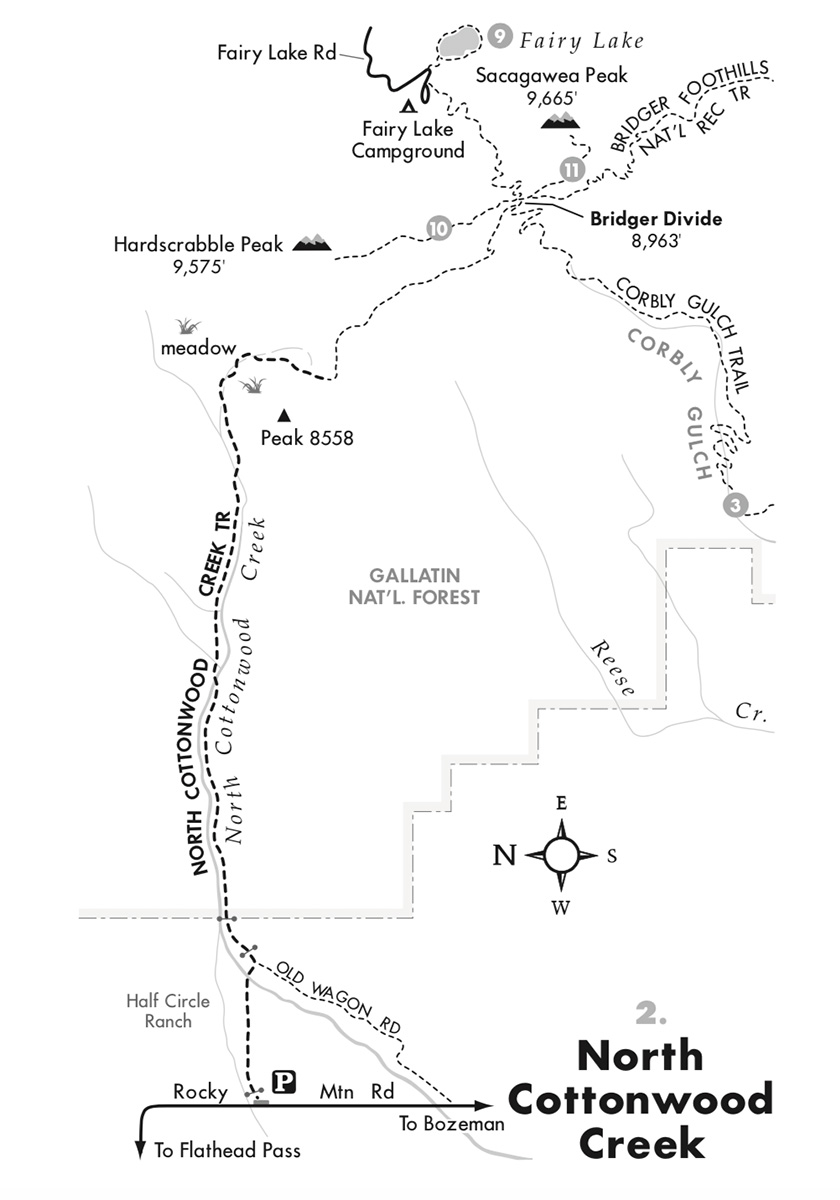 Map courtesy of Robert Stone's Day Hikes Around Bozeman, Montana.