Length: 4 miles (round-trip to the meadow), 11 miles (round-trip to Mystic Lake) 
Duration: 3 to 7 hours 
Difficulty: Easy to moderate
Elevation Gain: varies 
Activities: Hiking, trail running, skiing, fishing
Crowds: Moderate traffic
About
New World Gulch is just southeast of Bozeman, branching off Bear Canyon along the east slope of Mount Ellis. The stream-fed gulch is due north of Mystic Lake. The trail climbs up the drainage, first to a meadow below Mt. Ellis, and then up and over a divide, and finally down to Mystic Lake, which is about five and a half miles from the trailhead. You can turn around at the lake and come back down New World Gulch, or, if you've arranged a shuttle, head out via the Bozeman Creek / Sourdough Trail. Watch for elk, deer, and moose, and carry bear spray. 
Seasonal Conditions
This trail is notoriously muddy in the spring and early summer, and in the fall after rain or wet snow. Hikers and runners mostly use this trail from June through October. Local tip: it's a moist drainage, so slather on the bug repellent. During the winter, backcountry skiers take to the trail for a quick workout; skis make the snowpack slick, so pack along some shoe spikes. During the fall, keep your eyes and ears open for hunters. 
Directions
From Bozeman, take I-90 east to the Bear Canyon exit, just shy of the Bozeman Pass. Turn right on Bozeman Trail Rd. and then make a quick left onto Bear Canyon Rd. Drive just over three miles to the trailhead parking area on the right.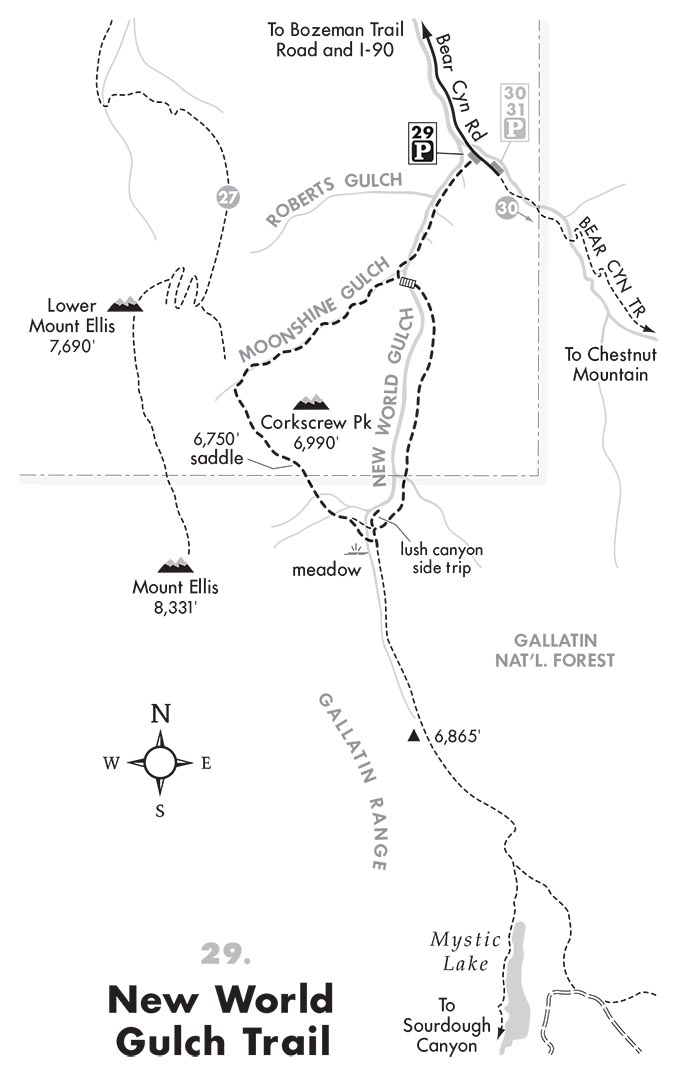 Map courtesy Robert Stone's Day Hikes Around Bozeman, Montana.