Length: 7 miles (point-to-point)  
Duration: 2-5 hours 
Difficulty: Hard
Elevation Gain: 2,000 feet 
Activities: Hiking, trail running
Crowds: Light traffic (but expect tight parking at both trailheads)
About
This is a solid point-to-point hike; just be sure to leave a car at the Sypes Canyon trailhead. To start, take the left-hand trail from the M trailhead and stay left at the junction, which becomes the Bridger Foothills Trail. Continue on nice switchbacks to an open meadow, after which the trail rolls into the woods. Hike on the well-maintained trail through the trees for several miles before descending steeply into a shaded drainage, then immediately climbing up to the Sypes Canyon ridge. The trail opens up here, and it's a scenic descent to a trail marker three miles from the Sypes trailhead. Hang a right at this overlook and continue down to the trailhead. Be aware of mountain bikers as this is a popular two-wheeler loop. Carry bear spray
Seasonal Conditions
After passing the white "M," snowpack can stick around through mid-summer. It dries out around mid-July and stays relatively dry through fall. A winter hike is doable but difficult; just make sure you have the right gear, and tread carefully. 
Directions
To the M Trail: Go north on Rouse Ave., which becomes Bridger Canyon Rd. After a few miles, turn left into the signed parking area, just before a narrow constriction between the Bridgers and the Story Hills.
To Sypes Canyon Trail: From town, go north on 7th Ave. and continue to drive as it becomes Frontage Rd.. Turn right on Springhill Rd., then turn right onto Sypes Canyon Rd. Bear right at the Y at the end of the road and park at the signed trailhead.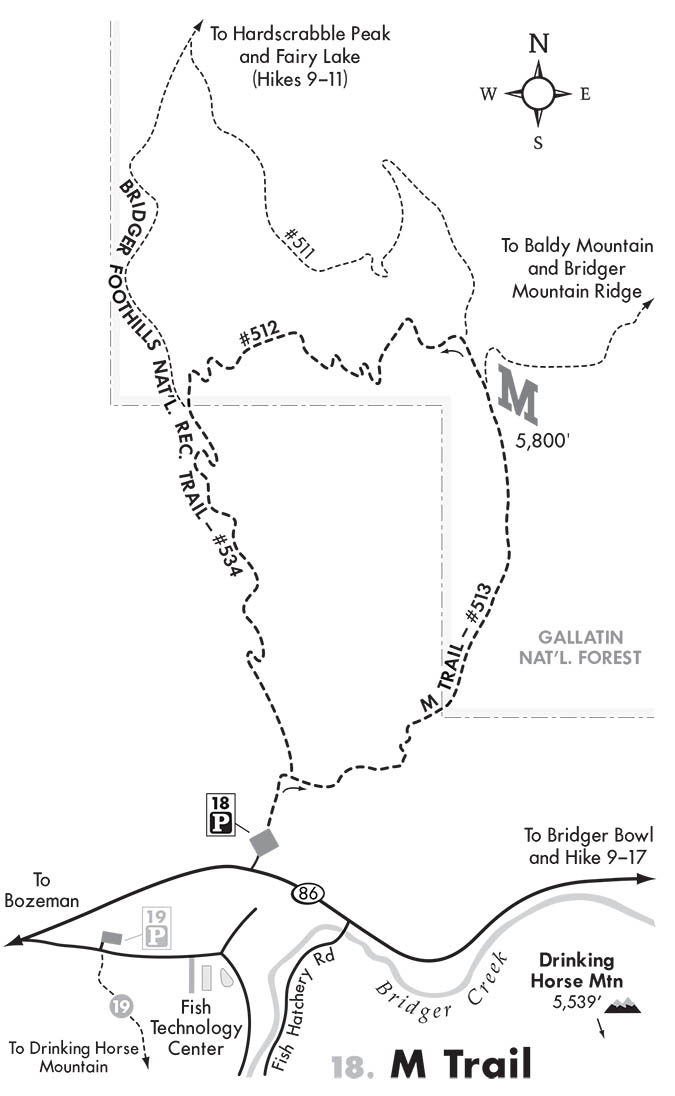 Map courtesy of Robert Stone's Day Hikes Around Bozeman, Montana.