Length:  3 miles to the most popular turnaround; 6 miles round-trip
Duration: 2-3 hours
Difficulty: Easy
Elevation Gain: 500 feet
Activities: Hiking, trail running
Crowds: Moderate traffic
About
This trail is across the Gallatin River from Storm Castle Peak, partially in Gallatin National Forest and partially in Lee Metcalf Wilderness. Hell Roaring Creek is a tributary of the Gallatin, flowing northeast through the Spanish Peaks from its drainage point at Hell Roaring Lake. The trail parallels its namesake creek, past waterfalls and pools loaded with rainbow trout. The most popular turn-around point is where Gallatin National Forest reaches Lee Metcalf boundary at 3 miles in.
Other Routes
This trail leads to several others within the Spanish Peaks and Lee Metcalf trails systems. Take a map along if you intend to keep trekking. When you reach a fork at Hell Roaring Creek, bear left to continue along the south fork of Hell Roaring Creek to Hell Roaring Lake and Table Mountain. Bear right at the fork to continue along the north fork toward Gallatin Peak and Summit Lake. Carry bear spray. 
Seasonal Conditions
This trail stays wet into the spring, but makes a pleasant, solitary winter hike. It's also a popular spot among back-country skiers.
Directions 
From Bozeman, head south on Hwy. 191 toward Big Sky for about 18 miles. The trailhead parking area is on the right at the end of the long straightaway in Beckman Flat. After you pass the rafting company headquarters on the left, start looking for the trailhead on the right.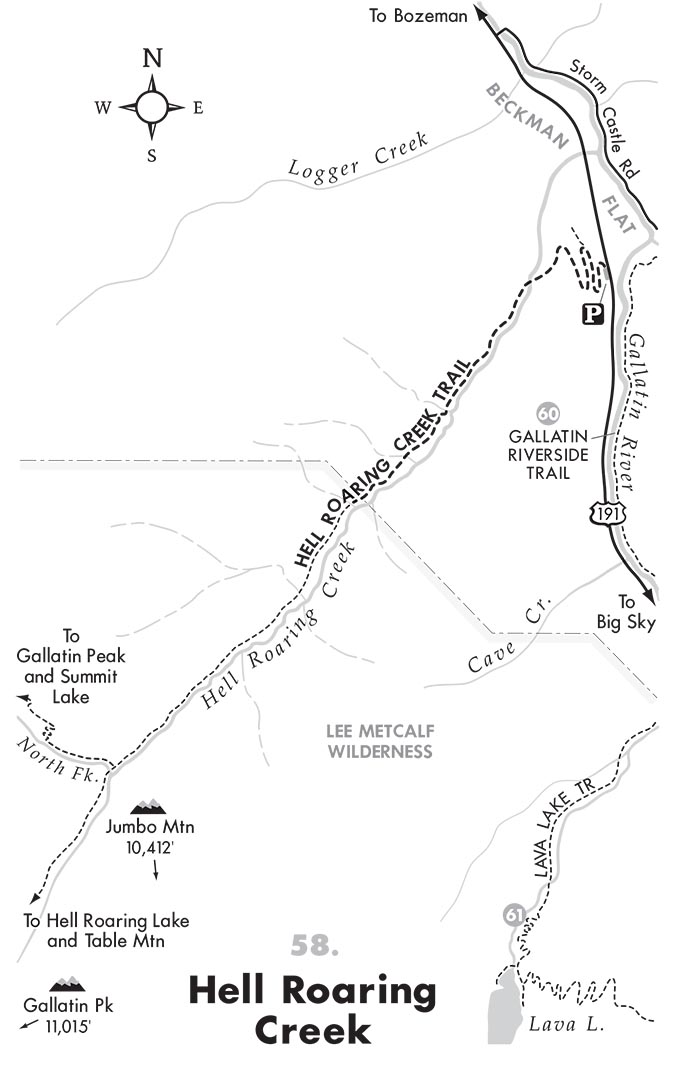 Map courtesy of Robert Stone's Day Hikes Around Bozeman, Montana.