Length: 5 miles round-trip to the first meadow (the most popular turnaround); other options abound
Duration: 2 hours to all day
Difficulty: Easy to moderate
Elevation Gain: 400 to 1,400 feet (at Bear Lakes)
Activities: Hiking, mountain biking, trail running, cross-country skiing, dirtbiking
Crowds: Heavy traffic
About
Bear Canyon is a lush drainage between Mount Ellis and Chestnut Mountain southeast of Bozeman. The Bear Canyon trail follows Bear Creek up the shady canyon, with branches to Bear Lakes, Chestnut Mountain, Goose Creek, and Trail Creek. The first four miles parallel the cascading waters of the creek, gaining relatively little elevation and making for a pleasant hike, bike, or ski. Beyond that, the trail steepens as various forks lead in all directions. 
Seasonal Conditions
Bear Canyon is open to foot traffic only from April 1 to July 16; mountain bikes, dirtbikes, and stock use are permitted afterward. During spring and early summer, the trail can be muddy in shaded areas and quite buggy during wet months. While popular with cross-country skiers, the trail is steep in places and there are several blind-turn switchbacks. If you choose to follow the creek instead of taking the switchbacks, be careful on the way down as the trail is tight and lined with rocks. Note: this trail is popular with dirbikers from mid-July on, so if you're looking for quietude, consider a different spot.
Directions 
Head east on I-90 and take the Bear Canyon exit, the first exit east of Bozeman. Turn right and then make a quick left onto Bear Canyon Rd. Drive approximately four miles to the parking area near the end of the road. The trailhead is about a quarter-mile farther up the road, beside the entrance to the old ski area.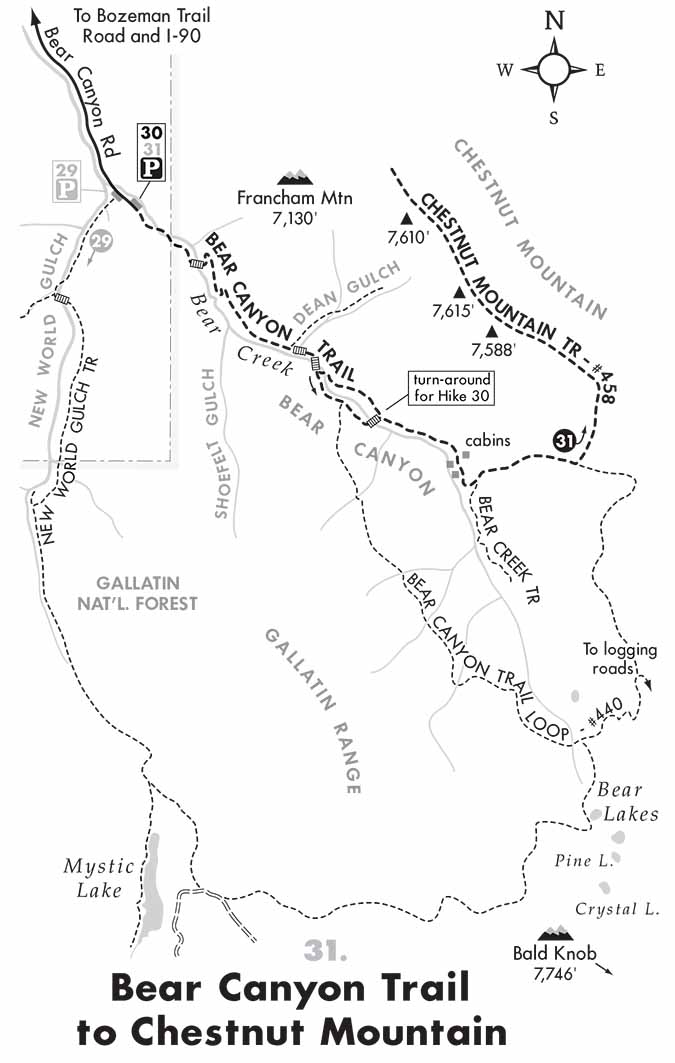 Map and information courtesy of Robert Stone's Day Hikes Around Bozeman, Montana.