Length: 4 miles (round-trip)
Duration: 2-5 hours 
Difficulty: Moderate to difficult
Elevation Gain: 2,000 feet 
Activities: Hiking, trail running
Crowds: Heavy traffic

About
Sacagawea Peak is the highest point in the Bridger Range. The mountain can be accessed from the west side of the Bridgers, but the most popular route is the trail from the east, starting from the Fairy Lake Campground. The trail climbs through a glacial cirque and up to Bridger Divide, between Sacagawea and Hardscrabble Peaks; from the divide, the trail winds up to a rocky summit for fantastic views. Hike Sacagawea to tick off another "peak" on your to-do list. Local's tip: keep an eye out for mountain goats. 
Seasonal Conditions
This trail is open year-round, but the going gets rough in mud and snow—both in your vehicle on the way up, and during the hike itself. The best (though most crowded) time to hike Sac Peak is June through October. Depending on the amount of snowfall the previous winter, snow fields can linger into mid-July. The view from the top is unbeatable, any time of year. 
Directions
Take Bridger Canyon Rd. (Hwy. 86 north) out of Bozeman and stay left at the Y at Brackett Creek. Go up and over Battle Ridge Pass, then hang a left between mile markers 21 and 22 on Fairy Lake Rd. (FSR 74). The road is rough, but people do it in 2WD sedans, so unless it's muddy, no worries. After about 7 miles you'll reach the campground and trailhead at the end of the road.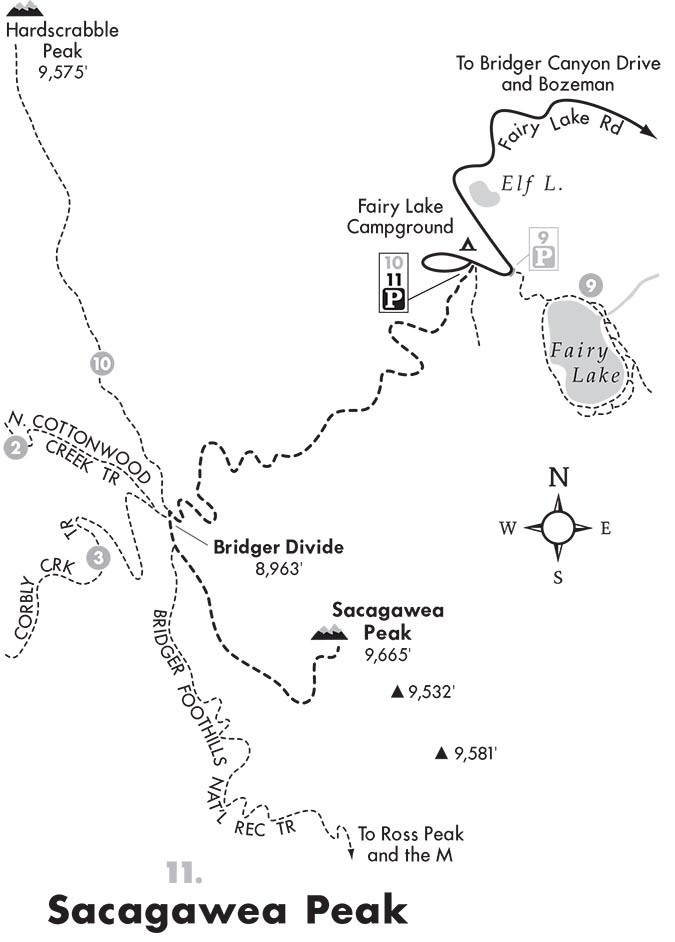 Map courtesy of Robert Stone's Day Hikes Around Bozeman, Montana.