Grassy Mountain Trail (Bangtail Divide North)
Length: 7.5 miles (round-trip)
Duration: 2.5 hours (round-trip)
Difficulty: Easy to moderate 
Elevation Gain: 1,400 feet
Activities: Hiking, mountain biking, trail running, snowshoeing
Crowds: Moderate to heavy traffic 
About
Grassy Mountain Trail is technically the north trailhead of the Bangtail Divide Trail, which connects to the south trailhead at Stone Creek. The Grassy Mountain trailhead, which sits about 3 miles north of the entrance to Bridger Bowl, starts by crossing a short footbridge over Brackett Creek. Just past the footbridge, the narrow trail starts steadily upward, zigzagging over several switchbacks during the moderate climb. Over the course of the trail, you'll be treated to views of the Bridger Ridge, the Bangtail Divide, and the Crazy Mountains. Eventually the trail levels out and joins a trail that weaves through a meadow. The most popular turn around is the obvious high point at the top of Grassy Mountain.
Seasonal Conditions
The trail on the north side of Grassy Mountain becomes especially narrow in the wintertime, making it sometimes difficult to navigate, but not impossible. We recommend strapping on spikes or snowshoes if you plan to hike during the snowy season. 
Directions
Drive up Bridger Canyon for approximately 19 miles. About two miles past the entrance to Bridger, the road splits; turn right on Brackett Creek Road and into the trailhead about 100 yards on the right.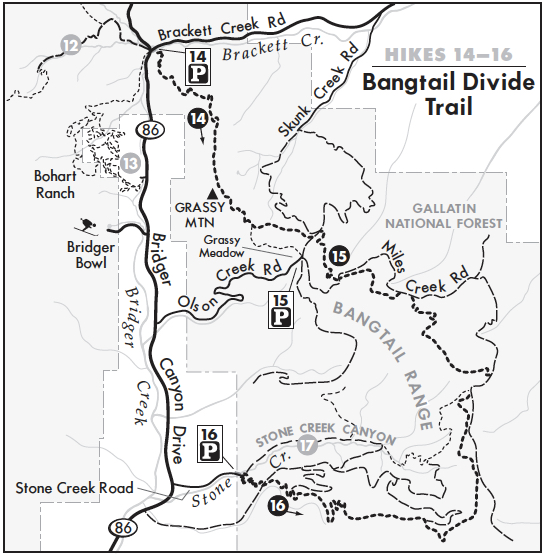 Map courtesy of Robert Stone's Day Hikes Around Bozeman, Montana.