Length: 10 miles (round-trip), 11 miles to Heather Lake (round-trip)
Duration: 4 to 6 hours 
Difficulty: Easy to moderate
Elevation Gain: 2,000 feet 
Activities: Hiking, trail running, mountain biking, fishing, camping
Crowds: Moderate traffic
About
Past Hyalite Reservoir, Emerald Lake Trail follows the East Fork of Hyalite Creek. The wooded trail has a mix of lodgepole pine, Engelmann spruce, and subalpine fir leading to Emerald and Heather Lake. The lakes are a great place to eat lunch while enjoying the pristine alpine meadows and towering rock walls. This trail is great for hikers of all abilities; it's also one fantastic mountain bike downhill. Bring a fly-rod and try your luck fishing for grayling and Yellowstone cutthroat in the lake. Carry bear spray. 
Seasonal Conditions
Emerald Lake Trail has snowfields into the summer after a wet winter, so prepare yourself accordingly. In the winter, the trail can be hiked with proper gear.
Directions
Head south on 19th Ave. and turn left on Hyalite Canyon Rd. Continue past Hyalite Reservoir; when the road splits, take the left fork toward Palisade Falls. Continue past Palisade Falls to the end of the road.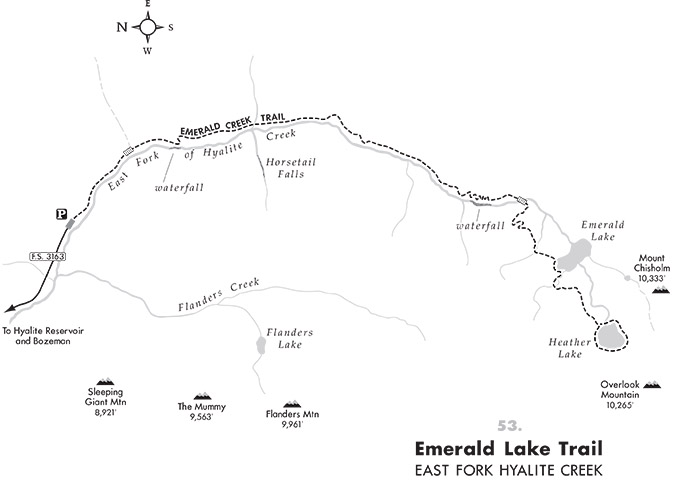 Map courtesy of Robert Stone's Day Hikes Around Bozeman, Montana.