Length: 6 miles round-trip (to the Foothills Trail)
Duration: 2.5 hours
Difficulty: Moderate
Elevation Gain: 1,000 feet
Activities: Hiking, mountain biking, running
Crowds: Moderate traffic

About
Truman Gulch is a moist, thickly forested drainage that follows its namesake creek up to the Bridger Foothills Trail. A popular mountain-bike ride, the trail is tucked between Ross Peak to the north and Saddle Peak to the south. The creek generally flows year-round, meaning there's water on the lower portion for thirsty dogs; farther up, though, the trail leaves the creek and switchbacks up toward the Foothills Trail, so be prepared for drier conditions. At this intersection, enjoy sweeping views of the valley far below.
Add-On: those looking for more adventure and distance can hang a right on the Foothills Trail and head south to meet up with Middle Cottonwood Creek Trail, or take a left to eventually reach Ross Pass.
Seasonal Conditions
Depending on conditions, the trail dries out in early summer, at which point the mountain bikers begin to show up en masse. Keep your eyes and ears open. Bird and deer hunters use this trail in the fall, as well as backcountry skiers in the winter.
Directions 
Head out Springhill and take a right at Penwell Bridge Rd, which terminates at Walker Rd. Hang a left and look for Forswall Rd., which is only a mile or two up the road on the right (if you hit a jog to the right, you've gone too far). Drive another few miles until you reach the trailhead at the end of the road.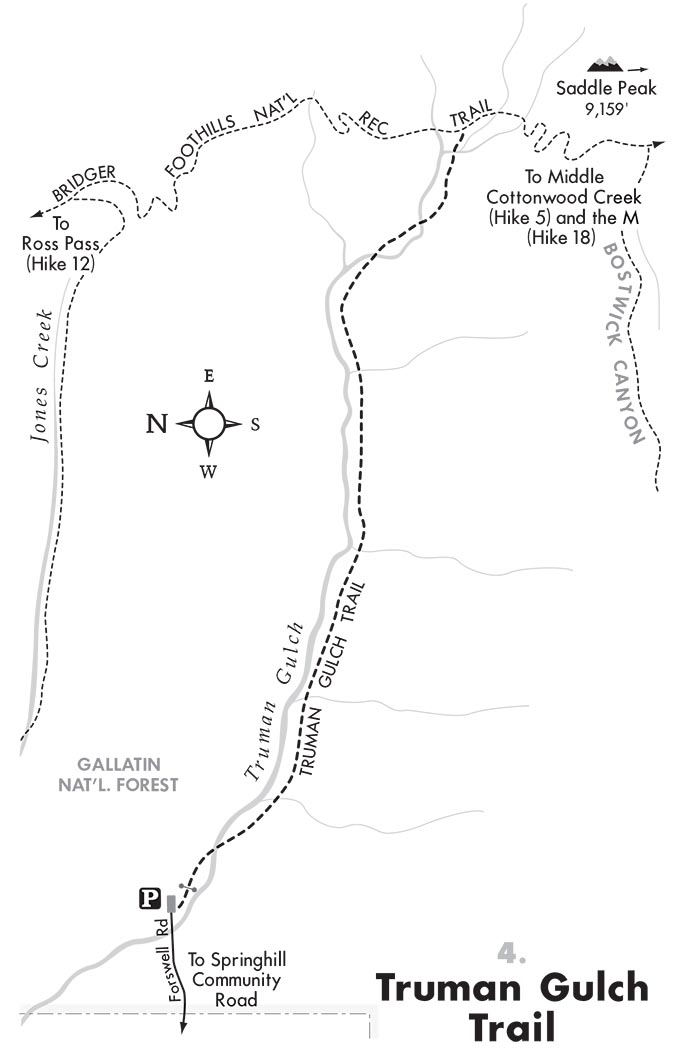 Map courtesy of Robert Stone's Day Hikes Around Bozeman, Montana.