Length: 24 miles (one-way from Stone Creek)
Duration: 4 to 6 hours (one-way)
Difficulty: Moderate to difficult
Elevation Gain: 2,247 feet
Activities: Mountain biking, hiking, trail running
Crowds: Moderate
About
This classic Bridger Canyon trail is a must for mountain bikers, hikers, and runners, connecting Stone Creek, Olson Creek, and Brackett Creek. The northern trailhead—also called Grassy Mountain Trail—is Brackett Creek, while the southern trailhead is Stone Creek. Although the trail is accessible from three different points (Olson Creek being the third), it is best biked south to north to take advantage of the switchback-intensive climb of Stone Creek and the fast, flowy descent of Grassy Mountain. Bangtail showcases the best natural features of Montana: lodgepole pines, spruce and fir forests, wildflower meadows, and sweeping views of Bridger Canyon, the Bridger Ridge (including the stunning Sacagawea Peak), and the Crazy Mountains. Bikers should consider setting up a shuttle vehicle to avoid a long return ride on the pavement.
Seasonal Conditions
Every summer, the Bangtail Divide 38k run takes over the trail for a day, so check your calendar before heading out. The trail on the north side of Grassy Mountain becomes especially narrow in the wintertime, making it sometimes difficult to navigate, but not impossible. We recommend strapping on spikes or snowshoes if you plan to hike during the snowy season. In the spring, the Bangtail Divide takes a while to dry out, especially in the forested sections; a dry trailhead does not guarantee dry trail a mile or more in.
Directions
To Stone Creek: Drive up Bridger Canyon for approximately 11 miles, turn right onto Stone Creek Rd., and continue about a mile to the trailhead on the left. 
To Brackett Creek: Drive up Bridger Canyon for approximately 19 miles. About two miles past the entrance to Bridger, the road splits; turn right on Brackett Creek Road and into the trailhead about 100 yards on the right.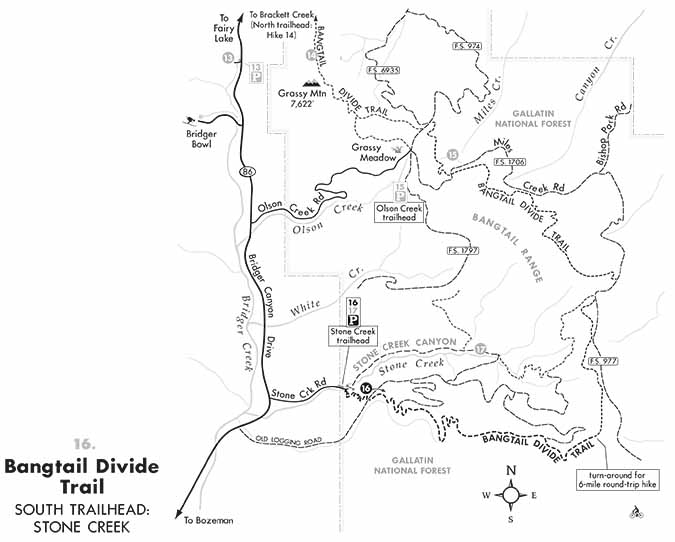 Map courtesy of Robert Stone's Day Hikes Around Bozeman.