Length: 4 miles (round-trip)
Duration: 2 hours (round-trip)
Difficulty: Easy
Elevation Gain: 400 feet
Activities: Hiking, trail running, cross-country skiing, snowshoeing
Crowds: Light traffic 
About
Stone Creek Canyon and the creek itself drain out of the east side of Bridger Canyon. The trailhead, shared with Bangtail Divide Trail, is located at the bottom of a vehicle-restricted logging road that winds gently upward through meadows and rolling mountain landscapes; the scenic route is more of a walk than a hike. You'll pass some houses and a handful of vehicle gates that you have to walk around to access the "trail." You'll also run into some "Private Property" signs that are there to ensure hikers stay on the road and don't venture beyond the barbed wire. There are also a handful of what look like forks in the road but are really driveways; bear right every time. 
Seasonal Conditions
This is a lovely winter hike, snowshoe, or cross-country ski, though the road isn't groomed. The first mile is plowed for residents to get their cars through; the snow is tamped down and hikeable on boots, no spikes necessary. About a mile in, the trail starts to head up Moody Gulch. At this point, snowshoes or skis are necessary to stay afloat.  
Directions
Go north on Rouse Ave., which becomes Bridger Canyon Rd. Drive about 12 miles up Bridger Canyon until you see an NFS sign on the right for Stone Creek Road. Turn right and, at about a mile in, continue past a blue "Stone Creek Road" sign on the right until you reach the trailhead and small parking area.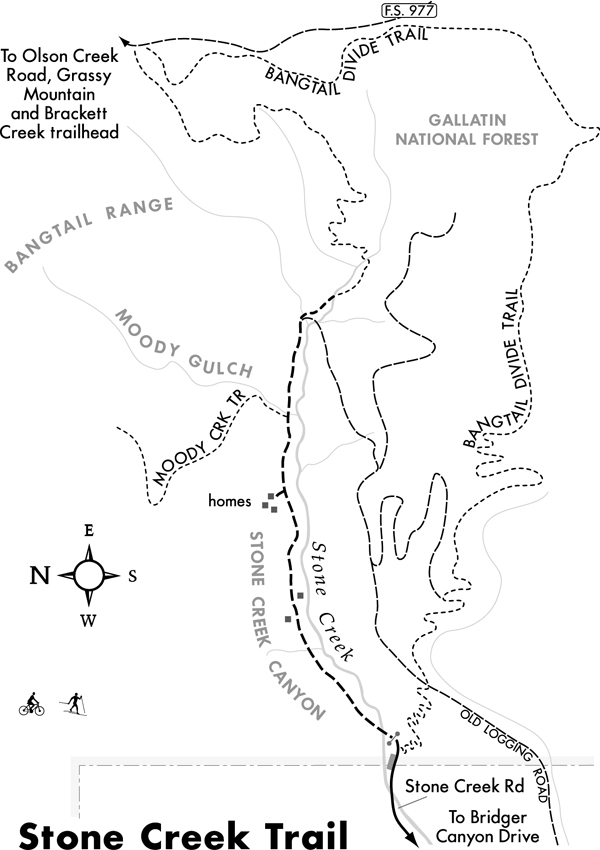 Map courtesy of Robert Stone's Day Hikes Around Bozeman, Montana.