Length: 4.5-mile loop
Duration: 1-3 hours
Difficulty: Moderate
Elevation Gain: 1,200 feet 
Activities: Mountain biking, hiking, trail running
Crowds: Moderate traffic
 
About
Leverich is a narrow canyon just south of Bozeman that's tucked between the two prominent drainages of Hyalite Canyon and Sourdough Canyon. The popular mountain-biking trail forms a loop on the canyon walls and follows the ridge overlooking Bozeman Creek and Sourdough Canyon. The trail crosses the head of Leverich Canyon on the Moser Creek Rd. Hikers, watch out for bikers, and vice versa. 
Seasonal Conditions
Though the trail is open year-round, the parking lot is closed during the winter. As an alternative, park approximately 1.5 miles out from the trailhead and snowshoe in for a solitary hike from there. Leverich can get muddy in the spring, and it's most popular mid-June through September. 
Directions
Drive south on 19th Ave. for 5 miles to Nash Rd. Turn left and drive half-a-mile to S. 3rd Ave. Turn right and continue to the end of the pavement. Follow the narrow, unpaved lane straight ahead for 1 mile to the trailhead parking lot. Potholes may make driving difficult; if so, park down below and walk (or ride) the remaining distance up the road.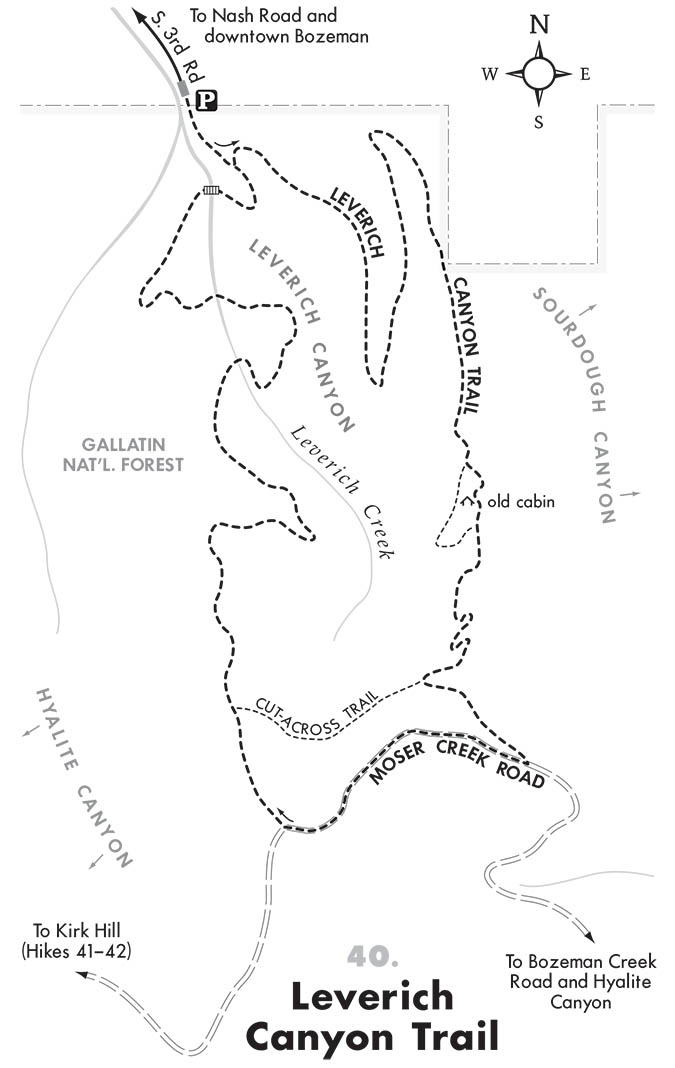 Map courtesy of Robert Stone's Day Hikes Around Bozeman, Montana.