Getting Bozeman's youth in motion. 
Kids these days, we all say, shaking our heads as if we were any different. And of course, we were different, but only because our circumstances made us so. There were no iPhones, no social media, and no virtual-reality goggles. We went outside because TV got boring, and we learned the lessons of outdoor education—self-reliance, teamwork, and accountability—almost by accident. Now kids have to be coerced. But with all the excellent outdoor-education opportunities offered locally, a little convincing could go a long way to creating lifelong champions of recreation, conservation, and stewardship. Here are some programs to check out this summer.
Wave Train Kayak Team
Dave Zinn moved to Bozeman in 2009, and when he got here, he noticed a void in the local kayaking scene: there were few outlets for young people and beginners. Zinn came from an elite paddling-instruction background and was looking to continue his teaching legacy. Together with Whitney Lonsdale, he revitalized the dormant Wave Train Kayak Team, a program originally founded in 1996. Zinn saw an opportunity to revitalize a program that had played a large role in the paddling community. "We wanted to create an avenue for young people to grow and explore," says Zinn, "especially folks who weren't necessarily interested in traditional sports like soccer and basketball." Eight years later, Wave Train is doing just that. The program offers everything from three-day introductory programs to six-week intensive camps. Zinn and his team focus on safety and fun first, then the advanced, technical side of paddling. "Some of our participants go on to challenge themselves on rivers around the world, but our program is mostly about having fun on the water and creating connections between people and their environment."
The Wave Train team welcomes kids aged 10-18, with programs on the Gallatin, Jefferson, and Yellowstone rivers. As students progress through the program, the team takes road-trips to paddling hotspots like the Clark's Fork, Lochsa, and Snake. "We want our participants to build confidence on and off the water. Our progression achieves that goal," says Zinn. "We'll facilitate students working through their own rescues to help build decision-making skills, leadership, and accountability."
Zinn's biggest challenge to getting the attention of Bozeman's youth. "There are so many cool things for kids to do these days," he notes, "and schools, parents, and employers are expecting a lot of them." But Zinn understands the value of his program, and sees the results firsthand—few things are more rewarding and inspire more confidence, he says, then successfully running wild rivers.
For more information and to register for summer programs, visit wavetrainkayakteam.com.
Montana Wilderness School
Starting an outdoor-education program from scratch is a daunting proposition, but that's just what industry veterans Gar Duke and Josh Olsen did three years ago when they founded the Montana Wilderness School (MWS). The pair have leadership and field-work resumes that rival any in the industry, but they wanted to create something uniquely Montanan, and uniquely accessible. "Outdoor education programs, especially programs that teach technical skills, can be cost-prohibitive," says Duke, and that's why MWS started their scholarship program. "Thanks to our growing donor community, we've yet to turn away a deserving applicant because of money." The socio-economic diversity of MWS's students is a strong point of the program, and a necessary component. "We focus on technical-skill development and competent backcountry travel," he explains, "but community-building and conservation ethics are also outcomes we're looking for, which would be less effective if we excluded a portion of Montana's population." 
For a new organization, MWS has serious ambition when it comes to programming, and their offerings are expanding every year. For 10-21 days, students can packraft the Bob Marshall, float and fish the Missouri, or scale one of Montana's alpine peaks; and every trip has a social component, whether it's a service project or an ecology lesson. "On the Missouri River trip, students learn about the area's history, people, and culture, all while paddling a wild river through wild country," Duke says. "We want to foster a love for the outdoors, but we also want to connect people to history and each other."
To learn more and to sign up for summer programs, visit montanawildernessschool.org.
Alpengirl
"Our approach to outdoor education is to introduce girls to the outdoors and have a ton of fun doing it." So says Alissa Farley, Alpengirl founder and camp director, who started the summer camps in 1997. "Through disconnecting from phones and living outdoors, girls gain skills, confidence, and appreciation for nature; self-esteem grows naturally and friendships grow organically." 
Alpengirl's all-female camps take place throughout southwest Montana, but also in Idaho, Wyoming, and Washington, offering a change of scene to Bozeman girls who have grown up in our local mountains. The programs are stepping-stones between traditional overnight camps, such as the Girl Scouts, and expedition-style programs, like NOLS or Outward Bound. "We bridge the gap between residential camps and challenge-based wilderness expeditions," says Farley. "Our girls are eager to try a new, more adventurous outdoor-based program, and in the all-girl environment, they become leaders while gaining skills and confidence." The trips are multi-adventure and include backpacking, horseback riding, rafting, climbing, and yoga. Instructor-student ratios are kept low, and courses stress land stewardship as well as technical skills.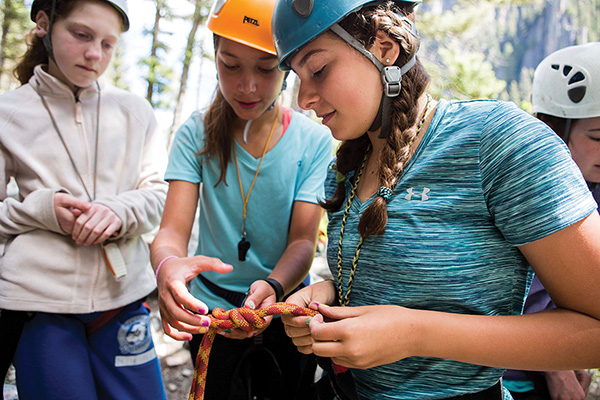 "We're somewhere in the middle on the continuum of outdoor-education programming," notes Farley. "It goes day camp, overnight camp, adventure camp, and wilderness programming. We're an adventure camp."
Registration is open for 2017 programs—check them out at alpengirlcamp.com.