Length: 1.2 miles round-trip
Duration: 30 minutes
Difficulty: Easy
Elevation Gain: 250 feet 
Activities: Hiking, mountain biking, trail running, cross-country skiing
Crowds: Heavy traffic
About
Palisade Falls is located south of Bozeman in the Hyalite Recreation Area, just beyond the reservoir. The trail begins at the East Fork of Hyalite Creek, then follows a tributary for approximately half a mile to a bridge fronting the falls. Palisade Falls is a towering cataract dropping more than 80 feet off a vertical rock wall at the southern base of Palisade Mountain. The trail is short and mostly paved, which stroller-pushers will find handy. However, a few steep sections may render it inaccessible to some wheelchair users. There are picnic tables at the trailhead.
Seasonal Conditions
This is a great, easy trail during the heat of summer, when spray from the falls and dense forest shade keep hikers, bikers, and runners cool. The trail can get slick during winter, but good traction or a pair of cross-country skis make for an easy winter outing. 
Directions
Drive south on 19th Ave. to Hyalite Canyon Rd. Turn left, drive up the canyon, and continue past Hyalite Reservoir. At the fork, turn left and after about 1.5 miles, park at the signed trailhead for Palisade Falls.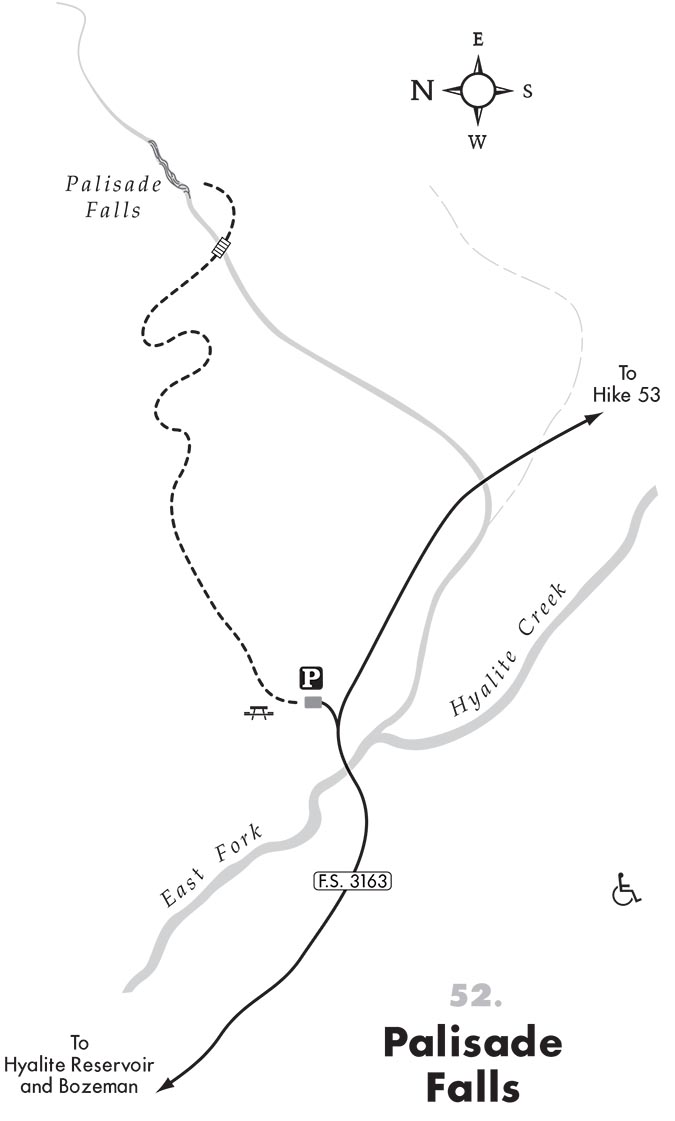 Map courtesy of Robert Stone's Day Hikes Around Bozeman, Montana.