Length: 1.6 miles (round-trip) 
Duration: 45 minutes
Difficulty: Easy
Elevation Gain: 400 feet 
Activities: Hiking
Crowds: Light to moderate traffic
About
Ousel Falls is a short but stunning hike in the heart of Big Sky. Along the trail, which meanders alongside the South and West Forks of the Gallatin River, hikers cross three bridges before reaching the waterfall. The trailhead starts at a fork; head right to take the densely-forested Yellow Mules Trail. Approximately 1 mile into the hike, progress right again at a Y to continue along Yellow Mules. When hikers reach a trail split near the falls, take one of four routes to the falls: the far-right fork leads the towering South Fork Overlook; the inner-right fork leads to the top of the Falls via a natural footpath; the straight path leads to the base of the waterfall, with a picnic area and pool; and the left path leads to the rocky Ousel Falls Overlook. 
Seasonal Conditions
This is a nice hike on a hot day, since the altitude, falls, and dense forest keep conditions cool. Ousel Fall is beautiful year-round; during the winter, a pair of snowboots with grip action will get you to the frozen waterfall. For those young and young at heart, the trail even has some backcountry sledding areas. 
Directions
From Four Corners, head south on Hwy. 191 toward Big Sky. Drive just over 30 miles, then turn right onto Big Sky Spur Rd. Continue 3 miles and turn left onto Ousel Falls Rd. Look for the Ousel Falls Park sign on the left; turn left there, and you've reached the trailhead.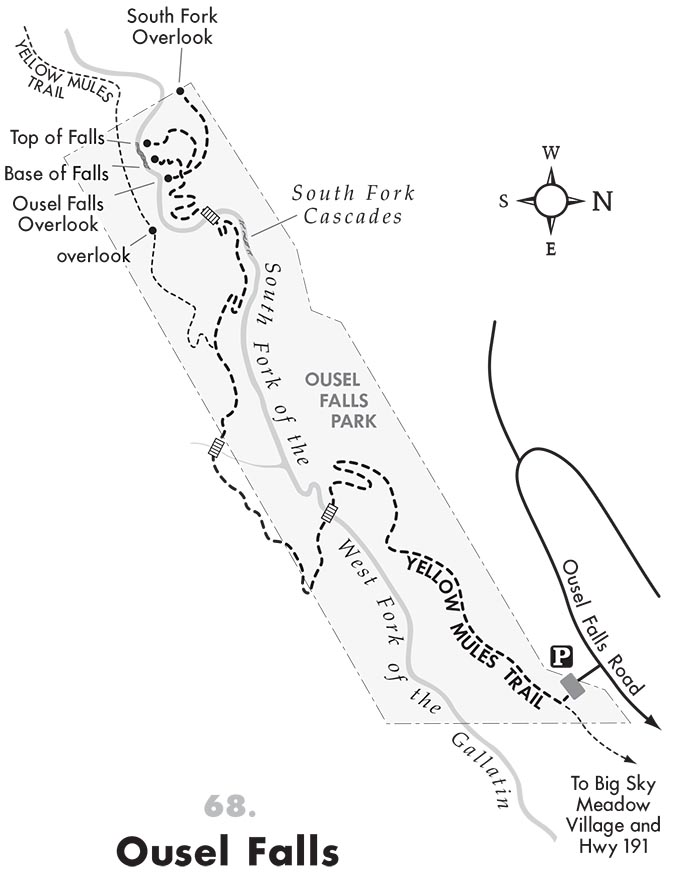 Map courtesy of Robert Stone's Day Hikes Around Bozeman, Montana.