Length: 2.8 miles (round-trip to the most popular turnaround point)
Duration: 1-2 hours
Difficulty: Easy
Elevation Gain: 450 feet
Activities: Hiking, mountain biking, trail running
Crowds: Heavy traffic

About
This popular trail lies at the western base of the Bridgers, and it provides access to several other trails. Middle Cottonwood meanders through lush forest with continuous creek access for thirsty dogs on hot days. You'll cross the creek several times, over bridges, logs, and rock-hops along the way. After 1 mile, the trail joins the Bridger Foothills trail; the most popular turnaround point is a half-mile farther; at a ridge on the side of Baldy Mountain. For a longer hike, continue north along the creek to traverse the west side of Bridger Peak to reach Truman Gulch; alternatively, head south (right at the Y) to reach the M trail. Carry bear spray.
Seasonal Conditions
Be careful during runoff season; the creek can cover the trail during spring. 
Directions 
From downtown Bozeman, head north on N. 7th, which turns into Frontage Rd. Turn right onto Springhill Rd.; after approximately 3.4 miles, look for the sign for Middle Cottonwood and take a right onto Toohey Rd. Continue to the T with Walker Rd and turn right. Walker Rd. becomes Saddle Mountain Rd., follow that through several 90 degree turns to the trailhead at the road's terminus.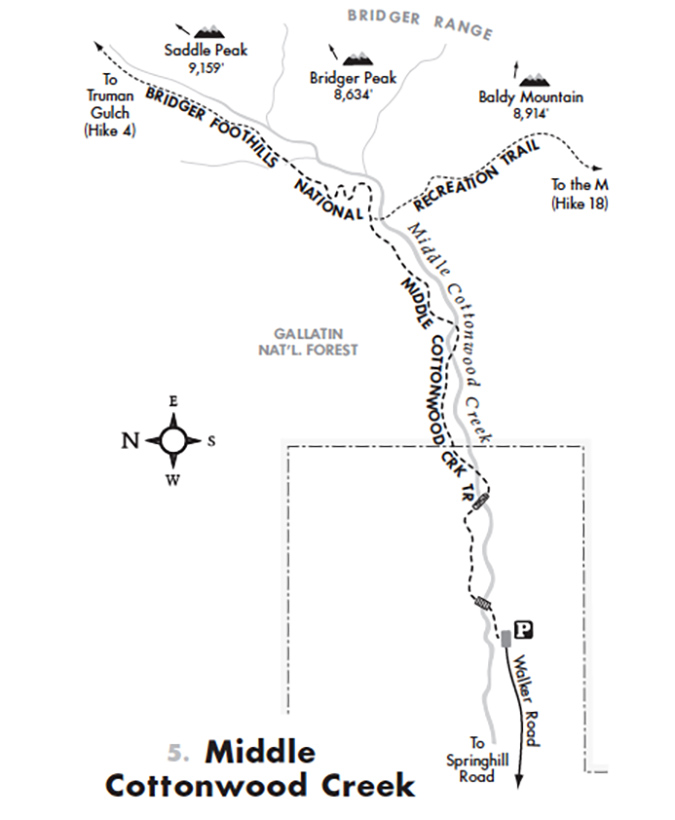 Map courtesy of Robert Stone's Day Hikes Around Bozeman, Montana.