Length: 6 miles (round-trip)
Duration: 3 to 4 hours
Difficulty: Moderate
Elevation Gain: 2,400 feet
Activities: Hiking, running, mountain-biking, cross-country skiing
Crowds: Moderate traffic
About
The Lower Mt. Ellis trail begins by crossing a large open field with a steady incline (bikers, take note: it's a bit of a grunt). At the top of the field is treeline, where an old logging road takes you up and around to the east side of the mountain. After a couple miles and a few switchbacks, the logging road takes a hard left, and a single-track trail continues up the flank of the mountain—straight up, mind you. After gaining a knoll, the final ascent gets even steeper, eventually topping out on a limestone outcropping with sweeping views of Triple Tree below, the Gallatin Valley beyond, and mountain ranges in all directions. If you're not too pooped, continue south along the ridge to Mt. Ellis. 
As a ski tour, you'll need climbing skins for the steep trail near the end of the logging road. You can use this trail to access the Mt. Ellis ski tour as an alternative to its New World Gulch approach. An alternate Nordic route, or extension if you're feeling ambitious, is the Limestone cutoff, which bears southwest at the top of the field and connects to the Triple Tree trail.
Seasonal Conditions
Depending on snowpack, the trail can remain and wet and even snowy until mid-May or early June. It does tend to dry out before many other area trails, though. Lower Mt. Ellis is also a good trail for a winter outing on snowshoes or cross-country skis. 
Directions
Drive east on Kagy Blvd. until it becomes Bozeman Trail Rd. Turn right on Mt. Ellis Lane and drive south all the way to the gate denoting the recreation area.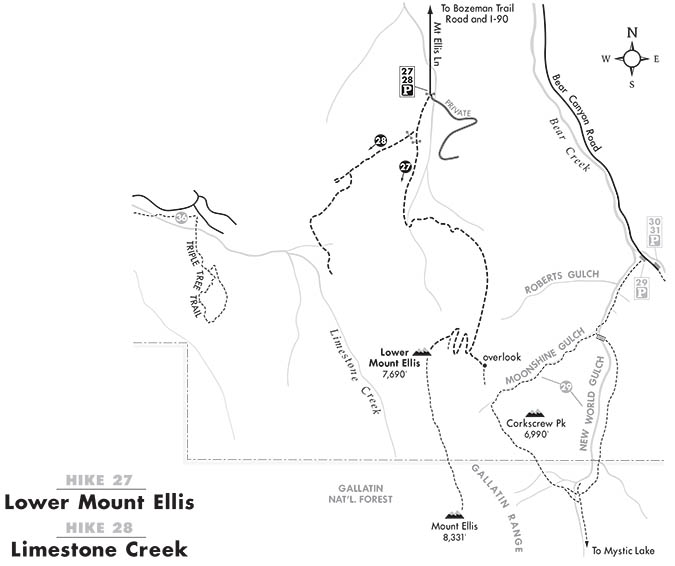 Map courtesy of Robert Stone's Day Hikes Around Bozeman, Montana.