Length: 6 miles (round-trip)
Duration: 3.5 hours
Difficulty: Moderate
Elevation Gain: 1,600 feet 
Activities: Hiking, fishing, camping, swimming
Crowds: Heavy traffic
About
The Lava Lake Trail (aka, Cascade Creek) begins at the Gallatin River, across from the big pull-out at the 35 MPH Bridge. The rocky trail follows Cascade Creek through a thick evergreen forest, continuing past a few waterfalls to a forest-lined lake surrounded by rock walls and treeless mountaintops. Rocks along the trail can make the hike a bit more strenuous than a singletrack, but the views and the lake at the end make the hike well worth the time and effort. Be sure to carry bear spray.
Seasonal Conditions
This is a great hike on a hot summer day, especially if you enjoy a cold but refreshing swim. During the spring, the trail can be slippery, but it's still a great time to go. Hikers take to this trail in the winter, too; just be sure you've got proper grip for hardpack and ice. 
Directions
Take Hwy. 191 south into Gallatin Canyon. Drive 20 miles to the Lava Lake trailhead parking area on the right, just north of the Gallatin River bridge. Turn right and continue to the parking area.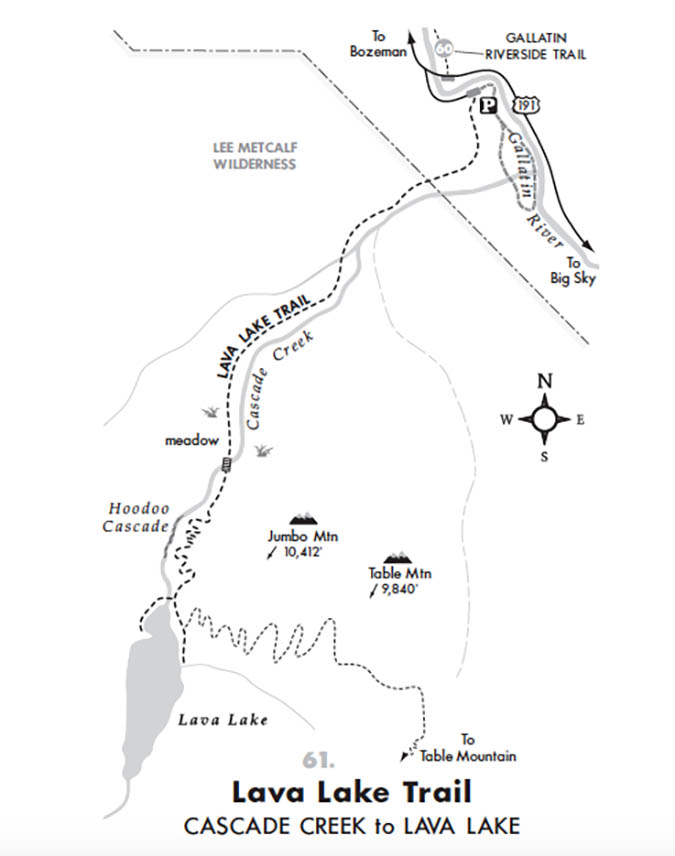 Map courtesy of Robert Stone's Day Hikes Around Bozeman, Montana.