Length: 6 miles (round-trip) 
Duration: 3 to 5 hours
Difficulty: Moderate
Elevation Gain: 1,500 feet
Activities: Hiking, trail-running, skiing
Crowds: Heavy traffic
About
This picturesque trail near Big Sky sits in a towering glacial cirque. At 9,200 feet, the trailhead leads you into alpine wildflower meadows, through tall forest, and past creeks. As you approach the trailhead, you'll cross a log bridge to begin your ascent up a grassy meadow. At 1 mile, a posted T-junction intersects with the North Fork of the Gallatin Ridge Trail. To stay on Beehive, turn left; another 2 miles or so in, you'll reach an unnamed lake surrounded by streams and a grassy basin. Enjoy the spectacular view. 
Seasonal Conditions
This trail is popular among backcountry skiers during winter months. It's also an awesome place to go crust cruising on Nordic skis in the spring. Because of its elevation, deep snow patches last through spring. If you encounter snow on the trail, walk through it instead of around it. This trail can be extremely crowded in the summer months, plan to hike early or the parking lot may be full.
Directions 
From downtown Bozeman, head west on Huffine Ln. toward Four Corners. From there, take a left onto Hwy. 191 toward Big Sky and drive 34 miles. Turn right onto Big Sky Spur Rd. (Hwy. 64), and continue 10 miles to Beehive Basin Rd. on your right (30 yards before the turnoff to Moonlight). Turn right and drive 2 miles to the posted trailhead on your left.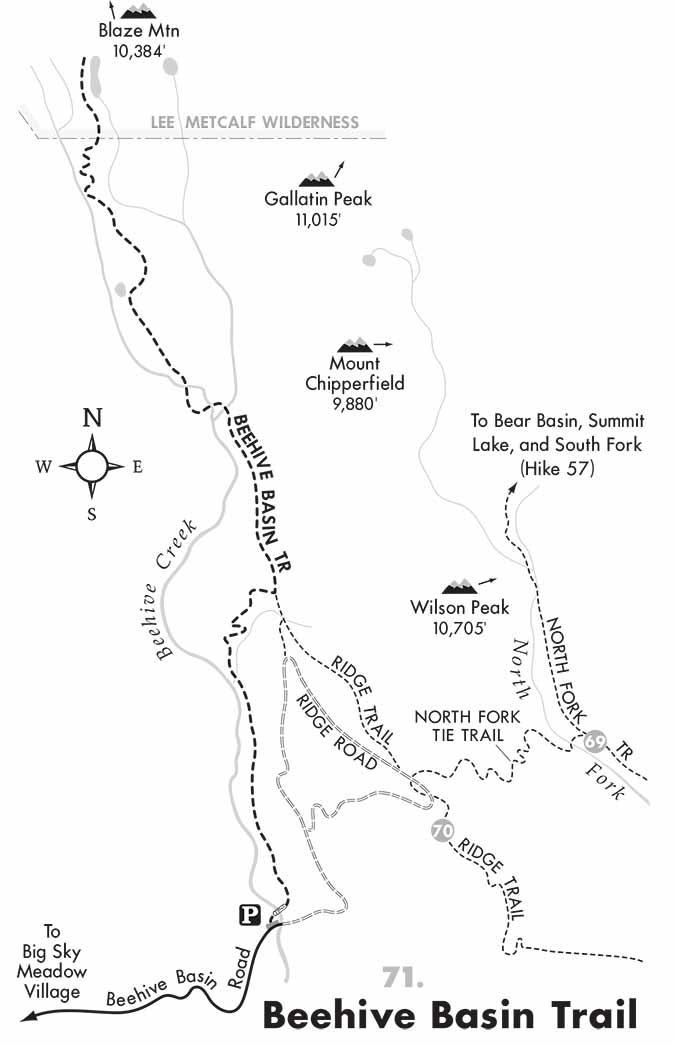 Map courtesy of Robert Stone's Day Hikes Around Bozeman, Montana.