Under-the-radar spring trips. 
Afoot and light-hearted I take to the open road,
Healthy, free, the world before me,
The long brown path before me leading wherever I choose.
—Walt Whitman, "Song of the Open Road" 
Few excursions swell the heart of the outdoor enthusiast like a spring road-trip. The sense of freedom, the promise of adventure, the glorious panorama of sights both foreign and familiar—like the landscape itself, we rise from a long and languorous repose, and are born again. The great big world awaits.
This year, skip the overplayed Moab jaunt and stick to these Montana-only itineraries. For those seeking something new and different, try a sojourn to eastern Montana, where the Old West awaits. If you've got more time and ambition, embark on a week-long multisport to the fabled Big Hole Valley. Either way, it's time to seize the season—so load up the rig, top off the tank, and take to the open road. We'll see you out there.
Badlands, Broncs, and Bighorns: A long weekend in eastern Montana
Two-thirds of Montana is prairie, defined by coulees, badlands, sagebrush seas, and 100-mile vistas. This isn't the Montana that guidebooks rave about or that magazines add to their top-ten lists; but it is a Montana worth visiting, especially in the spring. In fact, there's no better place to spend a long weekend—or several, if you fall in love, like many do, with the wide-open landscapes and laid-back locals of this sparsely-populated portion of our great state.
Wriggle out of work early on Friday to make Glendive by sundown—from Bozeman, it's a solid five-hour push. Keep one eye on the road and one out the window—the landscape quickly transforms from the basin-and-range typography of western Montana to the wind- and water-eroded expanse of the high plains. As the sun sets behind you, a Technicolor dreamscape unfolds. What's grey and desolate for much of the winter comes alive in spring: flowers bloom, wildlife migrates, and the land is released from its frozen slumber.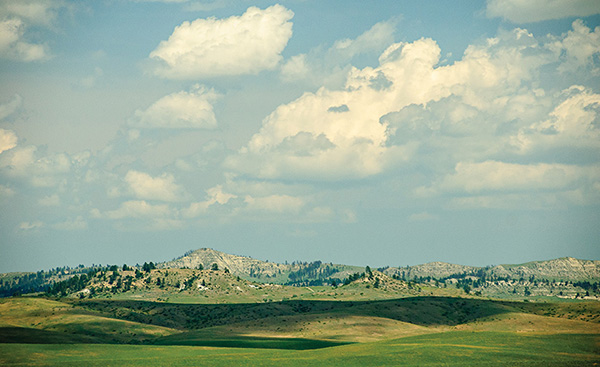 All of this is impossible to appreciate from the car, so as soon as you can, get out into it. Makoshika State Park is the centerpiece of Glendive's recreation offerings, and for good reason. Miles of trail lead you through ancient geologic formations, some containing dinosaur fossils millions of years old. Pitch the tent in the any of the park's campgrounds and get a good night's sleep—you'll need your rest. In the morning, the park is your oyster, whether you hike, bike, trail-run, or bird-watch. Bring a good camera for memorable photos of this other-worldly landscape, a far cry from Bozeman's lush fields and snowy peaks. A newly renovated road bisects the park north to south, so be sure to explore up and down the route. There are plenty of trailheads to choose from, and backcountry campsites exist for those seeking a star-studded lightshow and the inimitable quietude of the open prairie at night.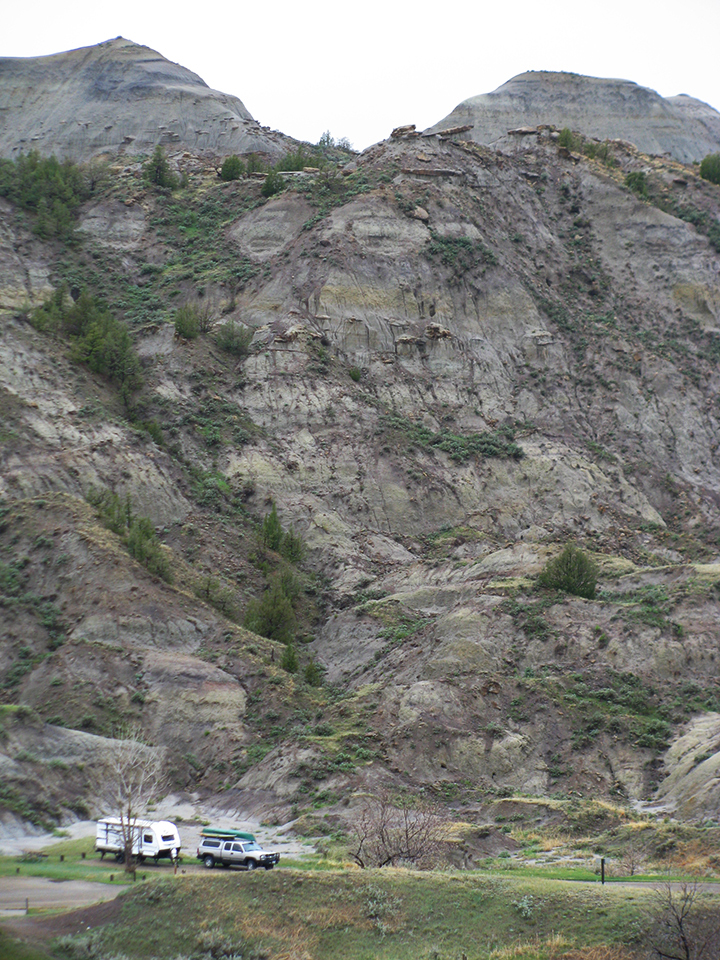 While Makoshika is Montana's largest state park, its recreational offerings are limited compared to the bounty we enjoy here in Bozeman—a day or two should suffice. Once you've packed up, backtrack to Miles City. Here, Old Montana awaits, and if you plan right, so does the annual Miles City Bucking Horse Sale. This year's festivities take place May 18-21 and shouldn't be missed, even if you can only stop for half a day. For 67 years, cowboys from across the West have descended on this iconic Montana town for a rootin'-tootin' western rendezvous. For four days, spectators are treated to riding demos, old-timey parades, live country music, and more. Be sure to belly up at one of Miles City's many watering holes, just remember the cowboy's golden rule: never drink unless you're alone or with somebody.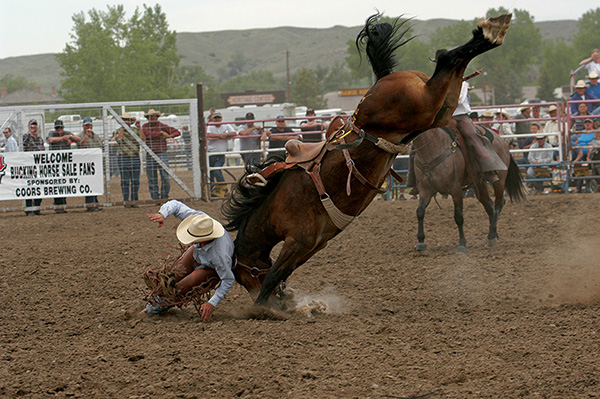 When you're ready to skedaddle, get back on the interstate headed west. After about an hour, take the Hwy. 47 exit south toward Hardin. Check in with fly shops in Fort Smith for beta on the Bighorn River, one of Montana's finest trout fisheries. The Bighorn is big enough to be its own trip; with time being limited ask about a honey-hole or two, making sure to pick up some flies in exchange for local knowledge. A short jaunt south from Hardin takes you to the Little Bighorn Battlefield, the site of Custer's famous defeat; if the fishing's slow or you've got an extra half-day, be sure to explore this notable piece of Montana—and American—history.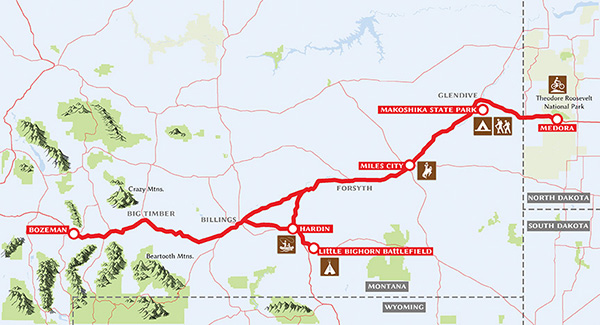 Bonus Day
If you have the time and are so inclined, Theodore Roosevelt National Park, just over the border in North Dakota, makes for an excellent day-trip from Glendive, or a separate overnight. The Little Missouri River wends its way through the park's badlands, and wild horses and bison graze the tall grasses. For mountain bikers, the Maah Daah Hey trail in the adjoining national forest is a 100-mile must-ride epic.
Over the Hills & Far Away: Spring break in the Big Hole
Like most great American journeys, this trip heads west, across the Madison and Jefferson valleys, to an under-explored part of our state: the far southwest corner. Give yourself at least five days for this adventure, and bring everything, including the kitchen sink—you'll need somewhere to wash off the blood, sweat, and mud accumulated along the way.
From Bozeman, point your wheels west and roll out Norris Rd., stopping first at Mama Mac's in Four Corners to fuel up on coffee and king-sized egg-and-bacon sammies. Once properly powered, the drive will fly by and before you know it, you'll be in Ennis, drawn as if by some invisible force to the door of Willie's Distillery. Don't dawdle too long; a whole lot of country awaits, with plenty more stops along the way.
Up and over the pass to Virginia City, through Sheridan and Twin Bridges, then along the Beaverhead River—this drive is pure Montana, rural and resplendent with spring flora. Shoot straight through Dillon and snag your first night's campsite at Bannack State Park, on the southern flank of the Pioneer Mountains. This once-booming ghost town sits south of Jackson along Grasshopper Creek and should be dry by April. Walk in the footsteps of Montana's gold-mining pioneers, enjoying an elevated viewpoint from the park's hillside trails. The visitor center doesn't open until Memorial Day, so you're on your own out there, in the cool spring darkness, amid the specter of settlers past. Build a bonfire and share your creepiest ghost stories—bonus points if you can make someone scream.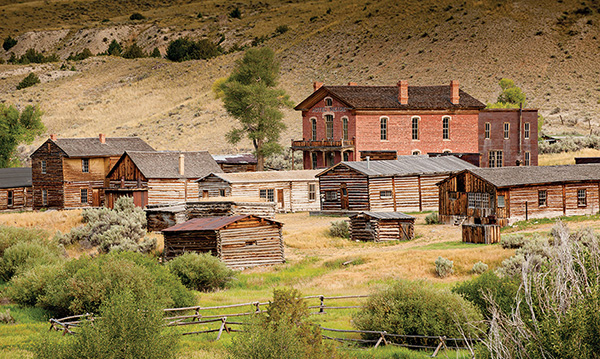 Once you've had enough of Bannack's haunted grounds, head toward Jackson. This is where the real adventure begins—the Beaverhead Mountains, to Jackson's southwest, are a prime spring-skiing objective. You'll find something for everyone, from leisurely tours to crampons-required ski mountaineering. Pick your passion based on experience level and conditions. Overnight options are endless, but Miner Lakes Rd. out of Jackson leads to a large campground at Lower Miner Lakes. Continue on four miles to access the Upper Miner Lakes trailhead; expect plenty of snow up high, well into spring. Road and trail conditions vary season to season, but four-wheel-drive is always advisable—this is still Montana, after all.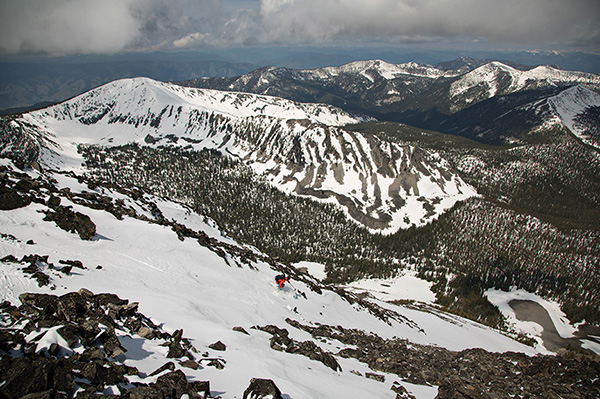 Another camp-and-ski opportunity is Twin Lakes. Midway between Jackson and Wisdom, turn off Hwy. 278 onto Twin Lakes Rd. and trundle down the long dirt road to the lakes, which sit a scant six miles (as the crow flies) from the Continental Divide Trail and the Montana-Idaho border. If you're smart, you planned ahead and booked the Forest Service cabin; if not, no worries—there are campsites everywhere and open air is good for the soul. The trails at Twin Lakes tend to hold snow later into the season, so again, expect variable road and trail conditions well into May. Whether you base out of Miner or Twin, stop by Jackson Hot Springs for a soak once you're out of the mountains. Jackson's got a great bar, with live music on weekends, and the warm waters do a body good.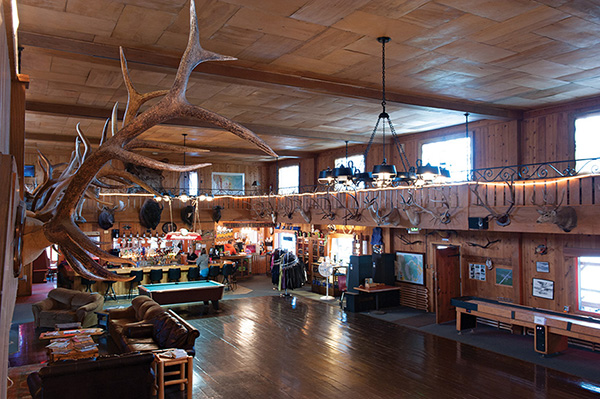 Now it's time to stash your skis in the bed or box and break out the fly rod—remember, we said to bring everything. Starting in the hills around Jackson, the Big Hole River winds its way north through the valley, carving a huge half-circle some 150 miles long on its way to meet the Beaverhead near Twin Bridges. Depending on when you take your trip, and the volume of spring runoff, the fishing can be fantastic. For specific information, grab a copy of the Cast fishing guide at a local shop—it'll tell you where to camp, what flies to use, and how to reel in one of the Big Hole's most sought-after underwater residents, the rare and cool-looking Arctic grayling.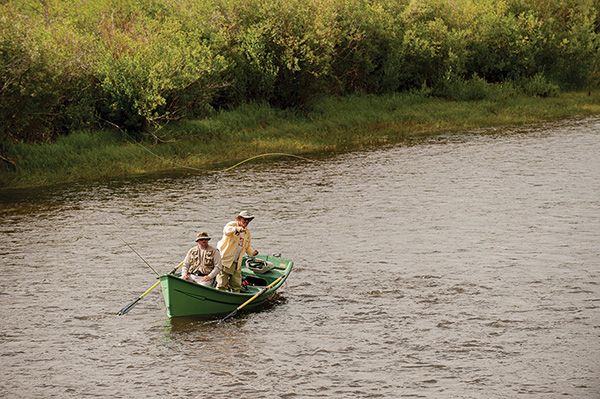 After a long day casting for sail-finned salmonids, head west out Hwy. 43 into the national forest, and make camp in the first spot you find. Sleep in the next day, enjoying the solitude of the Big Hole and surrounding environs, one of the last pristine valleys in Montana. When you're finally able to separate yourself from the quiet rhythms of the forest, backtrack a few miles to the Big Hole National Battlefield, where Union soldiers clashed with the Nez Perce in the summer of 1877. Spring is a great time to visit the site, before the mosquitoes set up shop for the summer. Bird-watchers will be blown away by the diversity of species present this time of year.
By now your body's recovered from the miles of skinning and skiing, so it's time to get after it. Meander the picturesque canyon back to I-15, stopping in Wise River for refreshments, before leaving the Big Hole behind. Swing south and take the Moose Creek exit; the Humbug Spires trailhead is a few miles to the northeast. From here, hike in to some of the best rock climbing in the state: enormous granite outcroppings, some up to 600 feet tall, with most routes a moderate 5.5 to 5.7. The three-mile trail is an out-and-back, so spend the day checking routes off your list, or just exploring this 11,000-acre Wilderness Study Area, before setting up camp on the BLM-managed land.
After one last night out, you've now fished, camped, skied, and climbed, all without leaving Montana, and all in the same season. You're worn out but rejuvenated, having shaken the cold of winter from your bones and embraced the outdoors with an enthusiasm and vitality to match the new season. And that's why we love it here—why we break out the maps, connect the dots, and plan the trips—because these places call to us, challenge us, and provide for us, offering up the memories that will last a lifetime.