For almost a decade, news stations have inundated the American public with stories of wounded veterans returning from combat, only to face an uncertain future due to their newly-acquired injuries. We know that countless numbers of US service members return every day with life-changing wounds—both physical and emotional. But there is something most people don't know: there are organizations right here in the Gallatin Valley that actively help wounded veterans recover and cope with their injuries. 
One of the most involved organizations helping wounded warriors, Warriors and Quiet Waters utilizes the calming and tranquil nature of fly fishing to help soldiers and sailors recently injured in Iraq and Afghanistan recover and adapt to their wounds. Local Eric Hastings (Col/USMC Ret.) and his passionate staff of volunteers bring injured service members from the Wounded Warriors Battalion West for a six-day/five-night total immersion into fly fishing. With help from Simms, Montana Troutfitters, and others, Warriors and Quiet Waters provides a unique fishing experience for every participant, regardless of any Traumatic Brain Injury or physical amputation. warriorsandquietwaters.org.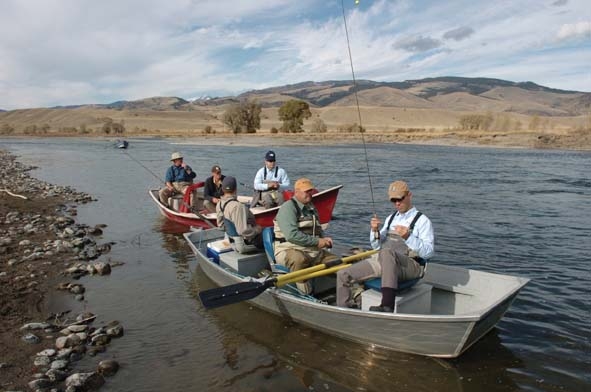 A familiar name around Bozeman, Eagle Mount has developed their own type of program focused on helping wounded veterans in Gallatin County. Eagle Mount Bozeman Lasting Experiences for Military (EMBLEM) provides adaptive recreation opportunities for wounded or disabled veterans of all of America's conflicts while focusing primarily on Iraq and Afghanistan veterans. EMBLEM works with the local American Legion Post 14 and Veterans' Affairs office to provide camaraderie and ability-focused events for local wounded veterans. From whitewater rafting and fly fishing to cycling and horseback riding, EMBLEM focuses on individual abilities and provides adaptive equipment for those who need it. eaglemount.org.
Another fly fishing outfit—Project Healing Waters—is a national program with a chapter in Helena. Project Healing Waters works with local Veterans' Affairs offices to reach out to injured or disabled veterans from all of America's armed conflicts. The participants in Project Healing Waters focus on camaraderie, outdoorsmanship, and development of fly fishing and fly tying skills over an extended period of time, designed to create a lasting and long-term relationship between veterans and staff. With five different outings planned this summer, Project Healing Waters helps veterans from across the country and across our state experience the peace and tranquility of Montana's rivers and streams. projecthealingwaters.org.
---
How to Get Involved
Although some of us might think we don't have the time or skills to assist wounded soldiers, what often helps our injured veterans most is a compassionate and attentive ear. Monetary donations or gifts of gear also benefit all of the organizations in and around our area. However you help, any and all efforts toward this cause are appreciated. 
The Jewelry Studio in downtown Bozeman sells "From Soldier to Soldier" bracelets; proceeds go toward funding organizations that support wounded veterans. Made from 550 parachute cord, these bracelets help show your support of our troops while doubling as a handy survival tool on your next adventure.
Check out these websites to find out how to get involved.
warriorsandquietwaters.org/donations.php  
For donations and volunteer opportunities with Eagle Mount and EMBLEM, contact Alyssa Bostain at 586-1781 or [email protected].