How a Valley Girl landed in Bozeman. 
After a decade of swimming through the dating pool of self-absorbed almost-working actors in Los Angeles, I took up with a Montana man. 
"Do you want to go on a fun little outing?" Henry asked me our first week of dating, roughly four years ago. 
Obviously I said yes because I heard, "Let's go on a lovely hike along the river. We'll have a picnic with wine and maybe take our clothes off and fall in love a little bit."  Thrilled, I clipped into my floral fanny pack and slid on my oversized shades, standard hiking accessories in my native L.A.
Instead, he tossed a six-pack in the cooler, loaded up a massive box of clay pigeons and a couple shotguns, and off we headed to Hyalite Canyon for target practice.
Oh boy. 
But here's the thing: I was smitten. Not only with the fresh air and startlingly scenic backdrops in every direction, but also with Henry's candid nature, friendly grin, and his knack for spontaneous adventure. He's the kind of guy that gives Mantana or Brozeman its epithet—outdoorsy, athletic, plaid-wearing, fire-stoking while drinking beer and whiskey (preferably simultaneously), and a professional recoiler from drama of any kind. Rallying his truck over those colossal potholes got my heart racing, as did the raft-hoisting and riverside-cocktail-slinging.
So I put on a trucker hat from Stacey's and fully adopted the gamer approach: not only willing, but eager, to get down and dirty Montana-style. No whining. Definitely no crying. No high-maintenance requests for rosé instead of PBR, no complaining about mosquitos, no saying "ew," no wearing shoes too strappy for biking to dinner. Did I mention no crying? It felt like learning another language, a challenging discipline still more appealing than returning to the L.A. I had outgrown.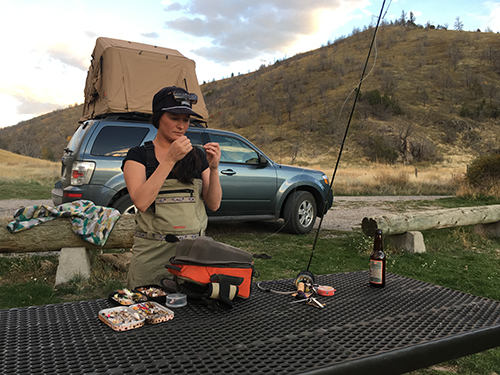 Riverside beers taste better than beach-front vino.
Here is the strangest part of that approach. All of those "rules" just meant I said yes more than I said no and I started to feel liberated. There is a gleeful, childlike delight in launching into an adventure without over-analyzing the details beforehand, and by my mid-30s, I had forgotten how revitalizing it could be to dive outside my comfort zone, arms open and hair flying. In those next few weeks, Henry and I road-tripped through Flathead and Glacier. We skinny dipped along the way and several times roasted freshly-caught trout over a campfire under the stars. We drank whiskey, hiked to glacial lakes, and agreed that we liked each other enough to give it a real go.
I moved here. I quit smoking and took up mountain biking and skiing and cooking. As I've become more comfortable, rigid rules are giving way to familiarity and mutual respect. I cry when I need to and even though Henry gets a little "deer in the headlights-y," he's learned to put his arms around me and talk it through. He occasionally joins me for yoga and I've given fly fishing a go—but I hate mosquitos and may have ruined a riverside evening or two racing around wildly spraying DEET. I still prefer rosé but will also enjoy a cold one at Map Brewing while overlooking the pond.
We live in this rad little town with endless opportunities to explore, and adopting the gamer approach whenever possible helps me to make the most of it on one's own and as a couple. Thankfully, Henry feels the same. Despite the inevitable ups and downs we've weathered as 36-year-olds figuring our way through life, encouraging each other to show up just as we are means we can experience it together, even if we don't follow all the rules, and that is saying yes more than saying no in the way that matters most.