Take your fishing to the next level — literally.
Fishing with flies has been exhaustively—exhaustingly, at times—described by some of the finest wordsmiths, poets, musicians, and barroom bros since a bunch of masochistic Macedonians first discovered the elegant technique for making fishing as difficult as possible. It's been famously compared to everything from sex to religion, with soaring prose extolling its grace, rhythm, and quietude. But it has never been an "extreme" sport—until now.
Welcome to the new frontier of fly fishing: cliff casting, in which anglers dangle on climbing ropes above pristine, otherwise inaccessible stretches of water for the chance to catch monster trout—and indulge in a kind of adrenaline rush that can't be found with other types of fishing.
Why? The answer is twofold: challenge and excitement, and anglers' perennial search for productive holes. With ever-increasing pressure on southwest Montana's prime trout water, fish have grown wary of all but the most radical fly patterns and presentations and retreated to protected riffles in almost virgin stretches of river—blue lines guarded by rock and sky. These are unwadeable waters; unfloatable by even the most skilled oarsman; untouched by modern sportsmen. This is the domain of the cliff casters.
"It's a natural evolution of the sport," local fishing guide and cliff caster Rod Stocker explains. "Montana's fish have seen it all, and these few steep-walled canyons are their last refuge. But it'd be silly to let a little bit of vertical rock stop us from chasing trout." Using climbing ropes, harnesses, ascenders, and even big-wall climbing gear like etriers and portaledges, these fishing pioneers are pushing into areas that have never been fished—or climbed—before. "These sports fit perfectly together," Stocker says. "Fishermen and climbers both rely on different kinds of ropes and knots; they're both cerebral activities; they both have strong traditions of ethics and style. Putting them together just makes sense."
Another Bozeman cliff caster, Ray Pelling, has a slightly different take on the sport: "Normal fly fishing is boring as shit! It's like, 'Ooooh, wading in a river is so sick.' Whatever. Norman McLean can take all that misty-eyed BS and shove it—I'm all about hanging it out there on the side of a cliff and gettin' rowdy with the fishes."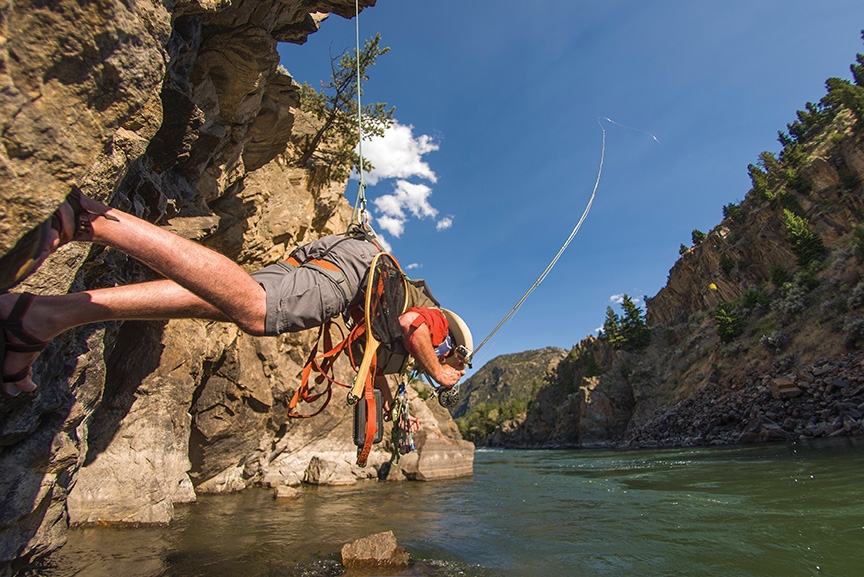 Admittedly, cliff casting isn't for the timid—a miscalculation or fall means almost certain death. "If the impact doesn't get you, you'll sink like a rock with all of your gear and drown," Stocker says. "It can feel pretty intense sometimes, hanging out over the void, feeling the wind and hearing the water moving below with nothing but a fly rod in your hand."
That exposure and adrenaline is exactly what's attracting major action sports companies to this extreme new spin on fishing. Red Bull recently held a controversial cliff casting competition, which pitted athletes against each other in the Black Canyon of the Yellowstone with a $10,000 purse. Scores were awarded on the metrics of descent speed, fish quantity and size, and return climbing speed and difficulty. Sadly, one contestant perished after his backcast dislodged an enormous boulder—a serious objective hazard for any cliff caster in loose terrain. "This is really extreme shit," Pelling says. "We're talking about the fishing equivalent of BASE jumping here."
Gear companies are even producing dedicated cliff-casting rigs. Bozeman Reel has developed an all-aluminum fly reel that doubles as a bomber autolocking belay device (and bottle opener). Climbing gear manufacturer Black Diamond Equipment offers dedicated cliff-casting harnesses with extra padding in key areas for all-day comfort while dangling, and full-strength haul loops for safe and comfortable facedown abseiling—a technique that's popular among solo cliff fishers, since it allows for exceptional sightfishing.
By its very nature, cliff casting is pursued only by the most motivated fisherpeople looking for the most remote water. "No one is going to tell you where to go," Stocker says. "You have to go find your own drops." Part of this secrecy is related to safety, he explains: "Having someone drop in on you while you're cliff casting is a great way to get hurt or die." That said, local haunts include several closely guarded stretches of the Yellowstone, along with remote water in the Absarokas, Beartooths, Crazies, and Tetons.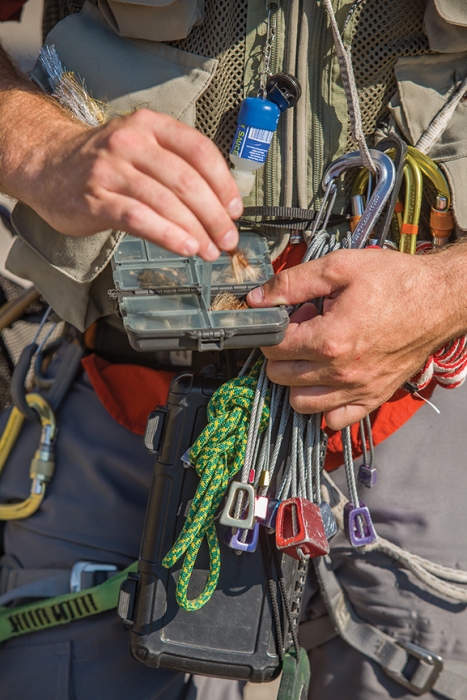 Serious as these enthusiasts are, they aren't oblivious to the irony of what they're doing. "Here we are, dangling over the water on the end of a rope like giant pieces of bait," Stocker says with a chuckle. "It's just a crazy, insane—maybe stupid—thing to do. But cliff casting is a blast, and really ups the ante for fishing in general." And Stocker thinks cliff casting is just the beginning.
Over the summer he began work on a backcountry bungee rig that could revolutionize fly fishing. The idea is simple enough: At the bottom of a carefully calculated bungee freefall, inverted and just feet from the water, a fly fisherman would have a single opportunity for perfection. "Imagine if you had only a second of stillness to make your cast; a single chance to make a flawless presentation before being jerked skyward. I think that's as pure as the sport gets—that's bungee fishing. That's the next step."
---
To find out more, click here.