Bozeman's most famous trail run.
Through the fog they come, through the early morning mist: two hundred loping crusaders, steely-eyed and sweat-soaked, rushing forward like a herd of wild horses – side-stepping boulders, hurdling fallen logs, and propelling themselves, chests heaving, through the steep and rocky terrain.

They are the ridge runners, a ragtag troop of terranauts who, for the next several hours, will battle dubious weather and forbidding topography – not to mention each other – as they run, clamber, and hobble from one end of the Bridger Mountains to the other. Most will cross the finish line in under six hours; some will take all day; a few will not make it at all. But every one will feel the pain, the fatigue, and the absolute thrill that comes with running – yes, running – twenty miles across the mountains, in one of southwest Montana's most fabled traditions: The Ed Anacker Bridger Ridge Run.

"The Ridge Run is the granddaddy of trail runs," says Joel Fischer, a Bozeman native and longtime race participant. He started running the ridge nearly 10 years ago, and he remembers well his first time. "I trained pretty hard, but still I wasn't prepared for it. By mile seven I was spent. I felt like I was going to pass out. Somehow, though, I managed to keep going. By the time I stumbled across the finish line, five hours later, I was too tired to blink."

Fischer's tale is a common one. Each year, nearly half the entrants are brazen first-timers who show up on race day at varying levels of preparedness. Some are serious competitors, having run endurance races before; others are recreational runners looking for the ultimate challenge; and still others, intrepid but ill-prepared dilettantes who think "How hard can it be?" – and who later find themselves confronting a rather clear answer while facedown on a massage table, feet wrapped in gauze and legs imbued with Ben Gay.

But sore or not, exhausted or not, seldom will you find a ridge runner who regrets the undertaking. "Trail running makes you feel strong and fast, like a wild animal tearing through the woods," says Ty Urling, a 1999 first-timer. "After the Ridge Run, I felt like I could do anything. And you know what? I still do."



For Urling and other neophytes, the Ridge Run is a transcendent trip to the proving grounds, where one's will is pitted against the elements, against uncertain odds, against the sheer improbability of a human body being able to run such a great distance through such rugged terrain. If the will breaks and the body falters, you return to normal life, as if nothing had happened. But if the will prevails, you find the ultimate reward: reaching the dual thresholds of pain and exhilaration. "You walk away a changed man," says Urling.

On the other end of the spectrum are the seasoned veterans, the mountain goats: that rare breed of preternatural loper whose bionic bodies rocket across the ridge as if immune to fatigue, cramping, and muscle failure. One of these is Scott Creel, an MSU ecology professor and the Ridge Run's reigning potentate. Creel broke the course record by over a minute his first year – a substantial feat given that most running events are won and lost by a matter of seconds.

"I didn't know what to expect the first time," remembers Creel, a member of the U.S. Summer Biathlon Team, "but I had an idea that I could maybe win it." Well, he did that year and then again in 1999, this time setting another course record and crossing the finish line nearly 30 minutes ahead of the next closest competitor. But Creel, who does admit to a measure of competitive satisfaction, looks at the Ridge Run far differently than he does his biathlons. "The Ridge Run really isn't about competition, about trying to beat other runners. It's about competing against yourself, to see what you can do. The Ridge Run is so hard that you can't really focus on anything else."

"What's more," Creel adds, "when you're training, it gets you out there in a beautiful place, running trails every weekend." Like many trail runners, Creel believes that anything that puts you into the mountains on a regular basis must, in and of itself, be a good thing.

Not all runners share Creel's positive outlook, however. There are those who think the Ridge Run too easy. "It's been kind of...sullied," says Rob Jordan, a 1989 ridge runner from Belgrade. Jordan thinks that tighter restrictions and an increased support network – perhaps brought on by fear of litigation – have led to a significant reduction in difficulty and risk. Maybe he's right – well-stocked and frequent aid stations, abundant fluids, and high-spirited moral support are luxuries early ridge runners did not have. Some "old-schoolers" scoff at this modernization, reminiscing about the good old days when a broken leg, dehydration, and getting hopelessly lost were very real possibilities.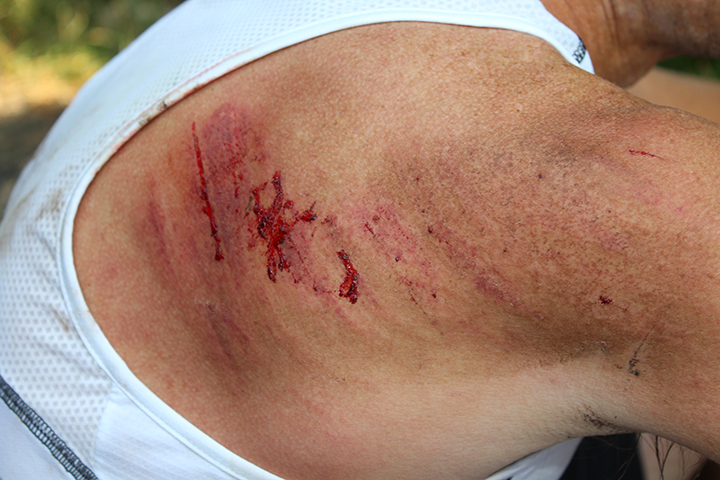 But 20 miles is 20 miles, and aid stations notwithstanding, today's ridge runners are still spanning an entire mountain range on foot. The occasional lost runner and sprained ankle are testaments to the continued rigor of the Ridge Run.

There are other benefits, too, that haven't changed. "The Ridge Run is about self-discovery," muses Jackie Barnes, "at least the first one, anyway. You learn so much about what your body can and can't do, about just how far you can push yourself before physical limitations – real limitations, not the ones your over-protective brain convinces you of – prevent you from going further."

It's these limits that intrigued Ed Anacker nearly 20 years ago, when he and his wife moved to Bozeman from New York and caught their first glimpse of the Bridger Mountains. After completing the brutal Western States Endurance Run in 1982, Anacker decided to start his own off-road run, and in his own backyard. With "tremendous help" from Universal Athletics in Bozeman, the first Ridge Run kicked off in 1985. Since then, the Big Sky Wind Drinkers – Bozeman's local running club – have helped organize the event. Over the years, the Ridge Run has attracted many well-known personalities: the late, great climber Alex Lowe was one of the early participants, even marking out the course one year before a single aid station was set up; and Don Engen, the three-time Olympic biathlon competitor, who entered and won the Ridge Run in its very first year.

Now, fifteen years later, the Ridge Run is damn near legendary. Most of the local and regional awe stems from the run's via dolorosa, its inherent propensity to cause physical and mental anguish: Ridge Run participants must climb a lung-bursting 5000 vertical feet (that's nearly a mile, straight up) and descend a scree-laden, knee-busting 7000 feet before they're finished – all while enduring the heat of a burning August sun and the rage of a subconcious mind screaming "I told you not to do this!"

But in the end, all the pain, all the scraped knees and twisted ankles, all the blood, sweat, and tears are a small price to pay for the sheer exhilaration that comes with crossing the finish line. "There's an amazing aura at the end of a Ridge Run," explains Barnes. "There's no competitive bitterness, no ire, no negativity whatsoever. Even your body's intense soreness seems a small and faraway problem. Everyone jokes and laughs and feels at ease. It's like a graduation ceremony: you feel like you've accomplished something truly significant. And now that all the work is over, it's party time."