Exploring a haunted winter wonderland. 
As the cold air wrapped itself around me, I had second thoughts about climbing another 2,000 feet of elevation. But my excitement about a new adventure prevailed and I buried my face in my scarf. I threw my snow-suited leg over the seat, straddled my steel horse, and with full throttle, galloped along the trail, en route to my destination: the "snow ghosts" atop Two Top Mountain outside West Yellowstone.
Although the temperature hovered around zero, my legs and hands were warm, because of the snowmobile's heated seat and hand-grips. With my huge helmet and goggles, I felt like a cloaked Darth Vader immersed in a white, frosty landscape. The well-groomed Two Top trail meandered through snow-covered pine forests and I could hardly wait to reach the top, where ghosts and goblins stood guard on open slopes.
As I came out of the forested trail, crystal-clear skies enhanced the scenic beauty spread out before me. Set on the slopes of 8,000-foot Two Top Mountain was a scattered forest of conifers encrusted with a layer of icy meringue topping. Snow piled up on windswept branches and trunks, encasing the trees' windward side. Smaller trees were completely sheathed in snow; you could almost take a knife and slice off a piece of this whipped topping. The trees looked eerie in their gnarled curves and twisted forms.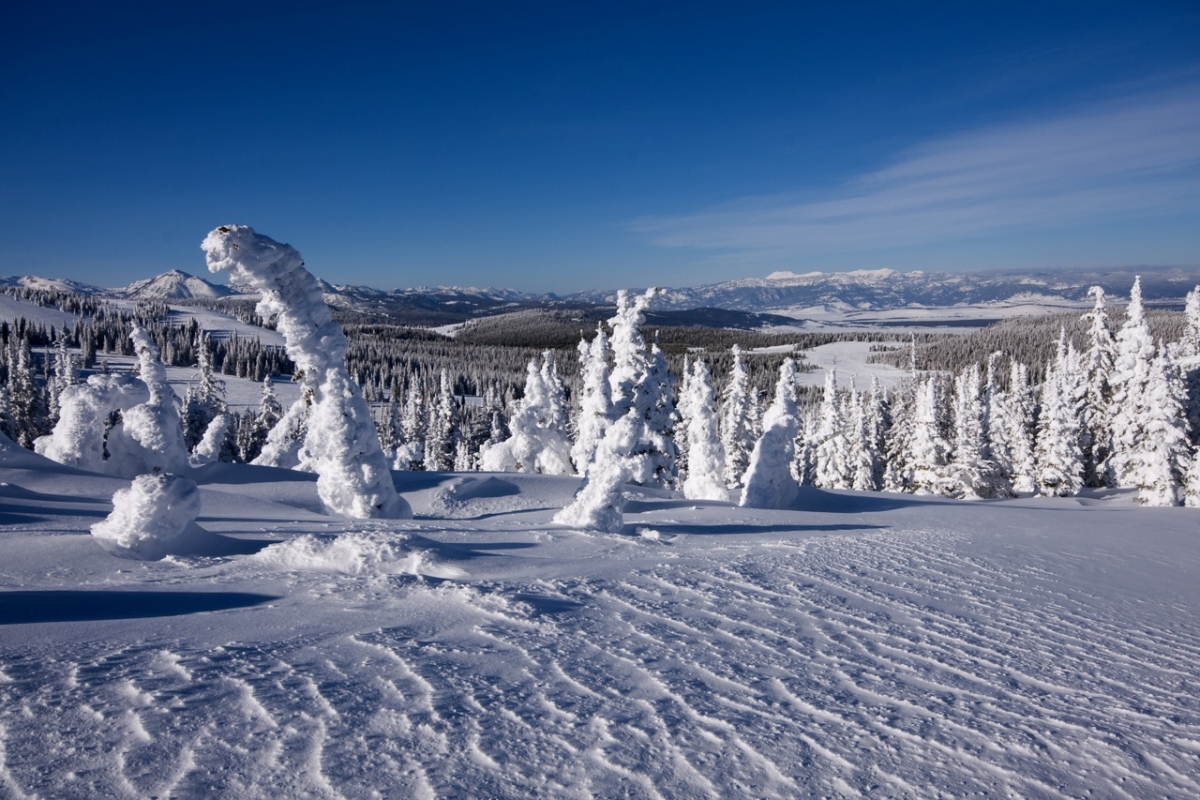 In the distance, the mountains' topographical contours reached to the far horizon as conifers sprinkled in powder sugar occupied the foreground below me. Arched and tilted windswept forms built a fortress. Two Top itself is windswept and barren, filled with bowls, drop-offs, and overhanging cliffs. I had to limit my "free exploration," as I was easily turned around on the wide-open slopes.
Countless Darth Vaders raced up and down the expanse and in between the trees. They dismounted their mechanical steeds to look, wander on foot, and photograph. Seeing a bundled-up person near the snow ghosts gives one perspective as to how large and daunting these trees really are.
Wandering on foot across non-groomed and non-packed snow presented a challenge all its own. It's not easy to extricate oneself from the depths of the snow, let alone a heavy snowmobile. It takes at least two strong adults to lift and turn a machine around—I learned by experience! It was with extreme caution that I ventured off trail, as the slope's openness was deceiving. A few weeks after my trip, someone cavorted into unknown depths and was swept away in an avalanche, never to be heard from again.
At sunset, I captured the figures in silhouette before deciding I'd had enough, making haste for lower elevations and the warmth of my cozy motel room. I traversed the slope, following the trail downward under the wintry glow of twilight.