Hot-tub hunting takes off.  
What, exactly, is hot-tub hunting? Well, it's just as it sounds: killing wild game from the steamy, aquatic comfort of your spa. First conceived in Texas, as a tongue-in-cheek option on private ranches where trophy-seekers pay thousands of dollars for guaranteed kills on canned hunts within fenced feedlots, hot-tub hunting quickly found traction. After all, it isn't all that far-fetched—in fact, in practice it's not terribly different from hunting from a tree stand or blind. It's just warmer. And wetter. And jettier. Which is why the new sport of hot-tub hunting is spreading like wildfire amongst Montana's new breed of canned-hunt aficionados and outdoor-lifestyle poseurs. 
Local hunter and fracking billionaire, Russ T. Ghunn, started hot-tub hunting almost accidentally in 2017. "One day, I spent 10 hours hiking all over the mountains with a supposed guide," he explains. "We saw jack squat. When I got home, I got into the hot tub immediately, because my back was killing me. Wouldn't you know, after about five minutes, a nice bull walked across my pasture, not 200 yards away. My rifle was leaning against the deck rail, so I grabbed it, and that elk was down before the jets even kicked on. It was the best hunt I ever had—it was all on my own property, and I didn't even have to get dressed. Plus, I was so relaxed, my breathing was spot-on, and I made an incredible shot. That was that: hot-tub hunting became my thing."
Russ isn't alone: hot-tub hunting is taking off among other wealthy Montana landowners. There have been conflicts and growing pains, of course. One overzealous—some say intoxicated—hunter in the Yellowstone Club mistook his neighbor's beloved black lab for a bear and killed the animal with a rifle from his new 15-person spa, while enjoying an underwater LED light show and holographic Stormy Daniels striptease. In charging documents after his arrest for public endangerment and what the Butte judge called "East-Coast douchery," the hunter claimed the dog was "morbidly obese," "rifling through my garbage," and "acting like a goddamned bear." Neighbors and those close to the case argue that virtually all black labs over the age of nine could be described in such a way. The accused had the dog mounted, and maintains, "If it looks like a bear, if it acts like a bear, it's a f*#%ing bear."
Purpose-built hunting spas are hitting the market, including several models available in various Mossy Oak camo patterns, for any patio environment. Bird-hunting models include spa covers that double as pop-up shooting blinds. Deluxe features include Instant Kill Mode (which shuts off jets, lights, and water circulation for precision shooting), in-tub beer coolers, and even integrated rifle rests. One model includes an elevated center turret mount with height-adjustable, 360-degree, gyro-stabilized rest and built-in cupholder. It retails for $100,000.
Fog-proof optics are a necessity, as are specialty lubricants to protect weapons against moisture and humidity. One brand, Tub Butter, advertises its products as "great for anything and everything that might happen in a hot tub." And while controversial, heat-seeking drones have become instrumental for tracking wounded animals from the tub. No need to get out until the heat signal stops moving—so you can soak in the afterglow of a terrible shot, literally.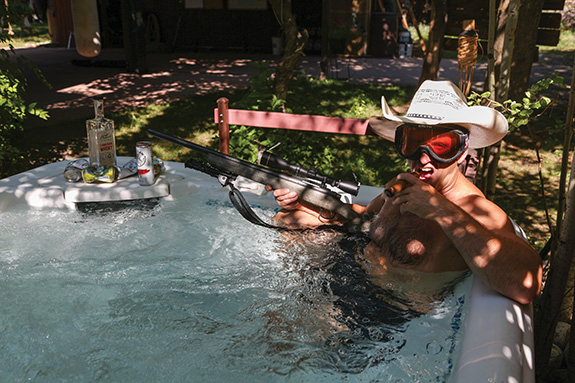 The ethics and rules surrounding hot-tub hunting are far murkier than the water you might find in an actual spa. Some say the entire practice is an affront to traditional hunting values—but most of those people are poor and don't matter. Montana FWP has recently proposed new regulations aimed at increasing the smug satisfaction hot-tub hunters crave, while also decreasing the number of hapless children and pets accidentally shot in the face.
The new rules would include the following: hunters are to consume no more than two whiskey drinks or one line of cocaine per hour while actively, passively hunting from the tub. No jets, bubbles, or light shows are allowed while shooting. No sexual contact (including handies) is allowed at any point during the hunt. Baiting in any context is strictly forbidden, unless the hunter donates generously to the re-election campaigns of Steve Daines and/or Greg Gianforte, both of whom are rumored to be avid hot-tub hunters and master baiters. Other than that, almost anything goes—hot-tub hunting, benign as it sounds, is the wild west (with fruity drinks).
So, the next time you're 20 minutes deep into a backyard spa session, jets hammering at your lower back, cross-eyed with relaxation after a couple glasses of shiraz, half a Xanax, and a hit off the vape, it might be the perfect time to grab a gun, fire off a few rounds, and see if you can kill something. "Plugging an elk while you're stark naked, sipping tequila, and smoking a cigar in a hot tub?" Ghunn poses. "It's good to be the king."
For more information, visit hottubhunting.com.