Biking Big Sky's basics. 
Winter comes early to the Madison Range, which is why we're grateful for the trail development in Big Sky's Meadow Village. If you're itching to sneak in some singletrack before the powder piles up, these are two good options.
Vitals
Distance: Hummocks 2.6 miles; Uplands 2.2 miles
Elevation Gain: Hummocks 340 feet; Uplands 460 feet
Time: 30-40 minutes each loop
Route: Lollipop loops
Hot Tip: Fuel up before or after with hefty protions at Slider's Deli
Directions
Hummocks
This trail has three separate loops, but it's best ridden as one lollipop loop from the trailhead. Use the first section beginning at the trail sign as an out-and-back route. When you reach the beginning of the loop at the end, turn right (it's one-way travel). A bit after beginning the loop, you'll see another junction. This is just a cutoff if you don't want to go any further. Keep right to complete the larger loop.
The first section from the parking lot to the beginning of the loop is nice: fairly wide and smooth singletrack. The loop itself is slightly more primitive, a bit more technical and challenging. The far end of the loop circles a small pond.
Uplands
Hummocks is good for a quick, mellow ride, while Uplands is good for a quick workout—this trail takes some effort. The upside is that a tougher climb makes for a rowdier downhill, proving once again that you get out what you put in. The singletrack is nice and well built, overall smoother than the Hummocks loop. It doesn't have as much technical riding, so you can really cruise. Expect great views of the Meadow Village, the Spanish Peaks, Lone Mountain, and Pioneer Mountain. When you get to the loop section of the trail, turn left and ride it clockwise.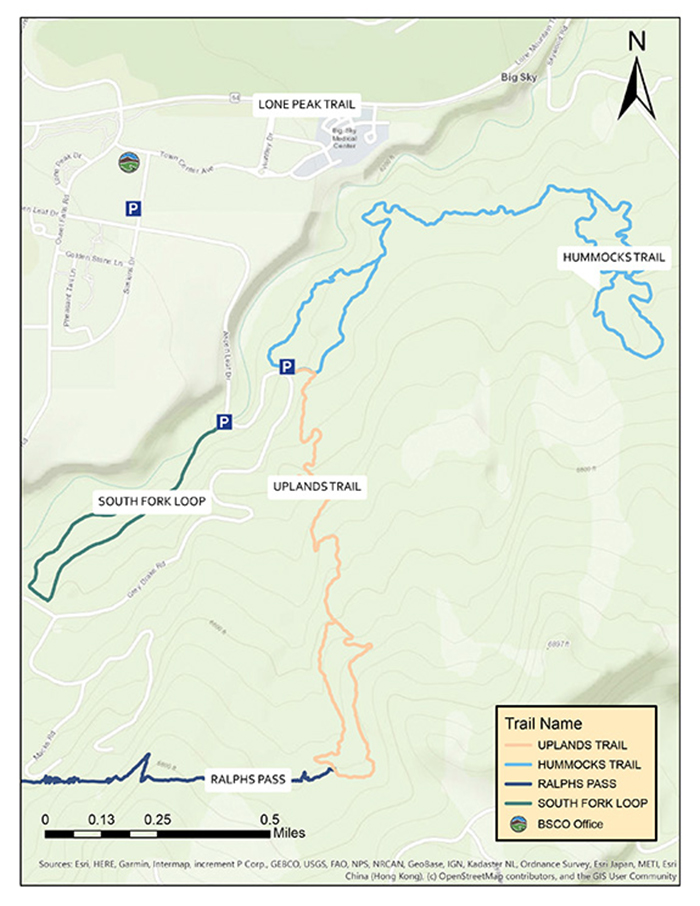 ---
This trail description was reprinted from Southern Montana Singletrack by Will Robertson.