Drinking Horse Mountain Trail
Length: 2.2 miles round-trip
Duration: 1 hour
Difficulty: Easy to moderate
Elevation Gain: 700 feet 
Activities: Hiking, trail running
Crowds: Heavy traffic
About
Drinking Horse Mountain is the prominent hill across from the popular "M" trail at the mouth of Bridger Canyon. The trail meanders alongside the Fish Technology Center to a bridge over Bridger Creek, followed by the official trail arch. After that comes a trail junction, either way leading up to the summit. Going left at the junction puts hikers on a steeper ascent, with multiple switchbacks and plentiful shade. To the right, the trail is more gradual and takes longer to ascend; much of this route lacks shade along the west-facing side of the mountain. Several benches along the way offer a comfortable seat to take in views of the Gallatin Valley and the Story Hills. Once on top, you can gaze into Bridger Canyon and along the Bangtails. Drinking Horse is a dog-friendly trail; however, keep in mind the high density of people and pups when deciding whether to let your dog off-leash. 
Seasonal Conditions
This trail stays muddy through the spring, making conditions occasionally slick. The creek flowing under the bridge is a great respite for thirsty dogs after a hike; just be careful during runoff season that your pooch can handle some current. During the summer, the slow ascent can get very hot because of its lack of shade. Drinking Horse is also a great trail during the winter, as long as you're wearing the right gear.  
Directions
Go north on Rouse Ave., which becomes Bridger Canyon Rd. After a few miles, turn right into the Fish Technology Center and look for trailhead parking to the left.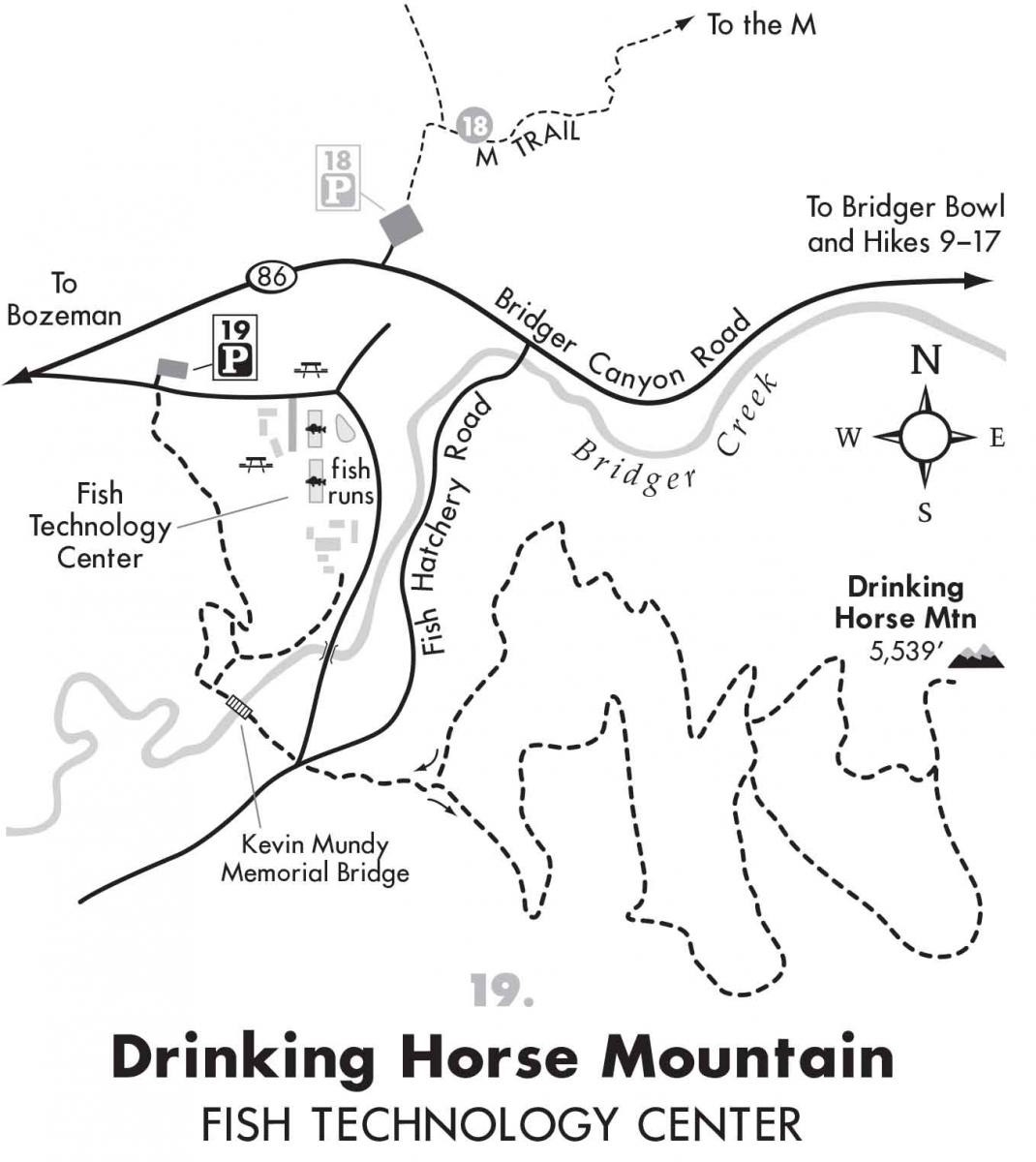 Map courtesy of Robert Stone's Day Hikes Around Bozeman, Montana.