The dust kicks up thick and gritty in the Gardiner parking lot like it rarely does in Bozeman's clean-swept downtown. The main drag is sparsely populated; the locals and tourists have migrated up the road to the rodeo grounds where they're squeezed into bleachers, leaning against the fence, or waiting in line for a greasy burger.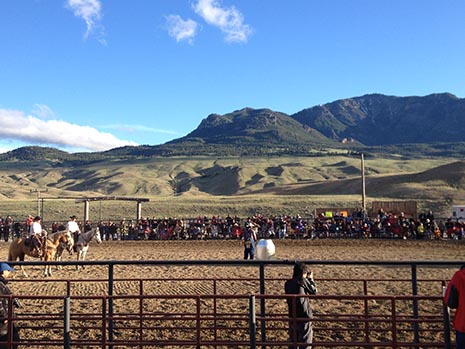 Gardiner Rodeo Opening Ceremonies 
Rodeo days are the summer draw for small towns across Montana. No one does it better or more authentically. During the rodeo celebration, the towns come alive in a rustic, genuine way that can't be matched by big-city rodeos, no matter how flashy the promotions or renowned the sponsors.
This weekend, I'm getting in touch with my horsey roots and trading sparkly-toed flats for a pair of grungy Ariats. We're hitting two towns on consecutive days, Gardiner first, then up through Bridger Canyon for the Wilsall Rodeo on Saturday.
Sleek, muscled horses are tied to gooseneck trailers stretching across the dirt lot. Three men in various patterns of plaid squat on their heels in the back of a pickup, Wrangler jeans offset by oversized trophy buckles. A fourth cowboy stands on the hitch of the moving truck, one arm hooked over the tailgate, his other hand fishing in his back pocket for a can of Skoal.
In an hour or so, these young guys will be flying out of the gates on the heels of a steer, or strapping their hand to a bull-riding rope, lowering themselves onto the back of 2,000 pounds of twitching muscle and bad attitude. Their ride goal is eight seconds: the length of a slow breath, the time it takes to tie a shoe—or an eternity spent trying to stay on the back of a twisting, thrashing rodeo bull.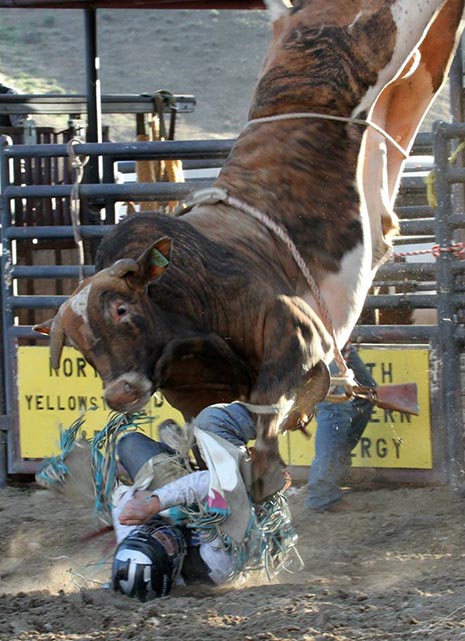 Photo courtesy Brandi Nichols
My roommate has volunteered to work the chutes, choosing to kick steers instead of drink beer in the stands. She reappears at the end of the evening, hair looking like she lost a fight with a cattle prod and shuffling her left leg at a crooked angle. Grinning, she shows me her leg—a stormy bruise the size of an apple glaring from her thigh.
"Kelsey! Whaaat…"
"I got stomped by a steer. It wouldn't move so I grabbed it around the neck and dragged it down the chute, then it spun me and ran me over." 
She downs a can of Rainier and shows off other hoof-shaped marks decorating her body—one on her ribs and another on her stomach display a collage of dance moves performed by a pissy steer in a tiny chute.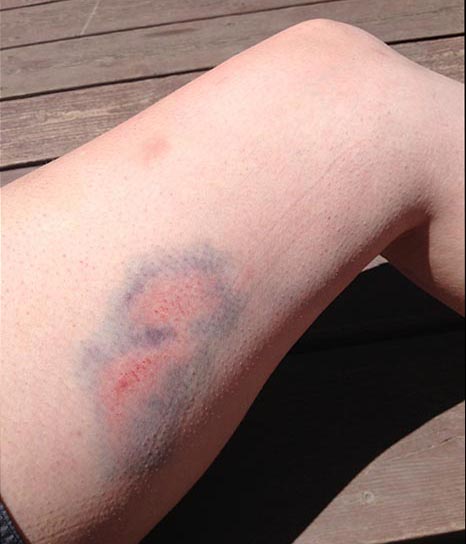 Proudly displaying some hooftprint artwork.
Kelsey's barely limping the next day as she leads the way through Wilsall, a town comprised of little more than two bars and a hot, dry main street that makes Gardiner look like a booming metropolis. We fall in with a steady stream of sprayed hair, bedazzled jeans, and plaid funneling towards Wilsall's rodeo grounds.
The events fly by, set to tinny music and an enthused announcer who has a startling habit of insulting the cowboys as they lawn-dart into the dirt and scramble to escape their still-bucking horse.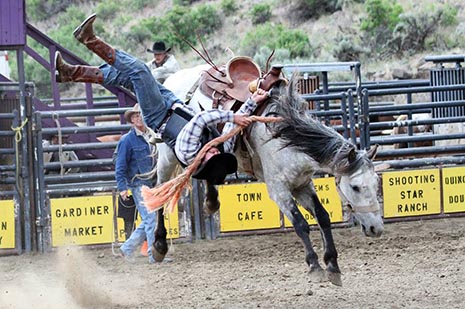 Photo courtesy Brandi Nichols
It's hard to look away from the ranch kids who careen around the arena like they were born on horseback. Minute shifts in balance and invisible cues tell the galloping horse where to spin and when to tuck their hind legs under hindquarters for a sliding halt behind a panicked calf. Some of these miniature cowboys are barely three feet tall, yet have been throwing a rope from an age when I was still trying to coordinate a sippy cup. Their ranch-hewn education is clear from their swagger and worn-in chaps studded with conchos and ornate buckles. They were born and raised in a different world, one that I can't help feel like is fading from the collective consciousness except on the few days when we all turn out for the rodeo and accompanying festivities.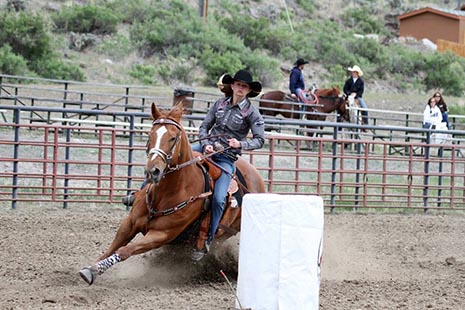 Photo courtesy Brandi Nichols
After the rodeo, the street outside the bar is crammed so tight with revelers that the air temperature rises the nearer you are to the crush of bodies. The tent-domed dance floor is packed to capacity. Elbows become battering rams and sucking in your gut is the only way to squeeze through the crowd.
The band is still twanging away as Saturday night becomes Sunday morning. I've stomped on so many toes and tripped over so many cowboys that the invitations to dance have ceased entirely. It's okay. I'm ready to pass out in the back of the car and sleep off another rodeo.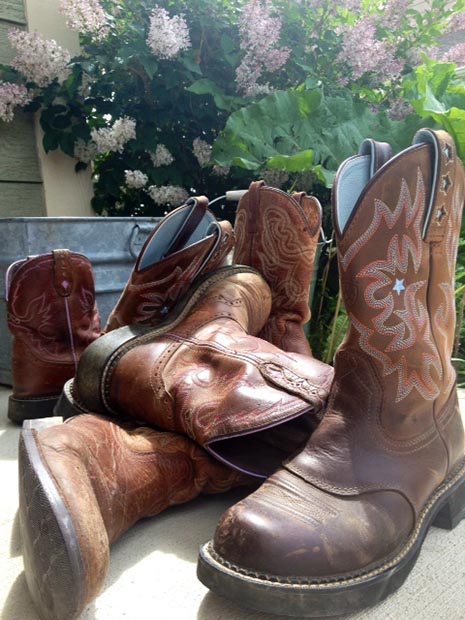 The fun isn't over—there are rodeos to be enjoyed across the state throughout the summer. The Livingston Roundup is July 2-4, and Ennis celebrates its annual rodeo on July 4 as well. The Helena Last Chance Stampede is July 24-27, and the third year of the Bozeman Stampede is August 2-3. Just in it for the bull-riding adrenaline pump? Big Sky brings the PBR to town on July 31 and August 1. For your nightly fix, the Wild West Yellowstone Rodeo runs four nights a week through August.