Review: Oboz Bridger 8" Insulated
It's rare to find a boot that works well in so many different environments, but that is exactly what you get with the Oboz Bridger 8" insulated boot.  I've taken these boots through the whole gamut of Montana weather and a plethora of activities; they've performed admirably through it all.
This boot is a combination of Oboz proprietary innovations, hi-tech textiles, and reliable leather. The upper part is waterproof Nubuck leather on the outside; the inside is 200-gram Thinsulate insulation and the Oboz B-DRY waterproof/breathable membrane. The upper materials sit on a burly winterized rubber outsole, built to remain soft in the cold of winter (think Blizzak winter tires). Between your foot and the outsole sits the thermal O-FIT insole, providing additional warmth and maximum cushioning. The boots are narrow at the heel and wide in the toe box, making it easy to fit bulky socks in, but with the supple upper materials, you can cinch them down on a thinner sock for warmer days. Combined with a rubber toe cap and heel kick, plus a gaiter D-ring, the Bridger is built to be outdoors.
A snowshoe trek in the winter. An off-trail adventure in spring snow. Upland-bird hunting in fall. These are just a few of the activities I've done in the comfort of the Bridger 8" insulated boot. The insulation provides just enough warmth for winter recreation, while not overheating in the early fall. The breathable B-DRY membrane kept my feet dry and comfortable, even in 20 inches of wet spring snow.
The surefooted outsole chews up changing trail conditions. Snow-packed, wet, dry, steep and rocky... the traction and stability seem to perform in all situations, even when I'm carrying a heavy pack. The cradling insole keeps the heel locked down and the foot in a neutral position, minimizing friction and eliminating blisters. Even on off-trail treks, my feet remain well-protected and comfortable.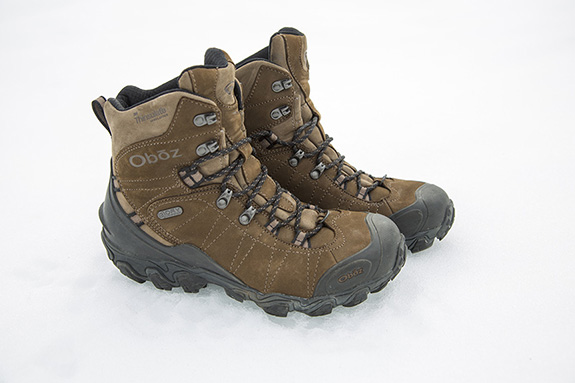 Whether you need a boot to get around on snow packed-trails, slushy sidewalks, or wintery excursions, the Bridger 8" insulated boot for men or Bridger 7" insulated boot for women is a great choice. Buy them for winter, wear them year-round. $185; obozfootwear.com.