And wear a sports bra.
Maybe the only thing holding Montana sportswomen back is what's not holding them in. Pity the Amazon jogging by, a useless cheap-o sports bra abandoning her feminine glories to the trailside equivalent of a bouncing J-Lo music video. Commiserate with the ski bunnies, the bikerettes, and the horsewomen who dive into their recreation of choice with an unbridled uniboob.

Too many local ladies have made bosom buddies with the enemy—the cheap sports bra. You know the type: accommodating, but unsupportive. Attractive, but leaves you hanging when the road gets rough. Worst of all, flying solo isn't a viable option: Jennifer Sheridan, owner of Bra and Body Boutique in Belgrade, explains that innocuous jiggles may actually cause damage to breast tissue, resulting in impaired breastfeeding and sagging later on. Even younger, smaller girls need to avoid potential tissue damage. "I would love to get into the high schools and spread the message, especially with athletic girls: in 15 years you will regret not having a supportive bra!" Furthermore, when gravity yanks on the chest, it pulls throat and face tissue with it.

A sports bra with poor support presents the same problem, further complicated by the fact that far too many women are wearing the wrong size. "You see women with trenches in their shoulders, or the back riding up, constantly adjusting," says Sheridan. At Victoria's Secret, trained women in black obliterate ill-fitting undergarments with a snap of pink measuring tape. An undercover dressing room chat reveals the hallmarks of the ideally fit bra: a snug embrace that doesn't suffocate, straps that stay on but don't squeeze, and a cup that neither overfloweth nor is poured half-full.

Cornered by a cut-rate chunk of Spandex, many a frightened breast has taken refuge under the nearest armpit. A proper-fitting, supportive bra will politely yet firmly return renegade breast tissue to its rightful location in the cup. A crummy, ill-fitting bra will dig into the misplaced tissue and the resultant overflow will make even petite women appear blubbery. The daintier-chested often find that they are actually a cup size larger once their entire breast is safely contained in the cup. Although cup sizes at the mall may range from AA to DD, and possibly even a catch-all Q, a specialty boutique like Sheridan's carries AA though NN.

Whatever the size, a sports bra's sole purpose is to reduce painful and damaging breast bounce. Still, the discount-store market is flooded with flimsy cotton/spandex numbers. If running in place causes wobbles, then the bra isn't supportive enough. "Obviously, a bra has to have a little give so you can breathe," says Sheridan, "but the bras I see out shopping are just too stretchy to be supportive." A simple rule of thumb: any bra that can be simply pulled over the head is not a worthy bust buttress. To stanchion the troops properly, the material of a bra needs to be rigid enough to require some kind of clasp to get it on. "Also, a lot of women don't initially like a seam across the front," adds Sheridan, but without a front seam, the bra is too elastic in the wrong places. More back coverage means better support, and criss-cross stitching reinforcing the back of the bra can improve posture as well as offer extra support. Fortunately, high-end bras sew the seams inside and out to prevent painful rubbing. Also, it's critical that the bra not be elastic in the straps. "You don't want the weight of your breasts carried from your shoulders," Sheridan says. Look for wider straps—"They will help support shoulders and reduce pull."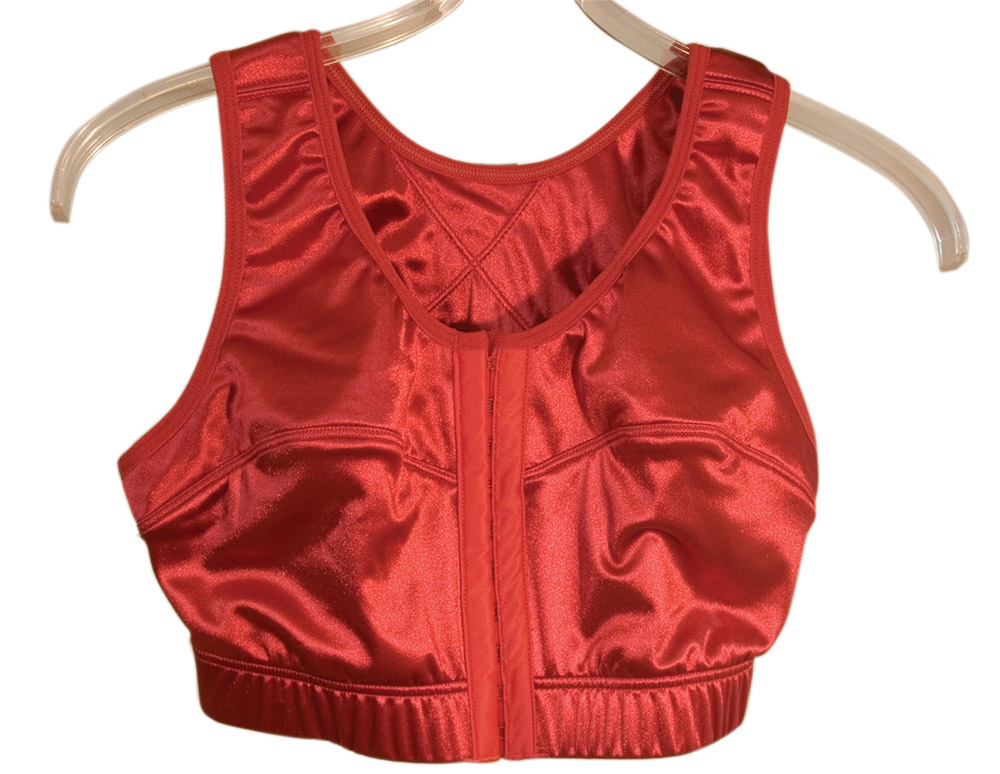 Whether a sports bra comes with cups or not, Sheridan says that as long as it's supportive and fits well, cups are merely a personal preference. Sports bras are most commonly comprised of synthetics like Lycra and Spandex. For moisture wicking, some bras incorporate CoolMax. Ladies preferring natural fibers might like the wicking powers of Naturex, while stinky sisters may turn toward silver-coated models, which inhibit the pungent bouquet of sports-bra funk.

Speaking of sports-bra funk, Sheridan guards against carelessly flinging your favorite foundations in the washer and dryer. A solid sports bra may run up to $60, "but it can last ten years or more if taken care of correctly." To nurture a worthy bra, hand wash and hang dry. "Some laundry soaps will actually eat the material," she warns, so a safe bet is to wash with laundry soap approved for infants—no harsh chemicals.

Despite the cost and extra care, a properly fit bra is essential for every woman, no matter how tricky the case. Sheridan's very first customer was a large-chested woman, a 52JJ, who arrived at Bra and Body Boutique in a bra that was so ill-fitting the material was ripping. Exercise was simply too painful, and she weighed about 300 pounds. When Sheridan fit her with a proper fitting undergarment, she could exercise again. Last Sheridan heard, the once-again active woman had shed 75 pounds and was steadily losing more weight.

Women who may have abandoned hope can still find a bra solution. For women who have had mastectomies or are extremely asymmetrical, Sheridan can create custom breathable silicone breastforms that conform to a surgery site or existing tissue. A less expensive option is a preformed insert that fills in wherever tissue is missing. Mastectomy bras have pockets sewn into the cups to hold the inserts. Sheridan even offers inserts specially designed for swimmers.

So kick that unsupportive, directionless traitor to the curb. Find a keeper, one that respects your rack, has got your back, and simply fits. Your curves will thank you.