Bozeman's Nordic center in transition. 
Bozeman has always been home to dedicated Nordic skiers, and as the town grew, a vibrant culture formed around this classic winter sport. In 1987, Jean McInnes and her son Chris Myers founded Bohart Ranch Cross Country Ski Center. Bohart became the first commercial, recreational outlet for Nordic skiers in the area, and for over 30 years, residents and their friends, families, and dogs enjoyed the trails that Bohart offered.
However, Bohart Ranch was recently purchased and incorporated into a much larger Nordic skiing area, now known as Crosscut Mountain Sports Center. Crosscut is a nonprofit dedicated to providing a pristine cross-country skiing destination that will continue to be an enduring piece of the community for both athletes and recreational skiers alike.
2017 was an eventful year for Crosscut. They began the year having just received their nonprofit status and by June they closed on the purchase of the Bohart business and property. Just a couple of weeks ago, they also purchased the adjacent Crosscut Ranch to complete the ambitious acquisition of the 533 acres that together now comprises the Crosscut Mountain Sports Center.  
"As Bozeman grows, more and more people are coming here to be in the outdoors, and we want to facilitate and meet those growing community needs," says Sam Atkins, the Nordic Center manager. He envisions Crosscut as a community hub for outdoor recreation that is accessible to all demographics. From first-timers, to students, to seasoned veterans, Sam hopes to cultivate a culture that will ultimately support new generations of Nordic skiers.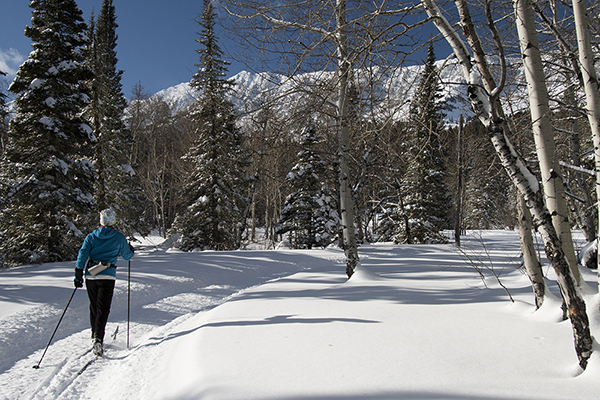 Offering over 30 kilometers of groomed cross-country ski trails (courtesy of their new PistenBully snow groomer), a biathlon training facility, and a renovated Nordic center, Crosscut has upgraded the Nordic skiing experience in Bridger Canyon. They have also partnered with multiple teams and educational programs. "We are honored to be the home training site for both the U.S. Paralympic Nordic and Biathlon Team and the Bridger Biathlon Club," says Atkins.
Additionally, by the end of this winter, more than 1,500 school children from around southwest Montana will have visited Crosscut to learn to ski with their Adventures in Winter Ecology program. As part of their mission, Crosscut has put a focus on ensuring that anyone can come to ski and enjoy the outdoors, especially because so many Bozeman natives have put their time and money into the project.
"Ultimately," says Sam, "this is a community effort. People might think that we have some large corporation behind us, but the reality is that we are still actively fundraising and looking for help, and every little bit helps. Many friends and family came together to generously support this project with bridge financing and philanthropic gifts, but we still have a long way to go to repay outstanding loans and are seeking philanthropic donations to help us secure this land on behalf of our community."
---
To find out more about ways that you can help out, and for information about their hours and rates, visit crosscutmt.org.