Blessed by the snow gods.
Last Sunday, I finally packed up my ski gear for the season. While there was plenty of snow left in the high country, I'd begun having dreams of tree-lined singletrack and the blue-green mountain lakes of summer, and I figured I should heed my nightly premonitions. But Mother Nature decided to have a joke at my expense, and dump over a foot of snow on Bozeman in a two-day, early-May storm. The skis came back out and went straight on top of the car.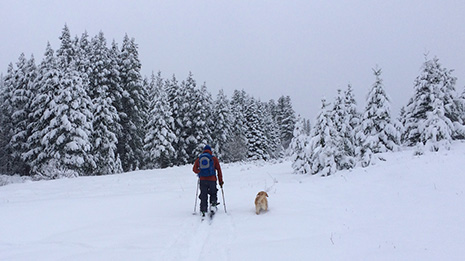 With over a foot in the mountains, Bozeman skiers get the last laugh.
Snow in May isn't unusual. In fact, the lack of snow in the mountains and even around town this early in the year is rarer than the foot-plus we got this week. It is precisely that dearth that made this storm seem the work of the gods. Divine intervention or not, the opportunity presented to Bozeman skiers would not go unnoticed, and the Bridger parking lot quickly filled Tuesday morning as powder-hounds sought out fresh turns on the revitalized slopes of our community ski hill. Knowing smiles responded to understanding nods as skins were applied, boots were tightened, and coffees were finished. I, my girlfriend Pico, and our dog Hank decided a nice long walk to the top of PK was in order, so we set out at a moderate pace up the Missouri Breaks trail.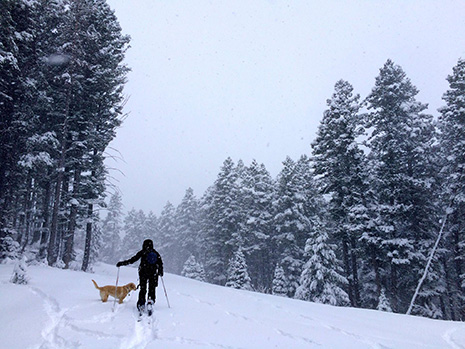 This time of year, you gotta skin up to ski down. 
Somewhere along the trail, about 40 minutes into our skin, I realized that the wind had been driving snow into my face the entire time. I was chilled, my legs burned from breaking trail, and the surprise spring storm blanketing the Bridgers was a full-on winter blizzard. Hank, who had started the hike by bounding willy-nilly through the powder, had slowed to an efficient slog behind me; and Pico, who was on her very first tour, had lost her parking-lot smile, replacing it with a visage commonplace among winter travelers weary of the way but determined to arrive at a given destination. Three days ago, we'd leisurely biked along Swan Creek wearing shorts and t-shirts. Now we were cold, snow-covered, and tired. But we were also at the top—time for the downhill.
Our turns weren't the prettiest of the season, and we certainly didn't bag a ton of vertical, but it was May and we were back on skis after a month's hiatus. As is often the case, as soon as I gave up on the season and indulged my summery whims, Ullr returned to put me in my place. "You live in Montana," he seemed to say. "Act like it."
So we went skiing in May, even though, in all honesty, we'd rather be fishing in shorts along the banks of Emerald Lake. We endured wind-driven pellets of frozen water in our faces, when really, we'd rather be choking on the dust of sun-baked singletrack. And we hiked up to ski down, all the while dreaming of riverside campsites with steaks on the grill. Summer will come soon enough; for now, it's ski season.