Spark R&D celebrates ten years.
Bozeman is home to quite a few reputable outdoor brands: Schnee's, Mystery Ranch, Oboz, Kenetrek, and other high-end, high-profile businesses that have sprung up over the years. One company that's kicking ass—albeit a tad more under the radar—is Spark R&D.
Spark makes bindings and related accessories for splitboarders. For the uninitiated, splitboards are snowboards lopped longitudinally down the center, allowing snowboarders to get around efficiently in the backcountry. Split them apart and use them like skis (with skins) to get up the mountain, then join them together into snowboard mode for a surfy descent. Rinse and repeat.
Ten years ago, Will Ritter, a stoked young snowboarder, aspiring backcountry rider, and MSU-schooled mechanical engineer, bought his first splitboard. It didn't take many laps up the skin track—fiddling his old splitboard apart and together—to spark his design mojo.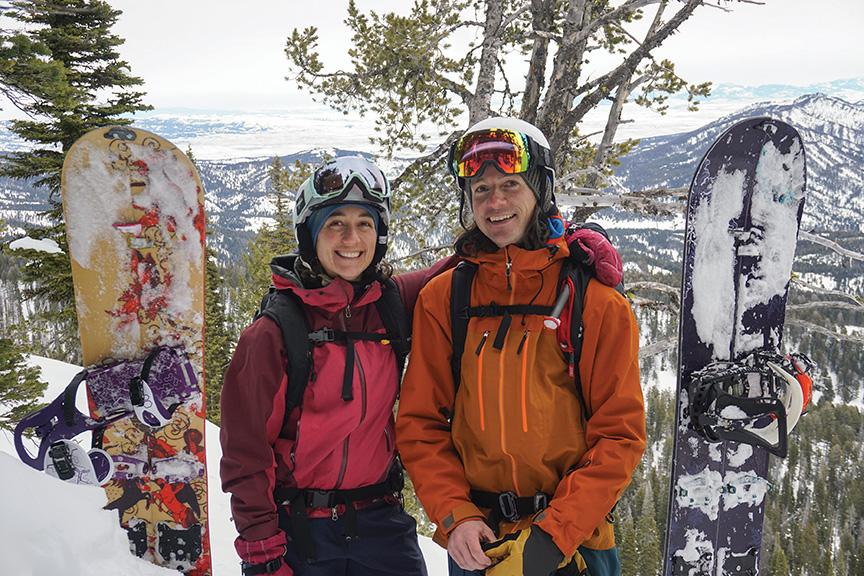 Will & Becca leading by example.
I caught up with Will and his business accomplice (and wife), Becca, to learn more about their thriving, uber-endemic enterprise.
MH: Congratulations on your 10-year anniversary! Give us a brief history of Spark R&D.
WR: My first backcountry snowboard experience was about 12 years ago. Like many first-timer backcountry riders, I got around on snowshoes. It didn't take too many outings to realize they were super inefficient for punching up the fall line in crotch-deep snow. Splitboards were starting to appear on the scene, so I picked up a used one. The only splitboard bindings available at that time basically mounted a binding on top of a binding—in addition to all the unnecessary moving parts, which could rattle loose and leave you stranded. The connection was sloppy and the boot-to-board gap wasn't amply snug for high-performance riding. Having recently completed a master's degree in mechanical engineering, my design instincts kicked in.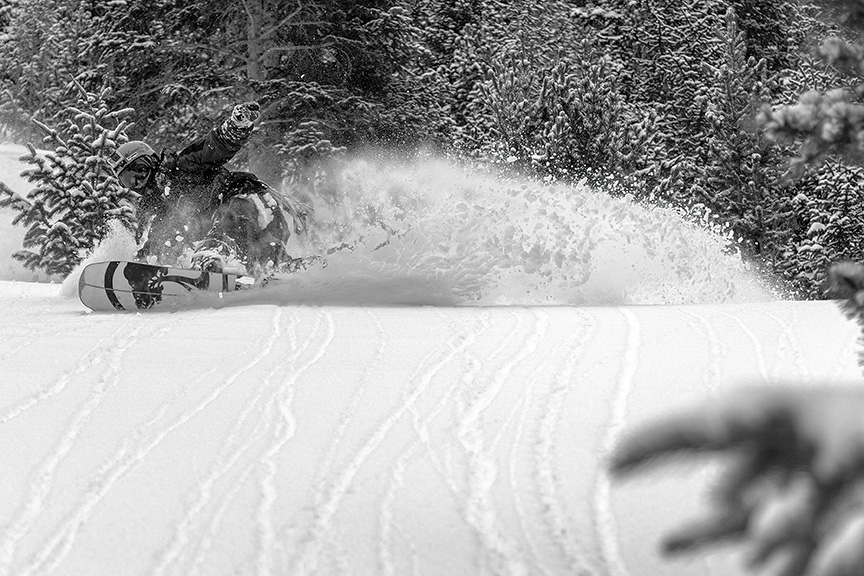 Rafael Pease ignites a spark.
MH: So you thought you could build a "better mousetrap?"
WR: Yes. At that point I was working for StrategixVision, a local product-design firm that introduced me to Bozeman's machining and fabrication resources. During my off-hours I started cobbling my first prototype binding, which I later launched as the Ignition binding. I basically spent 2006 developing prototypes and shared my design ideas on splitboard.com. By the winter of 2007-08, I had quit my day job and received 100 orders. I started production filling each order one at a time. With the equipment and resources we had at that time, it took four to five hours to make a single set of bindings.
MH: So, to mark your 10th anniversary, you guys just purchased a 12,000-square foot facility. That's quite a leap from cobbling bindings one pair at a time.
WR: Yeah, we're so psyched. We've been in the same building for the past five years, occupying an increasing percentage of the total space as our business has grown. Since the beginning, we've incrementally added machinery and people to increase our production capacity, and now manufacture more parts in-house than ever before. To keep it all running smoothly, we now have a team of 35 awesome employees. Prior to acquiring the whole building, we were bursting at the seams. Of course, owning our own facility—office, warehouse, and shop space—is a huge step for us on so many levels. 
MH: It sounds like business is booming. Clearly, backcountry snowboarding has grown enormously over the past ten years.
WR: In the early days, we spent much of our time simply explaining what splitboarding was. Since then, backcountry snowboarding (aka, splitboarding) has gone off. Backcountry riders have long known that those who embrace sweat-equity approaches can rip lots of freshies in the mountains. With better, more durable, lightweight backcountry equipment, a steadily increasing number of riders are heading into mountains on their own steam. And not just in the U.S.; our international sales are slightly higher than our domestic sales. 
MH: What's the best part of being a Bozeman-based snowsports business?
WR: No doubt, it's our quick and easy access to the mountains and the quality terrain we have within a day's striking distance of our headquarters. It makes it so much easier to develop a prototype one day and test it in the field the next. Additionally—from a recruiting perspective—MSU and the community at large creates an ideal pool of folks who have engineering, machining and other applicable tech skills and yet additionally have a passion for the mountains, snowboarding, shredding pow, and living the Montana lifestyle.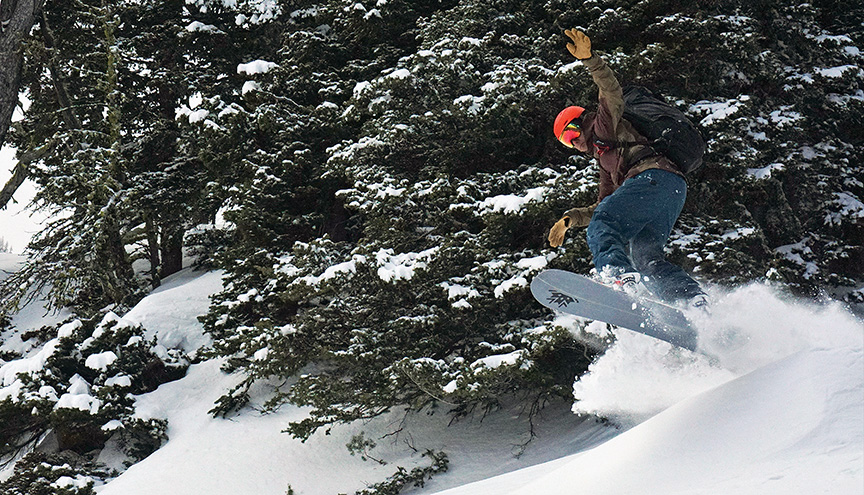 Will doing a little R&D.
MH: What's your most prized design innovation to date?
WR: It's been a progression, but our latest Surge binding just won Backcountry Magazine's 2017 Editor's Choice Award. One product tester went so far as to call them "the most user-friendly performance splitbinding known to man." Incorporating all the design elements and refinements we've developed over the years, that particular comment validated all our hard work and really sums up our mission. 
MH: Tell us more about Spark's company culture?
WR: We have a work-hard-play-hard ethos. Don't let the hoodie sweatshirts and tattered-jean "uniform" lead you to believe we have a slacker work environment. Our crew works super hard to maintain our production schedule, quality control, and customer-service standards. But, to keep it real and remind ourselves why we got into this business in the first place, we do Wednesday Shred Days throughout the winter so employees can get their mid-week pow fix.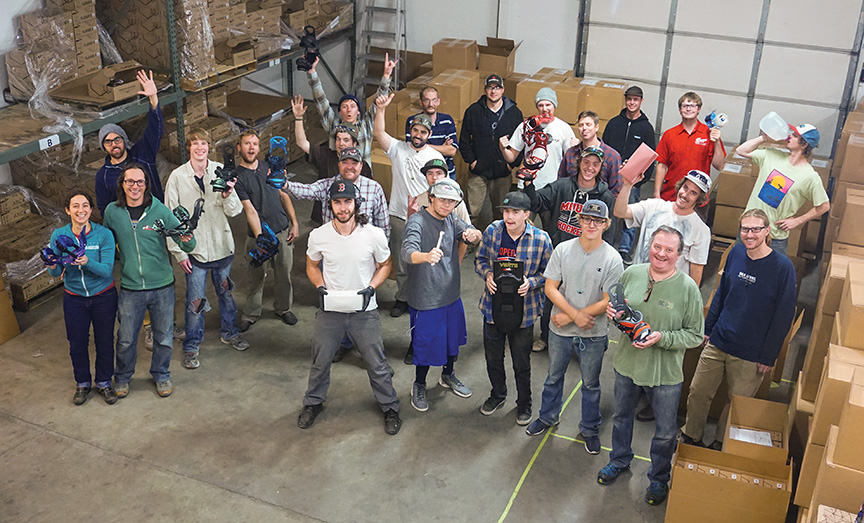 The Spark team in their natural habitat.
MH: What are some local causes or organizations Spark supports?
WR: We've supported the Friends of the Gallatin National Forest Avalanche Center for a number of years and have stepped up as a title sponsor for their annual Powder Blast fundraiser the past few years. As makers of backcountry gear destined for avalanche terrain, we believe strongly in the GNFAC's avy-education programs and encourage our customers to tap into their daily forecasts.
MH: Now for some rapid fire. Method or pow slash?
WR: Still perfecting my slarve turn. It's getting there.
MH: Garage or offshore?
WR: I didn't even have a garage when I got started! Now it's a factory. The more we do ourselves—as a vertical enterprise—the happier we are. 
MH: Up or down?
WR: Yin and Yang. Get your head on straight for the ascent and forget the stress of the day so you're ready to enjoy the descent to the fullest and get fired up for the next climb. It's a never-ending cycle. 
MH: Avalung or air bag?
WR: I went airbag last winter and feel really good about it. 
MH: Bridger or Big Sky?
WR: Bridger for the proximity and access. 
MH: Yo-yo laps or big tour to a single line?
WR: I'm more of a lapper, to maximize shredding, while Becca is more into aesthetic touring to maximize her connection with nature. 
MH: Finally, if, as your bumper sticker states, "Splitboarding is the answer," what's the question?
WR: How do you remain stoked as a snowboarder for life? 
---
To learn more, visit sparkrandd.com.