Easing your kids into alpine skiing.
It's easy to embrace the love of skiing once you've mastered a few skills, but parents often face challenges when introducing kids to the sport. Here are five tips to help you out.
Rehearse at Home
Familiarity with odd and unusual ski equipment is essential. Spend time with your child getting to know their gear—helmet, goggles, boots, gloves, buff, ski pants, parka, skis. Don't be bashful. Practice everything in the comfort of your home. Practice putting stuff on and taking it off, particularly stepping in and out of ski bindings. And yes, have your child practice walking around in their boots. It won't hurt a thing to have them step around the carpet with their skis on, as well; it translates to feelings on the snow.
Dress Warm, Pack Snacks
As the saying goes, you can always take layers off in the winter. Better safe than cold. Be prepared and dress for success, no matter what Mother Nature dishes out. Cool temps combined with physical activity equals burned calories. Have your child's favorite snacks close by for quick energy and quick smiles.
Location, Location, Location
Make learning as fun and welcoming as possible. Locate your ski area's beginner terrain, most often lift-serviced by a "magic-carpet." Seek the gentle slopes of a beginner area that will provide an even fall-line and plenty of open space to learn. The right slope will often allow Mom or Dad to teach their child key fundamentals while still wearing their comfy Sorels.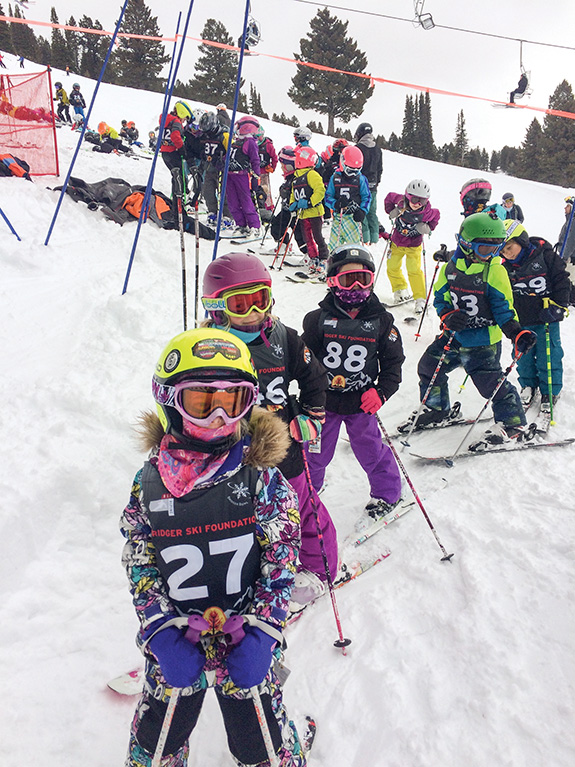 Parent Patience
Have the right mindset from the get-go: patience, playfulness, encouragement, and more patience. You're establishing what could be a lifelong activity with your youngster. Take it slow. Some ski days may only last a run or so, some days an hour. Patience truly is a virtue in developing alpine skills with your child.
It's All About Feeling
An athletic stance truly is universal! Start by teaching your child a good athletic stance. From there, in place, practice shifting weight from one ski to the other. Again, allow your young'un to gain some familiarity. Ramping up from that, encourage your child to move around on flat terrain—herringbone, sidestepping, skating. Be creative in getting them to move around while having fun.
Once kids start skiing and getting the hang of it, use methods like "follow-the-leader" or seek out the terrain park. Also, find fun—but safe—bunny trails and side terrain to expand their limits and enjoyment. They're going to fall, often awkwardly, but rest assured that it's all a part of the process. And kids, as you know, are tougher than we often give them credit for. 
Most of all, have fun. Once they've mastered the basics—with you or the Bridger Bowl Mogul Mice or Mitey Mites—send 'em over to the Bridger Ski Foundation for an introduction to alpine racing, freestyle, or the terrain park.
---
Pete Petry is the alpine program director for the Bridger Ski Foundation.