Hunting the long-eared ungulate.
The deer hunt: it's a gateway to big-game stalking that comes to dominate the passions of most Western hunters. While many place the rutting bull elkatop the big-game podium, muleys stand proud in second place, and hunting one in the dense mountainside timber of our grandest ranges is an experience that rivals any. With bow or rifle, mule deer are a worthy pursuit, and the wild country they inhabit here in Montana is itself worth the planning, preparation, and effort. 
Habitat
Given that mule deer occupy the entire state of Montana, it's clear that they're highly adaptable. Out east, they hole up in the eroded washes and coulees of the plains, making their way to water in the mornings and evenings. In southwest Montana, you'll find them everywhere from riverbottoms to subalpine meadows. Most hunters stalk muleys on the steep foothill slopes of our publicly-owned mountain ranges. Depending on the time of year, you'll either find them in the timber or out in the open sagebrush flats. They move from the forest to the valley as the temps drop and snow piles up, so pay attention to weather trends and plan accordingly. They feed primarily on shrub browse, so areas with plenty of vegetation are more likely to hold animals.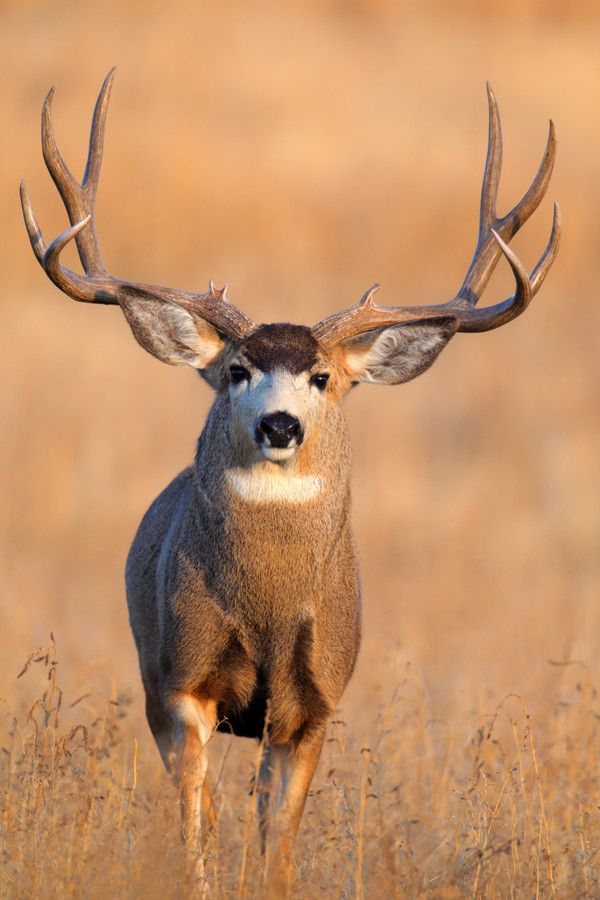 Behavior
Similar to elk, muley bucks tend to be solitary or live in small groups, and females herd up. Weather and the season dictate where the animals will be, and they migrate from subalpine forests and meadows to winter range in the valley once the temp drops and the snow flies. In the fall, bucks are heavily influenced by the rut, when a typically wary animal is at the mercy of biology. It's at this time that you might find bucks near herds of does. Earlier in the fall, bucks stick to the edges of doe territory; they're in the picture but not necessarily cohabitating. Many hunters figure bucks will shadow does throughout the entire hunting season, which might explain why some hunters return empty-handed if they're out stalking early in the season. Again, paying attention to the rut will clue you in to where bucks might be, if indeed bucks are your quarry. 
Gear
A gear list for hunting mule deer looks a lot like a gear list for hunting elk. Your litany of essentials will fluctuate depending on how far you plan to hike and whether you might stay out overnight. Generally, you'll want good binos for glassing, sturdy boots for traveling in steep mountain terrain, and a good pack for carrying the essentials. Get a model that is hunting-specific so you can pack out your animal if the terrain requires. Keep a sharp knife handy for field-dressing, and bring enough layers to be comfortable in winter conditions. An emergency bivy sack is a good idea, as is a well-stocked first-aid kit. Typical rifle calibers include anything from a .270 to a .300 Magnum.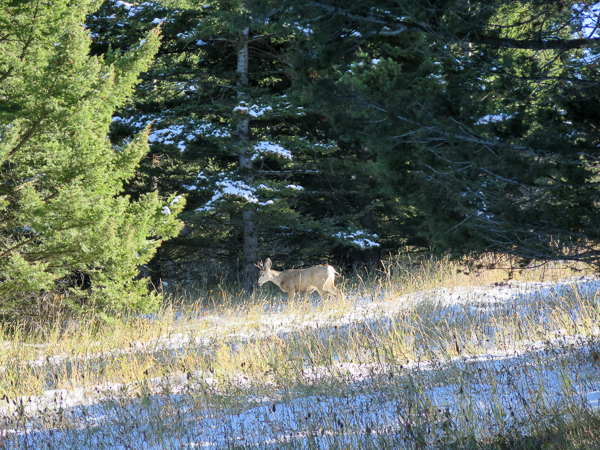 Bow vs. Rifle
Each weapon has its advantages, and both experiences can result in lifelong memories. If you're hunting in the close quarters of Montana's timber-choked mountainsides, archery equipment might be preferable. Bow season also starts over a month before rifle season, so muleys aren't as on-edge. Rifles obviously give you a distance advantage, and the season overlaps with the rut, making the chances of taking a big buck greater. But you'll also be sharing the landscape with a lot more hunters.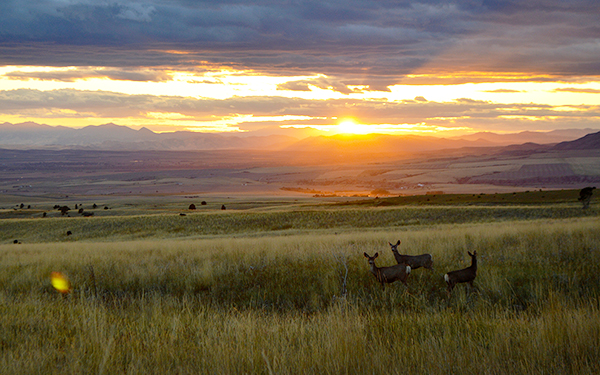 Pack-Out
A large male mule deer can weigh up to 400 pounds, although the average weight is closer to 300. Does weigh about half that, so depending on the proximity to your truck and the size of the animal you bag, you might need to dress, quarter, and pack-out the animal. Steep, uneven terrain might also require packing the beast out. If you take a small buck or doe and the hike out isn't too treacherous, simply dragging the dressed animal might work. Either way, make sure you have the necessary pack for carrying an additional load of meat and know how to safely store your kill if you have to leave and come back. 
Rut
Like other ungulates in Montana, muley bucks rut in the fall. This is an excellent time to take aim at a hormone-filled beast. The burning desire to breed turns otherwise wary males into absolute dopes oblivious to the threats around them (sound familiar?). Bucks are thus easier to find as they tend to hang around less elusive herds of does. The rut is triggered by how much daylight there is, so the timing is easy to track. If bagging a buck is part of your program, focusing on the rut might be your best bet. 
Regs
The mule-deer hunting season is broken into three general timeframes. Be sure to double-check the FWP site for your specific region and district. Archery season starts in early September, so if you're hunting with a bow, you have a two-month head start. As with all big-game hunting, you're required to wear 400 square inches of hunter orange. It's always a good idea to keep a copy of the regs in your truck, and check in with fwp.mt.gov before heading out.
---
For more information about hunting mule deer in Montana, visit muledeer.org/state/montana.