Exploring Highland Glen, the New GVLT Trail
"Come on Mango, come on boy, you can make it!" I yelled at my aging golden retriever plodding along behind me. Mango is 12, which in dog years puts him somewhere in his late seventies. Even the tamest trails are a struggle these days. Today, we're on the new Gallatin Valley Land Trust (GVLT) trail by the hospital: several miles of fresh singletrack installed a few weeks ago on National Trails Day.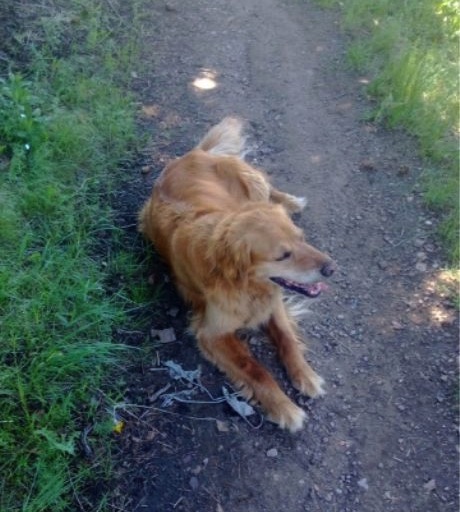 GVLT participated in National Trails Day on June 1, attracting nearly 200 volunteers from the Bozeman area that worked from 9am to noon and put in over two miles of trail on donated hospital land. Other volunteers worked spreading 20 tons of gravel on a half-mile of trail. With so many volunteers, GVLT says that this was their biggest and most successful Trails Day ever.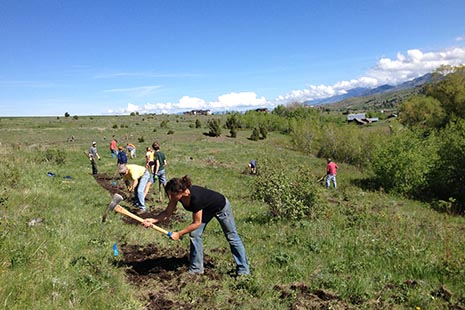 I had returned to my family home to find this brand-new trail in the familiar field across from my house, and my dog wheezing to get up the neighborhood hill. After a year cooped up on the East Coast, spent daydreaming of forest trails and the Big Sky State's blue skies, getting outdoors and spending time with my dog were top priorities—but I had to find a trail that Mango could get around on.
GVLT has been working on their Main Street to the Mountains program for four years now, and the results have finally reached the eastern part of town. Thanks to this, Mango's new walking ground can be reached by slipping through a barbed-wire fence after crossing Kagy.
There are two routes on the new trail, and we chose the upper path to survey Bozeman from a new angle. The path follows the wheat field along Highland, which ends right across from a llama farm. We tromped through lupines and lilies and bugs and bees as we followed the virgin trail. The llamas stood at the fence as we neared; at our distance it was unclear if they were on our side of the barrier, preparing to charge, or simply curious and behind barbed wire. Mango's hackles raised and thoughts of newspaper clippings blaring, "Girl mauled by pack of furious llamas" filled my brain. After the llamas, the trail dips into a gully filled with trees and a little stream. Mango splashed around in the creek, ending up covered with mud—now a brown retriever—but he was quick to roll it off in the tall grass.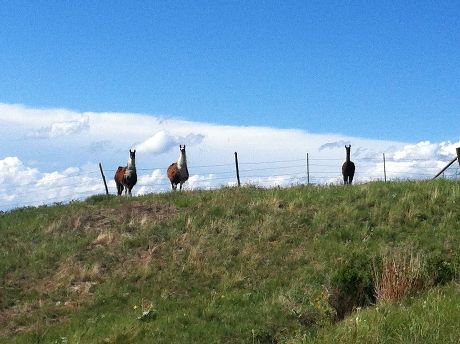 A short switchback through the trees and we were headed back towards Kagy. We chose to head home, but those with more stamina can continue on the trail towards Main Street or connect to Peets Hill by turning up the hill. As we walked along, we noticed flags denoting other trails that were not in place yet, indicating the huge potential this network has to offer. 
The casual expedition only took an hour, but runners and more intrepid hikers passed us frequently as Mango and I made our way home.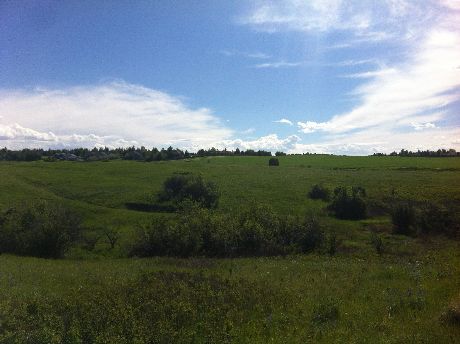 According to GVLT's website, the official name for this trail system is the Highland Glen Nature Preserve, and it has been made possible by over $35,000 in grants from local groups. More than two miles of the new trails are complete, with just under three miles to go.
The website also states that the trail is not yet open to the public... oops.
Mango and I will take another foray into the Highland Glen Nature Preserve once it's officially open, but until then, the public can help the project reach completion and enjoy other GVLT projects. 
GVLT still needs people to help complete the remaining three miles of trails. For volunteer opportunities, email the trail boss, Josh Olsen, at [email protected]. And be sure to hit up the Longest Day of Trails this Friday, June 21.
---
Did you know GVLT has an updated Main Street to the Mountains map? Check out our video below, then grab your own map and hit the trail. Trail maps available at GVLT headquarters and at local retailers.