Fishing and hunting by paddleboard.
Canoes, kayaks, and rafts are all time-tested crafts for fishing and hunting the various waterbodies around Bozeman. But we like trying new things, so we rigged up a paddleboard—and it worked great. The trick is having a stable board with multiple lashing points, a good cooler that doubles as a seat, and waterproof bags for clothing and equipment. Those are the essentials; optional accoutrements abound, and it's up to you to figure out the best system for yourself. Here's how I did it.
Fishing
Igloo's Sportsman 40 keeps beer and food cool on the hottest fall days, and provides a solid seat on which to take a break after paddling and casting for hours. At 24 inches wide, it fits a paddleboard perfectly, and the price beats most other high-end coolers. $220; igloocoolers.com.
The Boardworks Tracker is extra wide and super stable, combining a flat fishing platform with light weight and great manueverability. Abundant lashing points allow you to strap down anything you might need. A removable fin improves tracking in deeper water. $1,850; boardworkssurf.com.
The NRS SUP Leash keeps your paddleboard tethered to your ankle, so an unexpected spill won't result in an all-out loss of gear. Add a quick-release buckle so can bail if you find yourself facing big rapids or a nasty strainer. $40; nrs.com.
The Timex Expedition Scout combines a classic outdoor design with loads of useful features: Indiglo night-light, 100-meter water resistance, and an unobtrusive color scheme, to name a few. It's a great field watch at an affordable price. $72; timex.com.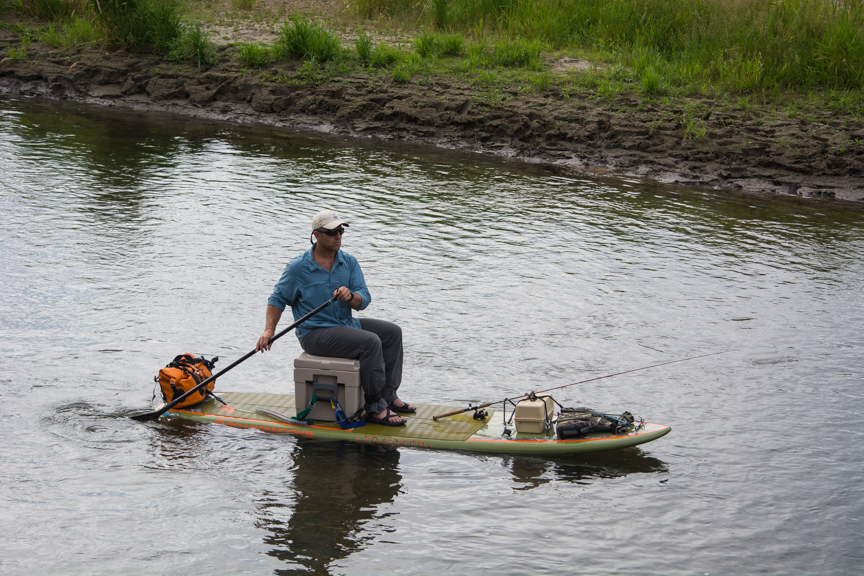 Hunting
Astral's Ronny Fisher lifejacket keeps you both safe and concealed, and two specialized multi-pockets keep smaller gear at your fingertips. The ergonomic design doesn't hinder paddling, while a mesh liner on back keeps you cool on hot days. $160; astraldesigns.com. 
The AMS Amphibian padded case protects your rifle or shotgun while on the water. The dry-bag-style closure means it's completely waterproof, and the welded D-rings keep it lashed down securely. If it does fall in, not to worry—this baby floats. $88; americanmountainsupply.com.
SealLine's Zip Duffle keeps all your extra clothing dry, along with any other items you want to keep out of the water. This 40-liter dry-bag has a quick-access zipper so you can access items easily. And the thick, reinforced vinyl will take a beating. $160; cascadedesigns.com.
Arborwear's Ascender pants use Stretch Tech nylon to provide maximum flexibility, while repelling water and drying quickly. With leg zips for swapping out footwear and reinforced knees for crawling through brush, these pants are great both on and off the water. $180; arborwear.com.
TitanStraps work great for cinching down gear, as they don't absorb water, are UV-resistant, and come in various sizes. They pop off easily and are available in bright orange for visibility. The best part? The company is based right here in Bozeman. $7.50-$9.75; titanstraps.com.