Service men and women reap the rewards of Montana's mountains.
Clinging to a rock wall with ice tools and crampons 30 feet above the ground, Demond Mullins lunges upward, swings his axe, and catches the route's last hold. He pulls himself up to a comfortable position and catches his breath.
"That sucker kicked my ass last year," Mullins calls down through a big grin, triumphant atop a particularly tricky line in Hyalite. Army veteran Samantha Tinsley belays, offering words of encouragement as other team members watch and cheer from below.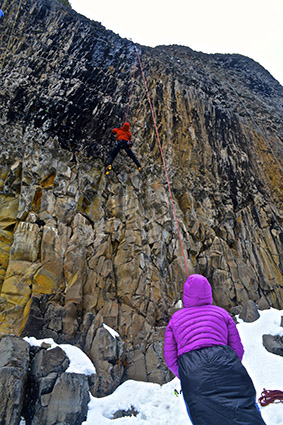 A Brooklyn, NY native and US Armed Forces veteran, Mullins is back in Hyalite with Tinsley and 11 other service men and women—some active-duty, some discharged—to climb with Bozeman-based Montana Alpine Guides (MAG) and local mountaineer Conrad Anker. For the second consecutive year, Sierra Club Military Outdoors has partnered with Veterans Expeditions (VetEx) to bring these men and women climbing in the public lands they fought to protect.
In the Grotto Falls parking lot, on a warm sunny day, team members pull on boots and shoot the shit while packing ropes, tools, and extra layers into their packs. MAG owner Sam Magro reviews the itinerary, and after Sierra Club Outdoors Director Stacy Bare speaks briefly about goals for the day, they're off, walking single-file into the woods.
Bare—a recipient of the Bronze Star for merit and Combat Action Badge for service in Iraq—began experiencing mental health issues after returning home from abroad. In response, he and his climbing buddy, former Army Ranger Nick Watson, started VetEx. Undertaking expeditions led by veterans for veterans, VetEx is building an outdoor community within the military community, using the outdoors to regain the camaraderie lost upon reentry into civilian life. The experiences also help offset mental-health issues afflicting so many returning veterans, all while providing instruction for various outdoor pursuits.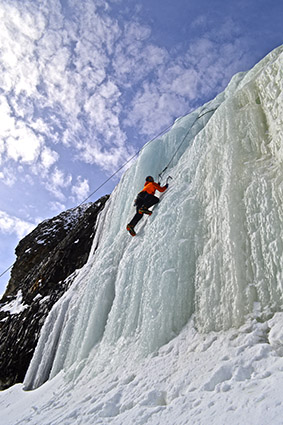 "Working with Veterans Expeditions is hands-down one of MAG's favorite trips of the year," Magro says. He marvels at the camaraderie of the group and the veteran's obvious appreciation for the opportunity to spend a week climbing ice in Montana. "They're a solid group of folks," he says, and it's clear he doesn't assign that accolade to just anyone.
According to Bare, that's precisely the point of Sierra Club Military Outdoors and VetEx—to climb, hike, and reconnect to the brothers and sisters who fought together to protect this nation, including its natural treasures like Hyalite.
In Bozeman, public land—national parks and forests, protected Wilderness areas, and their associated recreational opportunities—surrounds us. For many of us, it's why we live here. The land provides solace, recreation, rehabilitation, and even builds community. Sierra Club Military Outdoors and VetEx are ensuring those who fought for the land and made the ultimate sacrifice will also reap its rewards.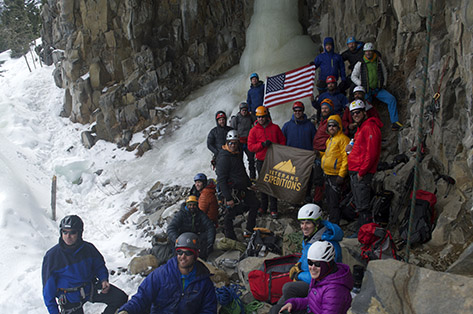 As the afternoon wears on, wind and snow blows in and the day that started sunny and warm became a distant memory. The climbers remove their crampons and re-stuff their packs. Back at the parking lot, they mingle with guides, recounting highlights and planning for the next day's climb. At the end of the weekend they go their separate ways, some back to a military base and some back home; and while they all return alone, they carry with them the shared experience of a week-long ice climb in the natural splendor of Hyalite Canyon.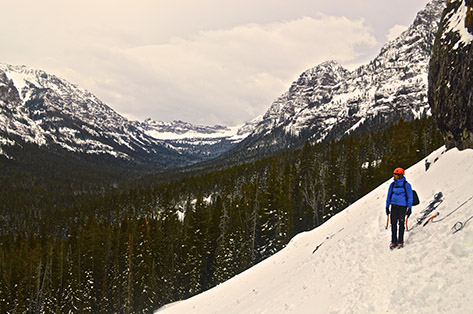 For more information about the Sierra Club's Military Outdoors program, visit sierraclub.org, and under the Goals tab, click on Sierra Club Outdoors. Visit vetexpeditions.com for information about their programming.
MAG is a Bozeman-owned guide service specializing in southwest Montana. Visit mtalpine.com for more information.