Fall biking near Butte.  
In the mountains around Bozeman, winter can come early. Last year, the high alpine saw snow in late September, and by Halloween there was a foot in town. We also see our fair share of Indian summers. So, year to year, we never know what we're going to get. This can cause some stress for mountain bikers, as we never know if we'll be riding in October or waxing up our skis. 
One way to stack the odds in our favor is to seek out drier ground, such as the lower-elevation granite hillsides surrounding the Continental Divide Trail east of Butte. This country can withstand the odd fall snowstorm and soaks up rain like a sponge. It's also home to beautiful aspen groves and fantastic singletrack, such as the Beaver Ponds trail starting on Hwy. 2 just north of Pipestone Pass.
Vitals
Distance: 4 miles, one way
Starting Elevation: 6,169 feet
Ending Elevation: 6,879 feet
Highpoint: 6,901 feet
Elevation Change: 711 feet
Vertical Descent: 1,240 feet
Difficulty: Moderate 
Driving Directions
From Bozeman, take I-90 west to the Whitehall exit. Follow signs for Hwy 2. and take it about 20 miles to the Beaver Ponds trailhead. From Butte, head east on Hwy 2 for about 13 miles. 
Riding Directions
Some folks ride Beaver Ponds as a downhill, using the CDT Homestake-Pipestone trail and Hwy. 2 to make a loop. This fall, keep it simple and ride it as an out-and-back. If you're feeling ambitious, add the loop at a later date, or ride it in reverse, ending on Hwy. 2 south of the Beaver Ponds trailhead. 
Once on Beaver Ponds, the route couldn't be more straightforward, so to speak. The trail winds its way through lodgepole forests and aspen groves, popping out in open parkland. About three-quarters of the way through, there's a junction with a left-hand turn toward Blacktail Ridge. Keep going straight until the junction with the CDT. At this point, turn around and enjoy the downhill, or continue up the CDT for a longer ride. Right above this junction is a series of tough switchbacks that will test even the fittest riders.
The downhill features long, flowy descents and short, punchy climbs. This time of year, it should also feature golden-leafed aspen and plenty of solitude.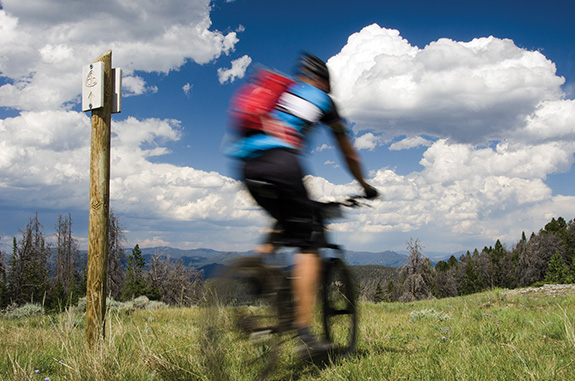 Other Considerations
Butte may be a friendly neighbor, but this trail is still their turf. Be extra courteous to other trail users and keep their particular sensibilities in mind. Also, remember that you're riding mostly cleared trail thanks to work done earlier in the season by volunteers. Figure out if there's a local trail group you can donate to, or ask about other ways to pitch in. Visiting southwestmontanamba.org is a good place to start, as they should be able to connect you to local Butte groups. 
If you enjoy the ride as much as I think you will, consider training for next summer's Butte 100. Often described as the region's toughest bike race, the course includes segments of the Homestake-Pipestone CDT and other connected trails.