The women growing Bozeman's bike community. 
At age twelve I lived at the bottom of long, steep hill. I'd pedal my pink Schwinn to the top, spin around, and sail over the hill's lip pedaling as fast as I could. As I gained momentum, I'd fling my legs out to the side and fly down at breakneck speed, a rainbow of handlebar streamers waving in the wind. I never grew bored of riding down that hill. It was liberating.
At the time, I had no idea just how liberating the bicycle had been for women. When John Kemp Starley introduced the modern form of the bicycle in 1885, women's suffrage was well underway but not yet a national movement. Victorian women could not vote, nor could they speak in public, and God forbid they left their homes without an escort. What would people think?
Victorian clothing was equally restrictive. Women still wore binding corsets and voluminous hoop skirts. Nary a breeze would graze their ankles on a sizzling summer day. But the bicycle changed all that. Despite dire warnings of contrived ailments like the dreaded bicycle face—a flushed and strained expression—women took to America's rutted roads anyway. They cast off their corsets and hurled their hoop skirts to the floor in favor of more practical clothing like blouses and bloomers, clothing that allowed them deep breaths and mobility. More than just a means of transportation, the bicycle gave women the freedom to pursue adventures of their own making.
---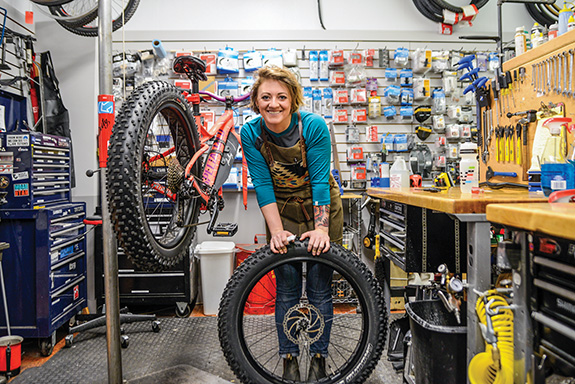 Fast forward 130 years and the bicycle is still a symbol of freedom. Amber Hoadley, floor manager and bicycle technician at Bangtail, came to Bozeman in 2015 as a competitive road racer. "I just love going fast," she says. "Those eye-watering descents, everything rushing past me, my hair flying out of my helmet."
The vast network of paved and gravel roads in the Gallatin Valley allow Amber the freedom to explore under her own power. In fact, Amber doesn't even own a car. She sold it last year, deciding that the only vehicles she needed were her bicycles. Over the winter, she rode 400 miles on her fat-bike. "It's not that much," she chuckles, noticing my eyes growing wide.
Amber feels confident on her bike. She knows how to fix a flat, build a wheel, and how to maintain her bike so that it rides smoothly. Amber is one of only three female bike technicians in Bozeman—and a damn good one at that—but she didn't always feel confident in her ability to fix or maintain her bike. Although women have been cycling since the bicycle was invented, it remains a male-dominated sport.
"It can be intimidating," says Amber. "There are all these tools you've never seen before and maybe don't know how to use." Amber goes on to say that not knowing how to use the tools can make women feel afraid they might say the wrong thing or that they can't communicate using the industry's lingo. "Most girls weren't out in the garage fixing the lawn mower with their dad," she explains.
But Amber is a self-starter, and she wasn't about to let gender keep her from choosing her own adventure. Despite doubts and a bit of intimidation, Amber started learning about bicycle maintenance while working in a shop in Florida where she grew up. She mostly greeted customers while the two bike technicians worked in the back. "But I was always asking them questions," she says. They taught her the lingo and the technical aspects of owning and maintaining a bicycle. It was a safe environment where her curiosity was satiated. She supplemented her learning by watching hundreds of YouTube videos and reading dozens of books and articles about bike maintenance. Still, she was learning from mostly men and she longed to see more women teachers.
Women represent only 10% of bicycle technicians in the industry, according to Trek, a leading producer of bikes and cycling gear. In 2016, Amber became one of them when she was awarded a scholarship to become a Trek Certified Mechanic. The program was established to promote more women in the industry. Amber also learned the finer points of bike-fitting in two workshops hosted by Specialized Bicycles. Amber loves the way her Specialized fits her. Having the right bike that is adjusted to the rider's body can make all the difference, she says, especially for women.
Earlier this year, Amber was one of 12 women selected to become a Specialized Women's Ambassador. Tasked with promoting the sport of cycling for women, Amber taught an all-women's bike clinic in April. She called it New Kid on the Block, and it was all about preparing women for their first ride, including things like learning to use road signals, fixing a flat, how to properly adjust the seat and handlebars, and women's-specific issues related to biking. Despite 19th-century concerns of over-stimulation from excessive bicycle riding, women do not find bike seats comfortable—or stimulating.
Amber wants to be the teacher she never had. "I want to make women feel empowered, strong, and capable," says Amber. "Then they can go on mixed rides with the confidence that they can change their own flats when they need to." One day, Amber hopes to open her own shop. She'll serve espresso and scones while she helps cyclists get their bikes ready for the road. The walls will be covered in photos from her side business as a photographer. And hopefully, by then, she says, she will have invented a helmet that solves the dreaded helmet hair, because unlike bicycle face, helmet hair is a real thing.
Aside from avoiding bicycle face, there were many rules women were encouraged to follow when they first began cycling in 1885. Forty-two of these rules were published in the New York World newspaper by an author of unknown gender. Some of them were silly, like Rule #31: Don't strike a match on the seat of your bloomers. But others were eerily like the unspoken rules we have for girls today, such as Rule # 36: Don't try to ride in your brother's clothes to see how it feels. Or Rule #25: Don't use bicycle slang; leave that to the boys. And then there's Rule #12: Don't refuse assistance up a hill. And the worst of them all, Rule #40: Don't undertake a long ride if you are not confident of performing it easily. It's no wonder that women tend to doubt themselves. Women have been taught that self-doubt is a rule to live by.
---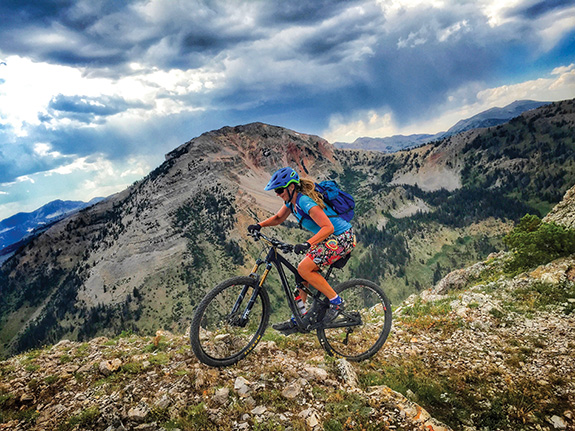 Like Amber, Melissa Cronin has not let occasions of self-doubt prevent her from living an adventurous life. I meet Mel for an afternoon walk on the Burke Park Trail. She brings her months-old puppy who happily weaves in and out of our legs as we walk. She tells me about how she loves to snow-kite. It's an obscure sport whereby competitors use kite power to glide across snow or ice on skis or a snowboard. A few years ago, Mel was invited by some friends to participate in a competition at Kite Farm in Saskatchewan, sponsored by Red Bull. When she arrived, her friends told her that they'd rather compete as an all-male group. She entered anyway as a solo competitor. And won. By miles.
Mel is one of five founding members of the Bozeman Pedal Project, an all-women's cycling group. There's no formal leader. "I like to think of us as spokes in a wheel," says Mel. "No one person is more important than the other."
The Bozeman Pedal Project grew organically out of the desire to merge the various road- and mountain-biking groups in town. But it's more than a way to organize group rides; the Pedal Project also creates an environment in which women can ride together without the pressures of competition or one-upmanship. No one gets left behind, and all riders, regardless of ability, age, or experience, are welcome. "It's about creating a safe space for women to fall in love with the outdoors," says Mel.
Every Monday from late spring through autumn, Pedal Project volunteers help organize road rides, and on Wednesdays they go on mountain-bike rides. No money ever changes hands. It's just a way to get women together and foster connection among adventurous souls. And there are many adventurous souls in Bozeman. Their Facebook page has over 700 members, says Mel.
As a teenager, Mel began cycling regularly because she was too nervous to drive. Mel is a rare Bozeman native. Her family lived in Bridger Canyon, so rather than drive into town to meet up with friends, she'd ride an old road-bike down the canyon, past the M trail, and onto Main Street. She liked it, but it wasn't until after she had kids that she became a mountain biker, and that's where she focuses her energy today. "Trails are the arteries that connect us back to the heart of the community," she says. It's a sentiment that carries through to other aspects of her life; Mel is also the development director for the Southwest Montana Mountain Bike Association (SWMMBA). "It's basically fundraising and throwing kick-ass parties for a good cause," she says. Along with two other SWMMBA board members, Mel joined the Gallatin Forest Partnership—a collaboration between diverse stakeholders including SWMMBA, Backcountry Hunters & Anglers, and the Wilderness Society. These and other groups joined forces to craft a unified recommendation to the Forest Service for the Custer-Gallatin Forest Plan Revision.
"There was synergy," Mel explains. "We put our differences aside and did the hard work for the benefit of the resource." Part of that was not just advocating for mountain biking on public lands, but advocating for wildlife, the protection of watersheds, and adding Wilderness designations to four new areas. "We wanted to reflect values that will be important for future generations," says Mel.
Mel's puppy runs ahead. She seems to be unaware of her small size as she bounds toward a large German shepherd. I ask Mel why it's important to have an all-women's group like the Pedal Project. "We tend to doubt our abilities," she says. It was an echo of the very same sentiment expressed by Amber.
---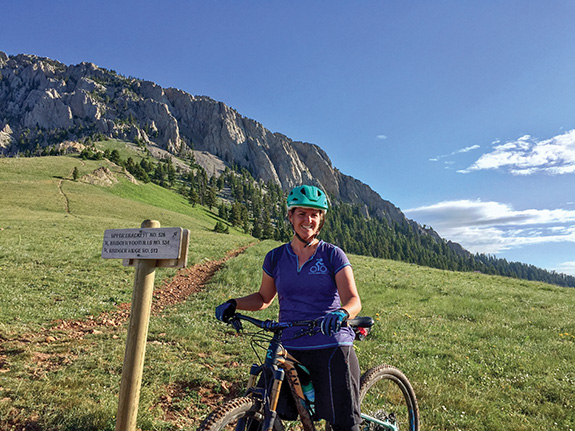 Girls are taught to strive for perfection. To not try things unless they are sure they will succeed (see Rule #40). Girls are taught to be careful, not brave. It's not surprising then that girls often grow into women who tend to doubt themselves more often than men. This is something that Molly Bowman, a founding member of the Pedal Project and the executive director of Bozeman Youth Cycling, is trying to change. Molly sits across from me in the Rockford Café on Main Street, a few doors down from Owenhouse Ace Hardware and Owenhouse Cycling, which she owns with her husband Eric. She's distracted for a moment by a cyclist outside the large picture window. It's a gorgeous day, and she'd clearly rather be on her mountain bike.
Bozeman Youth Cycling is a nonprofit organization dedicated to teaching kids ages six to 18 basic and advanced bike-handling skills, etiquette, and safety when out on the trails. Like the Pedal Project, Bozeman Youth Cycling is non-competitive. Any kid can join, and scholarships help kids whose parents might not otherwise afford the programs. Girls and boys alike ride together in groups based on age. "I don't want girls to feel that what they are doing is different, or that what the boys are doing is somehow unattainable," says Molly.
Molly also believes that it's just as important for boys to see girls being brave as it is for girls to be brave. She knows this first-hand because she dabbled in mountain-bike racing as a teenager and was the only girl at all the races. "That never bothered me," she says. And maybe that's because she competed alongside and against other boys as a kid.
Child psychologist and author of Child Development, Laura E. Burke, says that kids begin developing gender stereotypes as young as nine years old. But by competing against or playing sports with boys, writes Jeffrey Rhoads, the author of The Joy of Youth Sports: Creating the Best Youth Sports Experience for Your Child, girls gain resilience, a better body image, and feel less intimidated by men when they become adults. In mixed groups, girls build courage, take more risks, and learn to accept occasional failure as a part of life and not as a personal flaw.
When the program began three years ago, Molly wasn't sure how many kids would participate. Initially, only ten kids had signed up, but the night before registration closed they had 60 kids. "We were scrambling to find coaches," says Molly. And now their summer-long programs fill each year. "We're looking to teach the next generation of cyclists," she explains. "Not all of them will become lifelong mountain bikers, but maybe they'll be bicycle commuters. Or decide to ride to the store rather than drive."
Molly clearly loves working with kids. This summer she's putting together a youth team for the National Interscholastic Cycling Association. There are leagues all over the country, and as of this spring, there is now a league in Montana. Leagues are made up of middle- and high-schoolers, and as with Bozeman Youth Cycling, boys and girls compete together. The league's mission is to promote the sport of mountain biking, and to cultivate self-confidence, teamwork, and respect for the community and the environment. There are no tryouts, and every kid that finishes a race contributes points to the team. Although there are no races in Montana yet, the team hopes to compete in Idaho this fall.
As a mother of two, Molly strives to instill a love of sports and of the outdoors in both her son and her daughter. In the autumn, Molly participates in cyclocross—an intense mile-and-a-half agility course on bikes. "It's especially important for kids to see Mom racing; for them to see that it's not just for Dad," says Molly.
---
It's been 30 years since I rode my bike down the hill in my childhood neighborhood. Before speaking with Amber, Mel, and Molly, I had almost forgotten how inspiring it feels to go for a ride under my own power. I had nearly forgotten the thrill of cruising down hills at breakneck speed and the joy of exploration on two wheels. I don't even own a road- or trail-worthy bicycle. When I tell Mel this, her jaw drops open and she cries, "Oh, that makes me so sad!" It makes me sad, too, and I vow as we part ways to make an appointment with Amber for a bike-fitting and to make sure I join the Bozeman Pedal Project on a Monday-night ride this summer.