Mastering the action shot.
For all you winter photographers, the mountain is your canvas—and when you finally come to a stop and decide to take the shot and capture the experience, here are some things to consider.
Pre-visualize
Rarely will you create the perfect image by chance. When you make the choice to create a photograph, give the subject and location the consideration they deserve. Scan your surroundings and envision exactly what you want the photo to be. Frame it up and decide on the composition before the subject starts moving.
Communicate
You can envision the best shot, but without clearly conveying it to your subject, the image will be empty. Communicate where you want the subject to be and what you would like them to be doing. Be flexible and trust their judgment if they are uncomfortable with the shot—action images aren't created by just one person.
Pre-focus
This is one of the most reliable ways to nail the shot every time. Once you know where the skier is going to be, focus on that spot and then turn off autofocus to lock it in while the subject moves through the frame.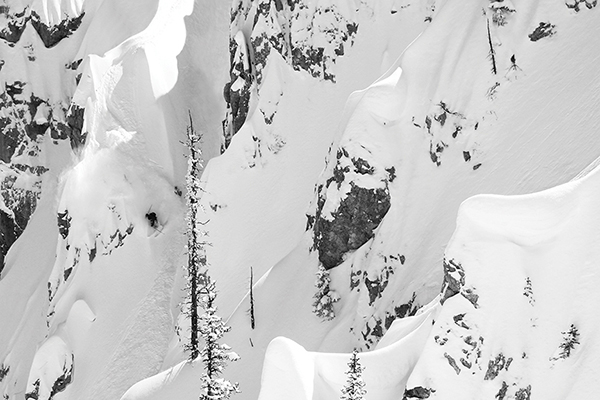 Shoot Fast
With action comes speed. This seems obvious, but there are a lot of factors at play and this should be at the top of your list. A slow shutter speed means a blurry subject and a worthless shot. Aim for at least 1/500 second, but remember image quality is a constant balance between ISO, aperture, and shutter speed.
Bring It
I can't count the times that I was packing for a powder day and thought "today I should leave the camera behind and just ski." This is a mistake. You will never get that amazing shot if you don't bring the camera along every time. A great image will always present itself when the camera is not with you.
Be Ready
When the weather is poor, your legs are tired, or you've been shooting all day, continue to be on the lookout for your next shot. Learn to recognize those unique moments and capitalize on them no matter what.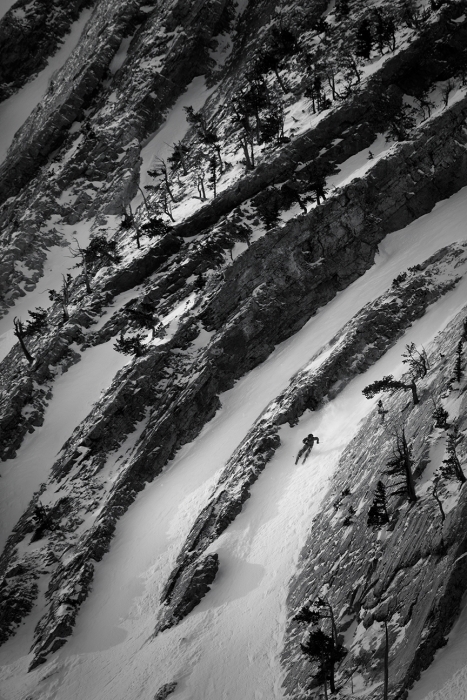 Work Fast
Nobody likes waiting at the top of a run long after they are ready to drop in. Respect your subject's time—they could be flying down the Apron getting face shots, but instead they're waiting for you. Hike fast, pack faster, and never be the weakest link.
Work Hard
The best photographers are out every day taking photographs—there's no substitute for putting in the time, learning from mistakes, and shooting as much as possible.
Using any one of these tips will help you create a better photograph, but if you can learn to incorporate all of these, you are on your way to creating images that will stand out from the rest.