Local businesses invest in local agriculture. 
We've all heard the common refrain: Eat local. It's better for our health, better for the planet, and better for local businesses. But the short growing season of the Northern Rockies makes it difficult to find fresh produce year-round, and farmers face the challenge of supplying shoppers and restaurants with a shorter harvest window. Add intense pressure from developers to turn farmland into subdivisions, and the simple idea of eating local is more complicated than it seems. 
Which is why it's particularly impressive when local businesses double-down to support local farmers and provide local produce. One such business, with deep Bozeman roots, is Montana Ale Works. We all know about their craft beers on tap and great happy hour, but did you know that they've invested their own cash in the local farmers at Gallatin Valley Botanical (GVB)? A few years back, when Ale Works' demand for baby carrots outgrew GVB's supply, Ale Works ponied up the cash for a mechanized bed-lifter and commercial washer. Overnight, baby-carrot production doubled. That meant GVB could supply a local restaurant with local produce, and it meant a local restaurant could ensure a local farm grew and continued to prosper. GVB paid back the loan in carrots and the partnership grew that much deeper.
In 2012, GVB saw another opportunity to expand production, this time of organic salad greens. Ale Works provided the cash for a matching-funds grant from the state, which meant GVB was able to invest in more mechanized harvesting equipment. With zero cash outlay, the farm again increased production, this time to the point where they were able to pay Ale Works back a year before originally planned. The result was a year-round source of vegetables and herbs for Ale Works customers and the continued growth of a local small farm.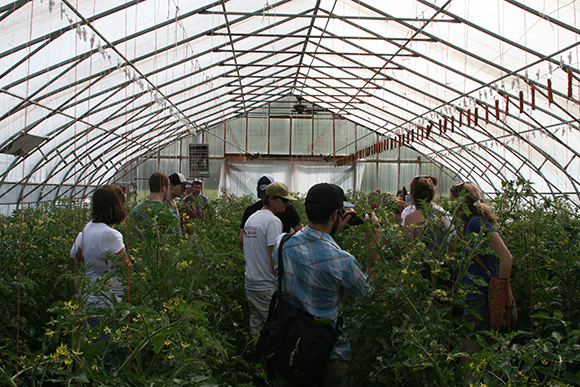 Ale Works employees get a behind-the-scenes look at their product.
Now, what does this have to do with outdoor recreation? The answer is simple: land. The more local farms we have (this one also happens to be protected by a GVLT conservation easement), the more open land we have. The more open land, the better habitat for wild critters. That means better resource management, more conservation, larger open spaces, and less trophy-home subdivision. Because Ale Works, a profitable local business, recognizes the value of local farms, local farms have a chance of surviving in a climate geared toward real-estate development. Part of Bozeman's heritage as an agricultural hub will be sustained, at least for another generation of valley residents.
Ale Works isn't the only game in town when it comes to supporting local production, and some businesses are even getting their own hands dirty. Gallatin River Lodge, the fly-fishing retreat along the Gallatin, has its own garden and garden manager. Vegetables, herbs, and greens come straight from the yard to the plate, and there's nothing like knowing exactly where your dinner comes from. Most of the lodge's guests are tourists, which has the added benefit of reminding out-of-towners that we can indeed grow crops here in Montana, and that the land is a valuable asset as a producer.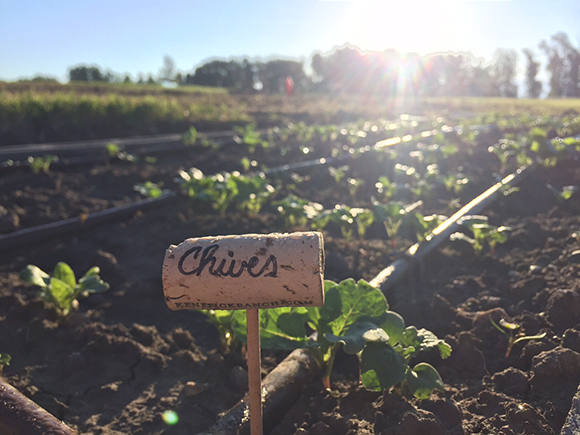 From their garden to your plate.
Besides patronizing businesses that commit to local farming, there are other ways to ensure that agriculture remains a staple of the Gallatin Valley. For example, Gallatin Valley Botanicals also operates a Community Supported Agriculture program, or CSA. Sign up for weekly produce delivery and pay ahead of time, in essence partnering with the farmers to ensure year-round produce and year-round revenue. Also, learn to grow your own basic herbs and veggies. Many varieties do well in our climate, even given the limitations of a short growing season.
At the end of the day, the reality is that eating local takes more effort, it can be more expensive, and there's often less variety. But if ensuring a future for local farms and the open land they provide is the trade-off, we're happy to pay the premium.