Amphibious kayaking takes off.
"On your left," mankind's version of a car-horn beep, has always been the courtesy alert of fast-approaching hikers, runners, and bicyclists. But today, this heads-up is being co-opted by a brand-new breed of outdoor enthusiast: the dryland kayaker.
Just as Orville and Wilbur Wright rejected the tyrannical mandates of gravity, these paddlers are denying friction altogether. Viewing every stairway, trail, and in some cases, paved road, as an opportunity for an adrenaline fix, kayakers are taking the sport to new heights—water be damned.
Given the infancy of the sport, it has yet to settle on a definitive name. Some call it dryland kayaking; others, pavement paddling. But founder Landon Harde, former backcountry skier best known for his patents on the biodegradable tele binding, prefers "amphibious kayaking."
The idea, according to Harde, came from watching a Facebook Live video documenting the plight of three beached pilot whales in New Zealand. "As I was watching rescuers struggle to push them back to sea, I started thinking that maybe the whales don't actually want to return," Harde says. "Maybe they're on some sort of evolutionary agenda. Like, they're the genetic vanguards of their species taking the one giant leap for whale-kind toward turning amphibian." Harde knows it's a leap, but what happened next, he swears cannot be explained by serendipity alone. "As I was pondering, I happened to glance out the window at my three kayaks—creek, sea, and playboat—lying in the backyard. Good god, I thought. They look just like the beached whales! Was this a message? Was this a door to another evolutionary movement? Was I the one to open it? And then boom! With Darwinian-like clarity it hit me—amphibious kayaking!"
Twenty minutes later, Harde began testing his revelation on his townhome's L-shaped stairway. "The first day was beater-hell humbling," he says. "I got thrashed by the landing and couldn't for the life of me figure out how to turn." To honor tradition, Harde chugged stout from his slippers after each wipeout. "This was nothing like a booty beer," he explains. "After my seventh try I felt like I'd eaten two full meals, not to mention I was completely hammered." 
On the second day, Harde smartened up. He took time to read the stairs and envision his run. Without being in a moving current, his technique required some serious adjustments. The breakthrough came after a three-hour sensory-deprivation-tank session. "When I came out, I realized that it was all in my head," Harde says. "Instead of approaching it with fury as I would, say, a rapid, I needed to come at it with a bit more finesse." Harde modified his mechanics to include elements of traditional kayak bracing combined with the body position of crack-climbing, topped off with the unmistakably smooth transition of the tele turn. A few hours later, he had perfected the parkour style of amphibious kayaking. 
One week later, Harde, from the cockpit of a lemon-yellow playboat, became the first person to kayak the four-tier stairwell in the Bozeman Airport's parking garage. Dom Phounded, the garage's afternoon parking attendant, served as the lone witness. "Never seen anything like it," Phounded says, shaking his head. "Made me think he must be the weird love child of Laird Hamilton and Lindsey Vonn."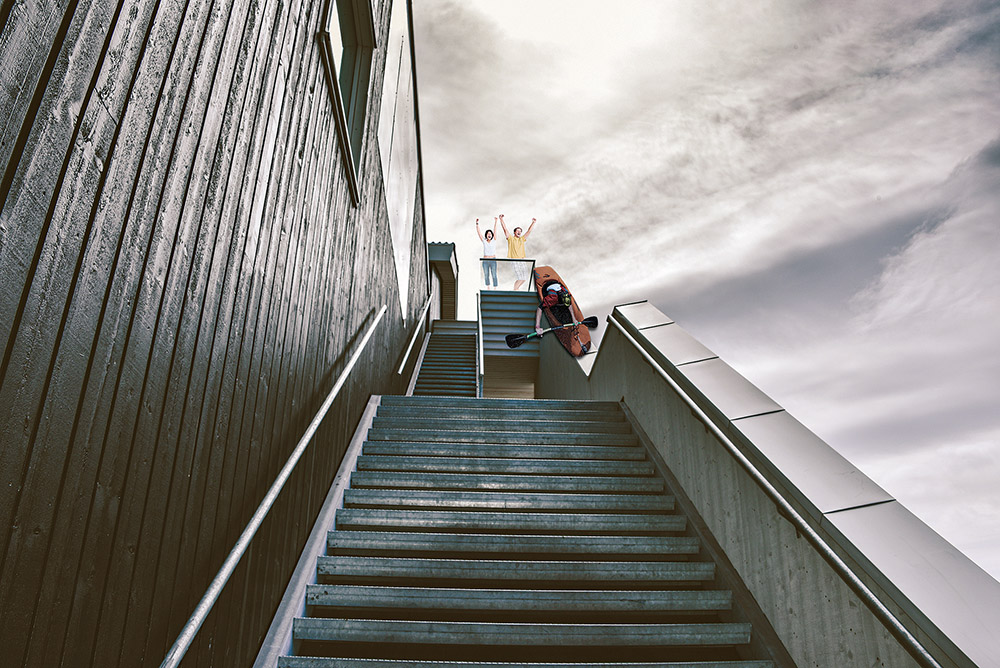 One day later, Harde, using a longer boat for tracking purposes, became the first person to sea kayak Bobcat Stadium's Section 117. The day after that, he notched the first descent of the M. 
His exploits did not go unnoticed. Within a few short weeks, Harde found himself sharing stair-time with other boaters, sometimes waiting up to 20 minutes to ride a stairwell or steep section of trail. According to Harde, the speed with which the sport is catching on is surprising. "Never saw it coming," he admits, between hits on the Lindley Park rail. "It's as improbable as Conrad Anker using a ladder."
No one can say for certain how many amphibious kayakers are in the Gallatin Valley, but Harde estimates hundreds—students, software engineers, even insurance-claims adjusters have been spotted rigging up on pavement. The sport, for ulterior reasons, is especially popular with realtors. According to agent Megan Munnie, "Amphibious kayaking allows us to list every property, including townhomes and condos, as having paddle-in-paddle-out access. It's a feature that looks very attractive to buyers. Especially out-of-staters who insist on buying sight-unseen." 
Kayakers on trails, however, are not sitting well with some Bozeman folk. After a city commission meeting last week, one attendee voiced her concerns publically. "It's bad enough that we allow bow-hunters on rollerblades! Christ, what's next? Base-jumping off the Baxter? Falconry inside the Mall? These kayakers have no means of steering and are at the whim of friction for braking—this is nuts! If we continue to allow them on our trails we'll need to rename our trail system Insane Street to the Mountains!"
Her unchecked anger was in reference to a recent incident near Kirk Hill, where an amphibious kayaker from Belgrade was charged with reckless paddling after broadsiding two horseback riders. Though no major injuries were reported, those who watched the scene unfold describe it as "horrific." One witness relates it to "looking at Picasso's Guernica with 3-D goggles." 
"Lack of braking and steering does pose a problem," Harde admits. " But I'm currently in the process of designing an off-river kayak, something, at the very least, with skid-plate hulls." Prospects of such a boat hitting the market are at least a year away. Until then, Harde says he is enjoying the sport's growing popularity, even if it is a bit rebellious."That's just part of the game," he says. "Not everyone agreed with Darwin when he came back from the Galapagos, but look at how far we've come in time. We think amphibious kayaking might be something of that magnitude. We'll just have to wait a century or so to find out."